461 DEAN STREET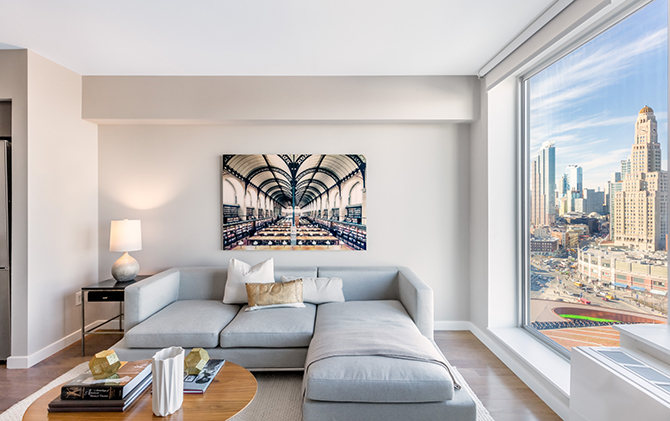 By Daniel J. Bollinger | Photos by Max Touhey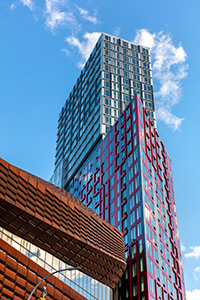 It's not hard to locate 461 Dean Street. The red, gray and black apartment building is attached to Barclays Center in Brooklyn and features some unique design details and history associated with it. The most interesting fact is, of course, it's the tallest modular building in the world. The first modular residential building of its kind, 461 Dean is one building in Forest City Ratner's larger Pacific Park Brooklyn development. It is in the middle of Downtown Brooklyn and sits on 11 subway lines.
GREAT DESIGN DETAIL
Some other interesting facts about this development: 461 Dean was built in the Brooklyn Navy Yard. The only constraint that SHoP Architects and Arup Engineers had in developing this rental was that it "had to fit on a truck." The modular construction allows for some great design details. For instance, a 654-square-foot apartment has a windowed hallway leading into the bedroom. Another great feature is that each unit is individually insulated. This equates to twice as much insulation between each apartment, which means twice as much noise reduction in each unit.
The apartments are great. Huge floor to ceiling windows in all units allows for great views and lots of light. The bedrooms are quite large and can accommodate king- sized beds. A washer/dryer comes standard in each unit. All the closets are built out. Many units have pocket doors which make for greater use of apartment space. The kitchens boast a GE appliance package, and the under-mounted lighting and outlets are a very nice touch. Bathrooms are just as beautiful with wall-mounted toilets, large medicine cabinets, and Grohe fixtures. Another great design detail that comes with the modular design is the precision of the tile work in the baths.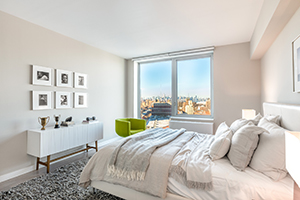 RELAXING AMBIANCE
There are plenty of amenities to enjoy in this building: A children's playroom, Sky Lounge, and gym with yoga studio are just a few. The game room with ping pong and pool tables is excellent, but the lounge's full kitchen with top notch Sub Zero and Miele appliances is the icing on the cake. There is no closer place to entertain friends before and after a show at Barclays Center.
This address has made history with this "first of its kind" modular construction. Very apropos for our "New Brooklyn Rising." I am very impressed with the spacious layouts for all sized apartments, the great use of space in each unit, the quality of the fixtures, and especially the design details that the modular design afforded (windowed hallways, pocket doors, "no cut" tile work). And its location next to Barclays Center couldn't be better.
For more information on 461 Dean Street, visit 461dean.com.