REAL ESTATE SPOTLIGHT

By Daniel J. Bollinger

Marriott Hotel LIC
Think! Architecture and Design has been serving New York City for the past four years. But the three principals Marty Kapell, Ernesto Vela, and Jack Esterson, have been working together for more than 15 years in various New York City firms.
As their website states, "The work we do is thoughtful. Our work strives for success, satisfaction and beauty not as a starting point of a design, but as the result of a rigorous process of investigation and discovery. By uncovering the central issues embedded in each project, and through an openness to the widest range of possibilities, we endeavor to formulate design solutions that result in the unique and intelligent resolution of need, desire, function and circumstance."
I had a chance to visit their minimal and refined studio space, talk about their work and design in their door-less conference room, and chat about the industry—while I amazingly learned that I had reported on Think! projects before I even knew them.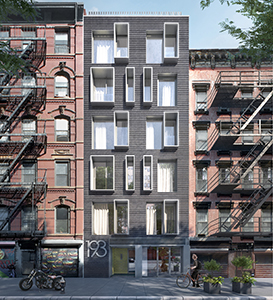 Henry Street
NYL: Where are you located?
Marty: Metro-Tech Center in the heart of Downtown Brooklyn. The landlord, who we've known for some time now, made us an offer that we couldn't refuse. Jack and I also live within a mile from the office, and I bike to work at times.
NYL: What current projects are you working on?
Jack: Renovating the Pavilion Cinema in Park Slope into a Nitehawk Theater, a private townhouse on St. Felix Street in the BAM historic district of Fort Greene, affordable senior housing for The Hellenic American Neighborhood Action Committee (HANAC) with passive house energy guidelines in Corona, Queens, and we recently won an RFP for a 15 story affordable housing project in the Bronx.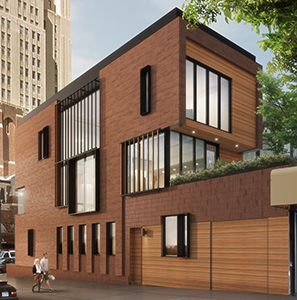 Saint Felix
NYL: You seem to have a large range of abilities, what is the range?
Ernesto: We have done everything from institutional projects, affordable housing, private townhouses, dance theaters, a film school, high-end residential and healthcare. Our range is wide because each of us has a unique background. I've traveled extensively and have worked on planning projects internationally. Jack, it seems, has worked with every other nonprofit in the city. Marty has studied theater lighting and brings a wonderful sense of the theatrical to his designs. So we try not to focus on one sector of the industry. Instead we focus on adventurous and contemporary design for a multitude of project types. In addition, because of the diversity of our principals, we are able to work at many scales; from planning a waterfront development along the Hudson down to a sculptural façade element for a small residential project in Brooklyn. Through this variety in scale, and as part of our collaborative process, we enjoy focusing on the sensibilities and attention to detail demanded by each project.
NYL: What completed projects are you most proud?
Marty: Probably Pratt Institute's Myrtle Hall which won a Municipal Arts Society award.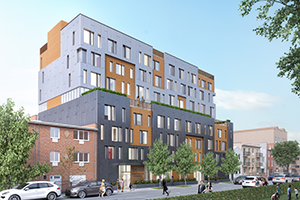 HANAC Corona Senior Residence
NYL: What made the Myrtle Hall project so special?
Jack: It truly impacted the neighborhood, improved the commercial aspect of neighborhood, increased Pratt's enrollment, improved the campus, and shows how contemporary design can really integrate into a historic urban context.
NYL: What kind of clients do you enjoy working with?
Jack: Clients that care about architectural detail, that want to build something that means something, stands out, and has a positive impact in its community. Also clients who come from a point of mutual respect and understand the value of design; a person or group that enjoys the adventure of pushing the envelope of what can be done.
NYL: What is Think's goal for NYC?
Marty: To improve the city one building at a time. We all have such a love for this city and it shows in our work. The awards that we have won are proof; our The Oosten project just won a Brooklyn Chamber of Commerce Award, The Jerome Theater in the Baryshnikov Arts Center won the United States Institute for Theatre Technology 2014 Merit Award, the Pratt Film and Video won a 2015 AIA NYS Interiors Citation, and Myrtle Hall won the Municipal Arts Society MASterwork award in 2011. But we really have to give Jack a pat on the back for the H. H. Richardson award from the NYS AIA.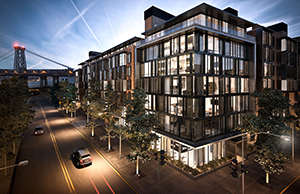 West 19th Street
NYL: What do you like about working in NYC?
Marty: The remarkable energy here, the culture, and diversity of talent that we are able to draw from, as well as the opportunities the city gives us to build great things. We also thrive off of the quality of architecture being produced in NYC. We really have to bring our A-game because there is an abundance of great architects here, and for our office to grow from 2 people to 20 in four years in NYC really says something.
NYL: Where do you get your inspiration from?
Ernesto: Inspiration is drawn from the difficulties of the site, the unique desires of the client, and the surrounding environment. For me the environment and how the building works with its community is paramount and can really make or break a design. I'm also an artist, but my art is more to clear the mind than to influence design directly.
NYL: What will the second half of 2017 into 2018 bring for Think!?
Marty: Think! is going through a branding process so this fall you will see a new logo, letterhead and website, along with all of the associated forms of paper that we really never use any more. In terms of buildings you will see new housing, from luxury to affordable, and a number of social service spaces for our nonprofit clients.
For more information on Think! Architecture & Design, visit think-arc.com.