SPA SCENE
By Griffin Miller
Then the local weather report hovers over the three S's: Sweltering, Sticky, and Sunscreen at the same time obligations dictate urban over beachfront, the in-a-nutshell solution is, quite simply, spa "therapy."
Things like luxuriating in a Jacuzzi or surrendering to a first rate massage mid-workweek diffuse feelings of deprivation. And it's nice to know New York City has no shortage of indulgent treatment resources, from palatial hotel spas to exclusive day retreats to the awesome option of bringing professional massage services directly to you.
---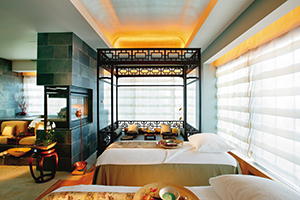 UNSURPASSED ESCAPISM
With its reputation as an incubator for inspired spa treatments created and carried out by superstar therapists, The Spa at Mandarin Oriental New York is a serious "must splurge" for anyone longing to slip out of the frenzied world below and savor the pleasures of Manhattan's only spa with a bird's eye view of Central Park.
Its expansive menu turns seductive once you realize there is nothing commonplace in it. Body treatments include Mediterranean and Renewal Rituals; facials come with names that spell out the end result: Bio-Radiance, Refining, Men's Focus; while massages bear titles such as Oriental Essence, Aroma Stone, and the Calm Mind Retreat, the latter offered exclusively at Mandarin's New York venue.
"Recently, we've seen an increase in Calm Mind Retreat bookings,", notes Director of Spa Gaylen Brown, who says its emphasis is on the head, neck, shoulders and back and is enhanced by meditative breathing techniques and rocking movements. "Ultimately, the treatment eases stress and balances the yin and yang energies of the body," says Brown.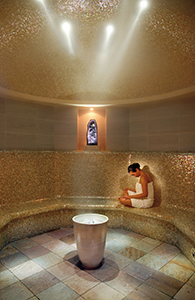 This Asian sensibility is key, not only to the treatments at all the Spas at Mandarin Oriental, but to the design elements that add up to a Zen-like haven. Indeed, of the myriad spa amenities at Mandarin's New York, the most enticing have to be the heat and water rooms (one for each gender), with their Experience Showers (Land and Tropical Rain as well as Fog selections), divinely relaxing Vitality Pool and circular Amethyst Crystal Steam Room, where stress evaporates in the room's mist-filed golden glow. (It's recommended guests arrive 45 minutes early for their treatments so they can fully take advantage of this room. But if you have the time, I recommend coming even earlier, if only to linger in the soothing Jacuzzi-esque Vitality Pool.)
Post-treatment is a totally different R&R in the Relaxation Room: a peaceful oasis with heated, adjustable lounge beds, a boat fountain-sculpture trickling water into a rock basin, and a granola and fruit "bar" where you create your own snack. And, of course, there's a bank of large windows presenting a stellar metro panorama.
As for The Spa at Mandarin Oriental New York's most recent additions, the news is HydraFacialMD®, a groundbreaking treatment Brown describes as a "go to rejuvenator for guests" known for its "visibly transformative results". And in the massage category there's Digital Wellness Escape—a treatment that zeroes in on those specific pressure points that have suffered the slings and arrows of computer and cyber induced aches and pains. Not surprisingly, before beginning this downtime experience you are asked to surrender your cell phones and/or tablets. Ah, the sacrifices we make for bliss.
For more information on The Spa at Mandarin Oriental New York (80 Columbus Circle at 60th Street; 212-805-8880), visit mandarinoriental.com.
---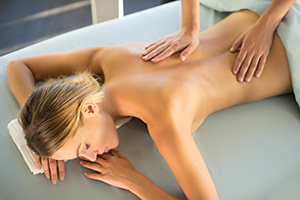 HOME COURT ADVANTAGE
Now and again as we navigate our cyberspace/social media/film/reality TV universe, it's impossible not to imagine what it would be like to be treated like a celebrity. To live in a world of perks and privilege where people you summon arrive at your door to style your hair, apply your makeup, fit you for a gown or tux or, more to the point, massage away the stress of stardom.
Allow me to introduce you to the self-indulgent convenience of Soothe, the largest and fastest-growing on-demand massage and wellness company around. Available in 50 North American cities and London, England, Soothe has been embraced by celebrities like Sharon Stone ("I use it all the time"), James Corden, and Zach Woods who describes it as being "like Uber for massage"—citing the ease of hitting an app "and a massage therapist arrives at your house and gives you a massage"—with as little as one hour lead time.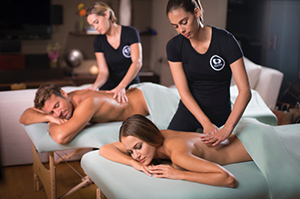 And since our current location is the City That Never Sleeps, the company's 24/7 approach is especially welcome. Streamlining things even further, once the massage—your choice of Swedish, Deep Tissue, Sports or Prenatal—is a fait accompli, your credit card is charged, tip included.
As for my personal experience, let's just say I'm sold. Fortunately, Soothe's local outreach covers all boroughs, so my Forest Hills address was no problem for my therapist (Asif) who, despite a large folding massage table and backpack of linens and headrest, was able to set up in under ten minutes.
To keep things simple, I signed on for the Swedish massage. Nevertheless, Asif continually checked my comfort levels and morphed his talents to any problem areas: a little deep tissue here; longer strokes there, etc. (On a personal note, his knot-melting skills are to die for).
Soothe's network is made up of 8,000 certified & registered therapists, closely vetted to ensure their backgrounds include a history of customer excellence.
For more information on Soothe (800-960-7668), visit soothe.com to download the app.
---
FOR NEW YORK LIFESTYLES READERS
While Soothe's rates are extremely reasonable for 60, 90 and 120-minute sessions, there is a special $20 off promotion for first time users through New York Lifestyles. Simply use the code NYLM20 when scheduling your appointment at soothe.com.
---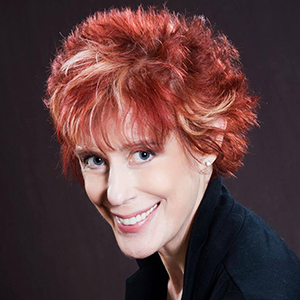 Griffin Miller specializes in spa travel and New York theater. Her resume includes writing for The New York Times, For the Bride and Hotels. She also creates promotional materials for the Metropolitan Opera, BAM, and Guggenheim Museum. A member of The New York Travel Writers' Association, she is a playwright and award-winning collage artist.