BRINGING BAVARIAN FARE TO THE BOWERY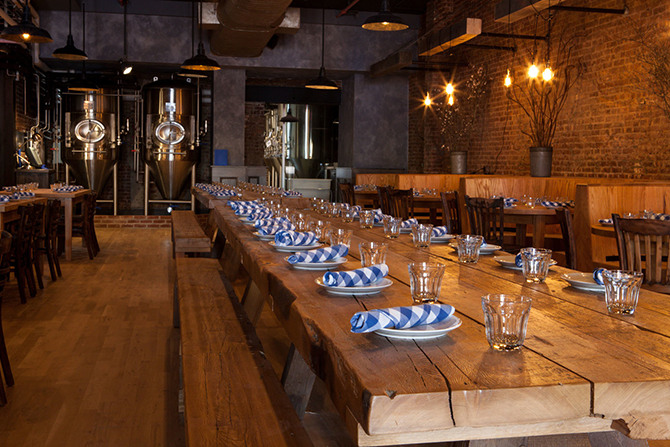 By Anne Raso
When you think of the East Village, you tend to think of small hole-in-the-wall eateries that serve light fare. Paulaner NYC's White & Blue Restaurant is big and bold, taking up two large storefronts—one of which once housed Sammy's Follies, a legendary bar that featured a floor show and the Bowery's most colorful cast of characters (in both its hourly cabaret performances and just sitting at the bar)!
The Paulaner space is loft-like but at the same time rustic with long exposed brick walls—and it feels like a modern German home that just happens to have extra-large metal beer vats in the back (yes, they make their own wildly popular handcrafted beers and ales). There is a wood-accented party room downstairs for private affairs as well.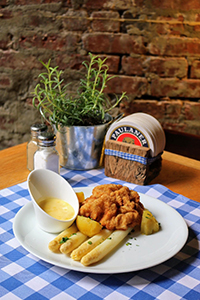 NATURE'S UNIQUE BOUNTY
Affable Chef Daniel Kill is proud to be one of the few purveyors of old-school Bavarian food in Manhattan, and every dish is painstakingly created from organic farm fresh produce and meat. Right now, white asparagus is in season, and you can get it at least three ways at this comfy eatery. Kill explains the "fresh" philosophy behind this often misunderstood cuisine: "Bavarians, in particular, rejoice over each season's unique bounty and this rings true especially now when menus all across the country showcase delicacies like white asparagus, rhubarb, and ramps. They even refer to this time of year as 'Spargelzeit' or 'Asparagus Season.' You'll find white asparagus on every menu and in a wide variety of dishes: Spargel soup, Spargel, and Schnitzel with Hollandaise sauce, as well as Spargel salad."
He continues, "Having grown up in Bavaria, I recall riding my bike through local parks and realizing when I smelled the ramps—a wild leek also known as 'Baerlauch' in Germany—in the air. 'Why would people use anything but what's available to them and in season?' I thought. Fresh, locally harvested foods hold all their flavor, and release these unique flavors when we eat them. My grandmother knew this, her grandmother knew this and so on. Our menu reflects this special time with dishes like Ramps Späetzle with tomatoes and shrimp, White "Spargel" Asparagus with a side of Schnitzel and potatoes topped with Hollandaise sauce (a classic dish every Bavarian knows and loves) and our very special rhubarb tart, an undeniable beauty."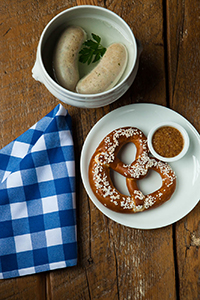 A THING OF BEAUTY
When you try the aforementioned white asparagus dishes, you will know that you have found something that cannot be obtained at any other eatery in Manhattan especially when teamed with Schnitzel and Hollandaise sauce. At Paulaner, the sides alone are so unique and generously portioned that a couple of them can comprise an entrée. For red cabbage lovers, there is a cold version with finely minced walnuts and a slightly sweet dressing that is light and refreshing as well as the classic warm version which tastes farm fresh and seems to melt in your mouth. Lager-Battered Cod is a favorite entrée at Paulaner, and you can get it in a "small plate" version if you wish. The Wiener Schnitzel is a thing of beauty, and I doubt you could find a more authentic version this side of Bavaria.
The Sausage Sampler is a real "must"—it's served with a heaping helping of sauerkraut and a few different homemade mustards. You'll fall in love with this delightfully delicious and generously portioned combo plate of Weisswurst (veal sausage), Bratwurst (pork sausage), The Paulaner (smoke-dried aged beef sausage highlighted with cheddar cheese) and Spicy Lamb Sausages. By the way, Paulaner NYC is not a place where vegetarians will feel left out—there are the traditional white asparagus dishes, several fish options, and a Veggie Spaetzle which features Brussels sprouts, mushrooms, Gruyere Cheese and crispy onions.
For dessert, you can't go wrong with Paulaner's warm homemade apple strudel served with homemade vanilla ice cream, apple fritters or Bavarian chocolate cake served with whipped cream.
For more information on Paulaner NYC's White & Blue Restaurant, go to paulanernyc.com.
---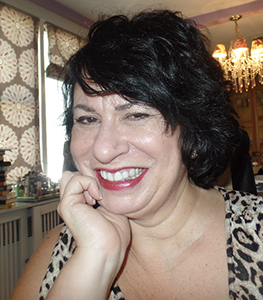 Anne Raso is a NYC-based writer who grew up in northern New Jersey. She is a former associate editor of Tiger Beat and Popstar Magazines, and was rock columnist for the Sunday NY Daily News. She has contributed travel articles to Time Out New York and FoxNews.com. Anne currently edits the lifestyle website and contributes to Discovery Girls Magazine.