LET'S GET GRILLING
By Chef Robyn Almodovar
Whether it is the grill top in my food truck Palate Party, in the kitchen of Rumors Bar & Grill where I am Executive Chef, or on a friend's fire escape, rooftop "patio" or a public grill in the park or beach, I'm always raring to go. If given the option to light up a grill and cook—even better. What a combination—fire, tools, food, family and friends. Who can say no to that?
If you ever watched when I was on Chopped, Cutthroat Kitchen, Food Truck Wars and even on Hell's Kitchen—you know I love cooking meat. There is no better place to throw down some steaks and gather with friends than a summertime barbecue so grab a beer and let's get grilling!
---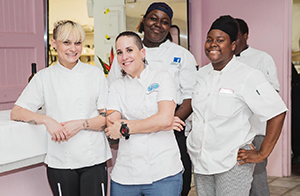 Chef Robyn and her staff
STEP #1
Summertime picnics and barbecues call for hamburgers and hot dogs on the grill, grilled chicken, and shrimp. But with all the celebrations—graduations, Father's Day, and July 4th—let's make it truly unique with the perfect rib eye steak menu. The recipe below calls for two steaks, about 1.25 to 1.5 lbs. each.
Next, you will want to choose a marinade. Some of my favorites include red wine, garlic, onions, vinegar, teriyaki sauce and of course a mix of spices. Marinating is vital when it comes to grilling. Infusing flavor to your protein and vegetables is amazing—how can you go wrong? Remember: don't marinate in a vinegar base for longer than 1 to 2 hours.
---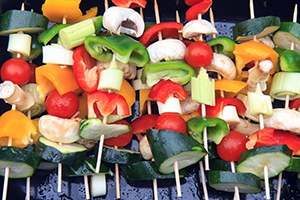 Veggies ready to be grilled
STEP #2
I prefer using coal grills over propane gas grills: It's simpler with a faster clean-up and simply put charcoal makes the food taste better. Plus, it is a healthier source of heat than propane. Here are some tips to keep it simple:
• Make sure it is clean before you light the grill. This includes any ash or dirt at the bottom as well.
• Remove the grill grate and open the vents in the lower part of the grill.
• Place the charcoal briquettes in a pyramid at the base of the grill bowl.
• Add lighter fluid to the charcoal and light it up.
Now we can get cooking.
---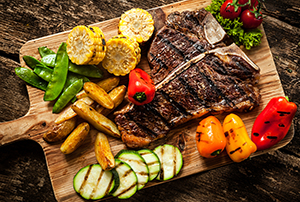 Plated and ready for guests
STEP #3
Prepare the Steak Rub
½ tablespoon black peppercorns
½ teaspoon dried minced garlic
½ teaspoon dried minced onion
1 tablespoon kosher salt
• Place peppercorns, minced garlic, and minced onion in a pepper mill and coarsely grind them into a small bowl. Add the salt, tasting for balance. Set aside.
---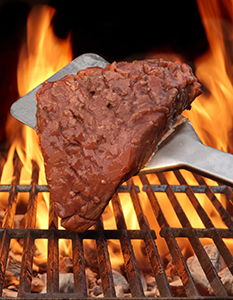 Steak on the Grill
STEP #4
Get cooking. Set up your grill for a two-zone fire and preheat to high heat. I like to use a Weber grill. After marinating the steaks, be sure the meat is at room temperature to allow proper cooking.
• Lightly brush your steaks with oil and season both sides with the rub. Grill directly over high heat for 4-to-5 minutes a side. Rotate the steaks a quarter turn halfway through each side to create a cross-hatched pattern.
• Use a digital probe thermometer like the Char-Broil Instant Read Digital Thermometer to check your internal temperature. You want to pull the steaks off when it reaches 127 to 130 degrees internal temperature for medium rare. If they aren't quite ready, move the steaks to the part of the grill that is not over direct heat, shut your grill lid and let the steaks "roast" another minute or two until done.
---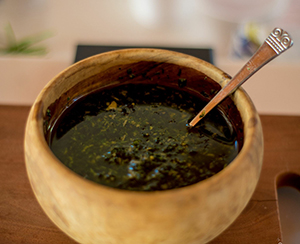 The Veggie Marinade
STEP #5
Side dishes are also important. Grab some skewers and add some tomatoes, onions, peppers and other veggies of your choice. Add some flavor before throwing them on the grill as well. My favorite marinade recipe is simple and delicious.
Veggie Marinade
2/3 cup olive oil
1/3 cup balsamic vinegar
1 tablespoon chopped fresh basil
1 tablespoon chopped tarragon
1 teaspoon minced garlic
1 teaspoon kosher salt
1/4 teaspoon fresh ground black pepper
• Just mix the items together and brush it on!
---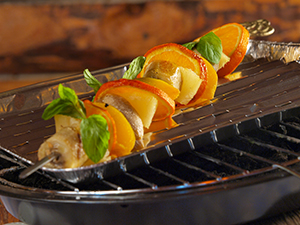 Grilled fruit
STEP #6
For dessert take chunks of your favorite fruit and grill them on a skewer. Try pineapples, peaches, apples, pears—or whatever you prefer. When done, pair them with Easy-to-Make Biscuits and some whipped cream to experience a heavenly moment on earth.
Easy-to-Make Biscuits
3 cups all-purpose flour (a soft winter wheat flour, like White Lily, is best)
1 tablespoon plus 1½ teaspoon baking powder
¾ teaspoon salt
2 tablespoons plus 1 ½ teaspoon sugar
6 tablespoons unsalted butter, at room temperature
2/3 cup heavy cream
2/3 cup half and half for brushing on top of biscuits
1 tablespoon sugar for sprinkling on top of biscuits
• Preheat oven to 350 degrees. Line a sheet pan with parchment paper.
• Place flour, baking powder, salt, and sugar in a large mixing bowl. Cut butter into ½ tablespoon-sized bits and add to the flour. Using your fingertips or a pastry cutter, work the butter into the flour mixture until it resembles coarse meal. Make a well in the center of the flour and pour in all the heavy cream and the half and half. Stir the dry ingredients into the cream and mix with a wooden spoon until dough just begins to come together into a ball.
• Turn dough onto a lightly floured surface and knead 2 or 3 times. Do not overwork the dough. Using a rolling pin, roll the dough to a 1-inch thickness.
• Dip a 2 ½ inch biscuit cutter in flour, then cut the dough. Repeat until all the dough has been cut. Scraps can be gathered together and re- rolled one more time. Place the biscuits on the prepared sheet pan. Brush the tops of the biscuits with half and half and sprinkle with sugar. Bake for 20 minutes. Biscuits will be lightly browned on top and flaky in the center when done.
Makes about 8 to 12 biscuits.
You're ready to eat! Plate it up and taste why grilling will be your new favorite way to cook!
---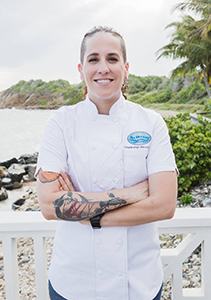 Staten Island, NY native and Florida resident, Chef Robyn Almodovar knows how to throw a party. A graduate of the Le Cordon Bleu, she now owns Palate Party food truck/catering and is executive chef of Rumors Bar & Grill in Wilton Manors, Florida.