EVERYTHING IS LOOKING ROSÉ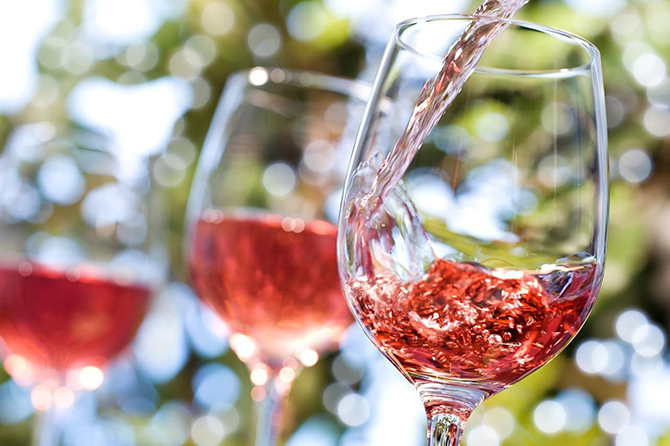 By TJ & Tina Mulqueen
It's that time of year, again. Warmer days and evenings bring the procession of rosé wines. Much like the pagan rituals of old celebrating the rebirth of the Earth's living things, rosés signal the turning of the season. Grocery stores and marketplaces are rolling out their inventories of pink-tinged wines that make a perfect accompaniment to a sunny day.
Unlike wine categories that are designated by their respective grapes—Pinot Noir, Merlot, and Cabernet, for example—rosés are made from a number of red wine grapes. The name rosé comes from the pink hue of the wine, yielded by a limited grape time with skins during the winemaking process. A great gateway from red wines to white, rosé wines can be dry (unsweet) or sweet, depending on the grape varietals used.
In recent years, rosé wines have been increasingly popular among consumers, outpacing the growth of traditional red and white wines. Experts suggest it's due to rosé winemaker's increasing attention to quality, and our more quality-driven consumers' willingness to pay for it. Thus, rosés are becoming a staple on restaurant wine lists.
If you're new to rosé wines, the plethora of grape varietals and regions from which to choose can seem overwhelming. We (selflessly) explored five different region-varietal combinations to help you, the savvy consumer, find the perfect rosé for your taste preference or event. Cheers!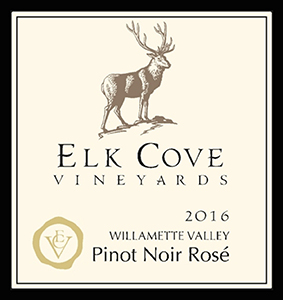 Elk Cove Vineyards 2016 Willamette Valley Pinot Noir Rosé
Pinot Noir's signature flavor profile typically consists of red fruit, earthy notes, and light vanilla. Because of the thin skin and sensitive nature of the grape, Pinot Noir flourishes in cool climates with low-temperature fluctuations. Oregon's wine region is poised to become the area of choice when it comes to exploring Pinot Noir's full potential. The subtle difference of Oregon Pinot Noir originates from the volcanic soil of the Willamette Valley which gives it the signature earthy tone.
To showcase a Pacnorwest Pinot Noir rosé, we tasted Elk Cove's Pinot Noir rosé which exemplifies Pinot Noir's unique flavor palette while masquerading as a vibrant, well-rounded rosé. The wine opens up on the nose with a floral influence and bright red fruit typical of rosé. After a swirl and a sip, the Pinot Noir grape starts to emerge with a subtle introduction of strawberry and wet stone. Accompanied by a bright acidity and an intense vanilla finish, this rosé finds itself on the tables of back porch patios during garden parties, usually being enjoyed with the sun, and a smile, on your face.
---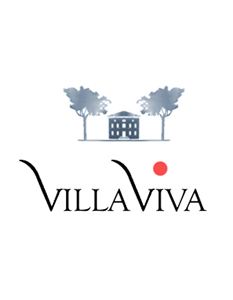 VillaViva 2015 Rosé (Côte de Thau)
Next, we head to France to the Côte de Thau region. Côte de Thau is a wine region you may not have heard much about—neither had we. Its climate is conducive to growing white wine grapes, but it's also known for a few Mediterranean red varietals such as the well-known Grenache and Syrah grapes that are staples in many French wines.
It's also known for the grape, Carignan, which is the singular varietal in the VillaViva Rose that we tasted. While this grape is used in blends, its usage in the VillaViva makes this wine unique. On the nose, this wine suggests a pear and earthy, apple skin flavor profile. On the palate, light acid, minerality, and red fruit are fleeting. This Carignan rosé expression is short and sweet.
If you're a guest at an upcoming event hoping to bring something outside of the run-of-the-mill wine selections, choosing a lesser-known varietal or region will ensure your wine stands out.
---

Hecht & Bannier Cotes de Provence 2015 Rosé
From the parts of Cote de Thau, we head east to Provence where we discover a rosé made from Southern France's flagship grapes. The combination of Grenache, Cinsault, and Syrah is typical of the region's rosé—and for a good reason.
Positioned near the Mediterranean, Provence captures the fringe character of rosé with soft floral notes and subtle stone fruit on the nose. The palette takes you on a journey from crisp acidity to raspberry and mild grapefruit with quite a bit of flavor complexity and even a hint of clementine. Sophisticated and refined, this wine is best paired with a Summer rooftop soiree celebrating your recent college grad's academic achievement.
---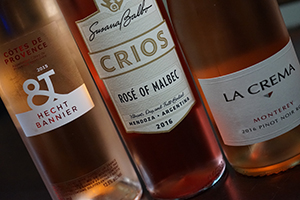 Susana Balbo Crios Rosé of Malbec Mendoza, Argentina 2016
On the other side of the earth in South America, we find rosé making a splash in one of Argentina's prominent wine regions—Mendoza. Argentina, known for making superb Malbec, has recently shown its prowess in tackling the fine art of rosé and reimagining the traditional red wine grape.
Situated in the high altitude region of the Uco Valley, Crios takes the popularity of the Malbec grape and creates a full-bodied, vibrant rosé. On the nose, there's a musty smell with hints of stone fruit. The wine's darker pink color foreshadows what is in store for the palette. Typical of its warm climate, it's fruit-forward and conjures up notes of bright red fruits with crisp acidity and a long, tart finish. The punch of fruit and vibrancy of the wine couples well with a bright, festive gathering such as a July 4th barbecue.
---

La Crema Monterey Pinot Noir Rose 2016
Different from its Oregon rivals, Pinot Noir wines from California have a more barnyard presentation of earth and perfectly demonstrates the versatility of the grape in a rosé.
The La Crema Pinot Noir rosé is soft and drinkable: vanilla on the nose and subtle melon notes are underscored by hints of tangerine and stone fruit. A slight effervescence shows the wine's acidity and gives it a celebratory feel that works well in a wedding or other event setting where you want the wine to be drinkable and pleasant, but not the main attraction.
Use this as a guide, but remember: it's the exploration of different varietals and regions that make wine so much fun. Use the changing of the seasons and related festivities as a vehicle to conduct your own expedition into the complex territory of rosé. We hope you'll enjoy exploring as much as we did!
---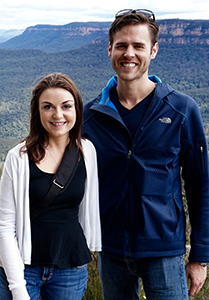 TJ & Tina Mulqueen are the owners of Kindred PR, a full service public relations and marketing firm with locations in NY and Portland, OR. When they're not telling their clients' stories, they document their own—which often include wine.