MY NEW YORK STORY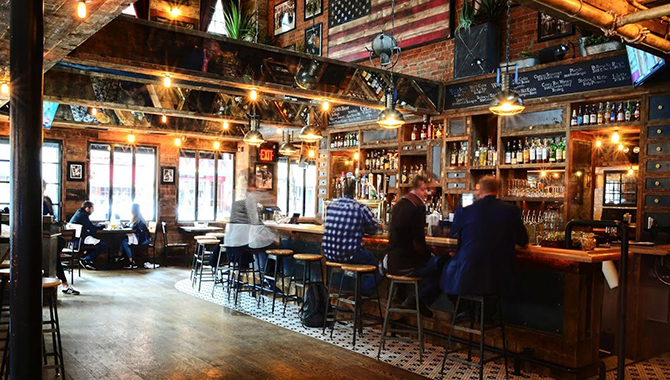 The Gem Saloon
By Lee Gabay
Steve Nash was born in South Africa, grew up in British Columbia, went to college in California but is a New Yorker at heart. With his just opened Murray Hill restaurant, The Gem Saloon and his decade-long dynamic philanthropic work towards the wellness of the city's young people, Nash is a now a sustainable part of New York's positive fabric. "What I've noticed about the people here is they are far from shy, but the biggest thing about New Yorkers are their hearts and generosity," says Nash.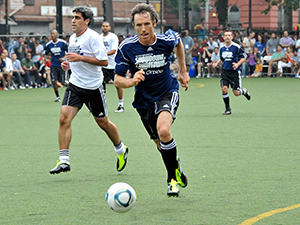 Steve Nash plays soccer in Chinatown
NASH-VILLE, NYC
Back in 2004, at the height of his basketball playing prowess and soon to receive the first of consecutive NBA Most Valuable Player awards, the forward-thinking point guard began a foundation. Its mission would provide grants for child-focused non-for-profits, medical services in areas of poverty, community reengagement for victims of sexual abuse/violence and environmental education via sustainable practices.
This egress from basketball guided him back to his family's favorite sport—soccer. Steve's father John played professionally in England and South Africa, and his younger brother Martin played for the Canadian National team and Vancouver Whitecaps (for which Nash is now part owner). A lifelong Tottenham Hotspur fanatic, Nash fused his charitable mission with his NBA connections and a nagging need to run
around the pitch. By dreaming up the Showdown in Chinatown, a charity soccer game featuring basketball and soccer all-stars, the Steve Nash Foundation subsequently galvanized a charming Lower East Side nook of the city which doesn't often have world-class athletes running around on its fields.
The antecedent to the original game in 2007 began with a discussion between Nash and his summer rec-league soccer partner, Italian NBA journalist Simone Sandri, who thought it would be special if they pooled their vast and collective resources to do something unique and positive for the community. "We saw it as a cool show for the neighborhood, which could additionally raise money and bring awareness to our non-profit work," says Nash. Thierry Henry, Jason Kidd, and Barron Davis were among the many to show up at Sara D. Roosevelt Park 10 years ago.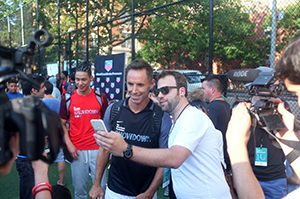 FULL COURT
The electricity from kids hanging from fences and on trees to get a glimpse of the action has made it soccer's version of Rucker Park. Nash muses, "That first year was similar to watching your baby being born. So organic and a real highlight of my life." This once-word-of-mouth unofficial kick-off to summer has evolved to a robust fundraiser with extensive media coverage and generous sponsorship, but the nascent spontaneity and kids climbing fences remains an essential part of the game.
The ensuing games over the past decade have brought more cleats, shin-pads, and enthusiasm with the likes of Dirk Nowitzki, Grant Hill, Kyrie Irving, Landon Donovan, Chris Bosh, Tony Parker, Jeremy Lin, and Kevin Durant. Regarding the exuberant fast-paced style of play, Nash describes the 7-on-7 competitive match as, "Soccer's version of 3-on-3 half-court streetball."
Nash who retired from the National Basketball Association in 2015 having never made it to the finals as a player recently won his 1st NBA Championship in June as part of the Golden State Warrior organization—as Player Development Consultant. After 30 years of basketball, he is thrilled to finally get his coveted ring, but while speaking with him, Nash seems more interested in discussing his foundation's mission.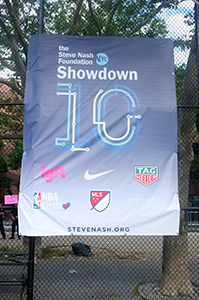 GLOBAL COMMUNITY
Since hanging up his basketball jersey, Nash has spent the past few years deeply involved with his organization and specifically using the time to regroup and assess how he wants its future to look. "We've been exploring early childhood education and universal pre-k as many children arrive at kindergarten already behind." One of the foundation's initiatives, Educare, which began in Phoenix is now in almost half the states. Educare is used as a means to develop best practices for infants, toddlers, children and families that can't readily access those resources. "Having a school that you can walk to without fear of violence should not be seen as a privilege. Basic nutrition and clean water should not be considered a privilege. These kids aren't underprivileged, they are underserved and undervalued," implores a passionate Nash.
Nash is not so much political as he is about doing what is right. His battles for social justice and humanitarian causes have been well documented. Whether it has been speaking out against Arizona's Senate Bill 1070, which racially profiled and criminalized anyone looking like an undocumented immigrant, or being one of the first in the league to vocally support LGBT rights. So entrenched in this work and successful in his ability to effectuate change that in 2006, Steve Nash was named one of Time Magazine's 100 most influential people for his various philanthropic causes.
Nash attributes his panoramic worldview to his parents, whom never sheltered him from the inequalities and injustices that exist. Being in a position where he can eradicate certain problems through systemic changes; Nash firmly believes and substantiates with the foundation's research that child abuse can be eliminated. "There is scientific data to support this beyond the lofty goal," explains a hopeful Nash who sees athletics as a tremendous teaching tool. "Leadership, discipline, teamwork, practice, winning and losing offer so many valuable life lessons." He continues, "Sports is an excellent teacher, similar to music…young people tap into new languages and forms of expression."
Philanthropy and being part of the global community is paramount particularly to those who have been given so much. As Steve Nash demonstrates each June at his Showdown in Chinatown, giving can be fun, entertaining and if done on a soccer field very beautiful.
---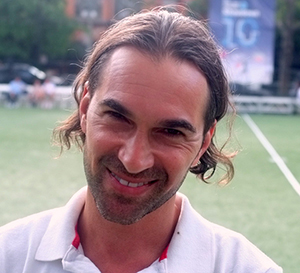 Lee Gabay is a doctor of Urban Education who teaches in Brooklyn, N.Y. He has written about education, incarceration, basketball and sneaker culture since 2006. His first book, I Hope I Don't See You Tomorrow was published in 2016. He lives in the Lower East Side with his wife and daughter.