SERVING AT CENTER COURT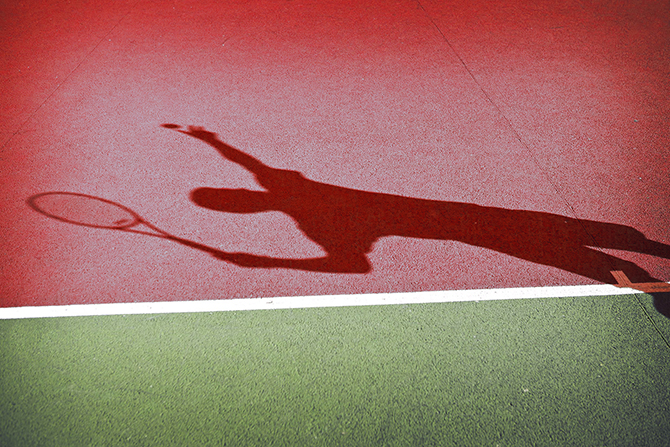 By Patricia Canole
From late August through early September, it's pretty much tennis and more tennis in New York City. But it's also a known fact that before the championship matches get underway, the tennis elite love to play. So what better place to rub elbows with athletes as they begin their two weeks of nail-biting matches than with New York's top chefs at Citi Taste of Tennis. Considered the World's Premier Food & Tennis Experience, it will kick off the U.S. Open Tennis Championships on August 24th at the W New York (Lexington & 49th Street). Now in its 18th year and produced by AYS, it brings together New York's professional chefs, tennis royalty, and luxury brands for an unforgettable evening of gourmet food, signature cocktails, and nonstop fun.
The evening will begin with dynamic duo Bob and Mike Bryan, who will face off in a Sushi Challenge alongside Chef Masaharu Morimoto—this year's Citi Gold Lounge Host—during an exclusive VIP hour. Then the main affair begins at 7:00 pm when guests enjoy tastings from leading chefs, sip on signature cocktails, and escape to destination-themed lounges.
New York Lifestyles had the pleasure to meet with many of the top chefs partaking in this annual event. Most—if not all—of them agree that there is a strong correlation between chef and athlete: Namely, you need to be on your game. Being fast and nimble is a number one requirement! Now, let's meet New York's chefs and get to know a little more about these masters.
---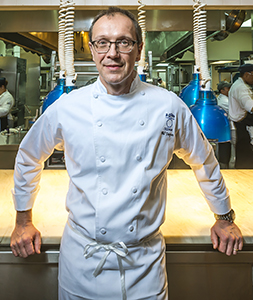 BILL TELEPAN
OCEANA
Chef Bill Telepan is one of New York's leaders in sourcing quality ingredients from small farms and local purveyors. At Oceana, he uses the finest ingredients, combined with his classic training and contemporary influences. Telepan's restaurant experience includes work in some of the world's top kitchens and has apprenticed with the legendary Chef Alain Chapel at his eponymous three-Michelin-star restaurant outside Lyons, France. There he learned the importance of retaining the integrity of fresh ingredients in creating delicious food. A graduate of the Culinary Institute of America, Telepan has trained with Chef Daniel Boulud and Chef Gilbert Le Coze in New York. Then, in 2005 Chef Bill opened Telepan, the popular Upper West Side restaurant, which earned him a Michelin star among other accolades.
Since 2008, Telepan has served as Executive Chef of Wellness In The School's Cook for Kids Program. "We're dedicated to improving children's health by enriching lunch programs. It includes developing nutritious and appetizing school menus, training in-residence cooks and cafeteria staff," he told us. "Teaching student, parents and teachers and engaging with professional chefs is an active step to overcoming childhood obesity."
---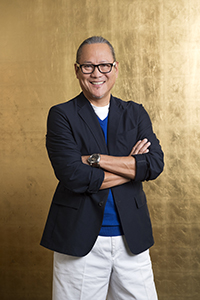 MASAHARU MORIMOTO
MORIMOTO RESTAURANTS
Without question, Chef Morimoto has been the key influence in creating the bridge between the culinary traditions of his native Japan and the American palate. Doing so has brought intense excitement, precise technique, and perfectly balanced flavors to thousands of diners throughout the world. But it didn't start that way.
Morimoto wanted to play professional baseball. After a shoulder injury had ended a promising career as a baseball catcher in Japan, Morimoto began studying sushi in his hometown of Hiroshima. He quickly grasped the technique of this exacting food art, and at age 24, opened his first restaurant. Five years later, he moved to America to explore new opportunities and possibilities. It was wasn't too long before Morimoto joined the original Nobu restaurant and was soon named Executive Chef. In 1999, Chef Morimoto appeared on the Food Network's Iron Chef where he was able to showcase his flawless technique and creativity with different ingredients. Two years later, he opened his first eponymous restaurant in Philadelphia. Morimoto expanded his culinary reach to opening restaurants in Mumbai and New Delhi. Then in 2006, the much-anticipated flagship restaurant, Morimoto New York opened. A decade later, his much-anticipated first ramen restaurant was launched in New York City, Momosan Ramen & Sake, which showcases his personal, modern take on traditional Japanese ramen.
We were amazed at how this Iron Chef never seems to slow down. "More to do," he laughed, "so, I better not stop!"
---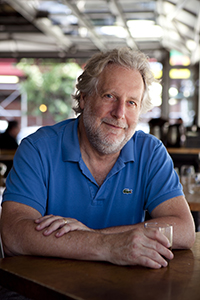 JONATHAN WAXMAN
BARBUTO
You might consider Chef Jonathan Waxman one of the pioneers of the modern farm-to-table movement. In the 1970s, the native Californian sold Ferraris and played trombone before he enrolled in cooking school, first in San Francisco and later in Paris, at the famed La Varenne, where he mastered classic French cuisine. He returned to California and found his way to Chez Panisse, where he worked under the queen of the organic-and-local movement, Alice Waters. "I was fortunate to be mentored by Alice Waters. It doesn't get any better than that. He went on to develop his own signature California cuisine at the famed Michael's in Santa Monica, owned by restaurateur Michael McCarty. However, it wasn't until he moved to New York City, that he reached celebrity in the 1980s when he opened Jams. (Waxman has since opened a reincarnation of Jams at 1 Hotel Central Park.) Currently, he is chef and owner of Barbuto in Manhattan's West Village which continues to be a favorite for both locals and visitors alike.
His career has spanned more than four decades with no signs of slowing down. He is the 2016 James Beard Award winner for "Best Chef, New York City" and the author of cookbooks, A Great American Cook and Italian, My Way. Waxman loves tennis. "Healthy diet and being physically fit makes all the difference for athletes." And although Waxman is no vegan, he contends that most Americans need to modify their diets for the sake of health and sustainability. That's food for thought.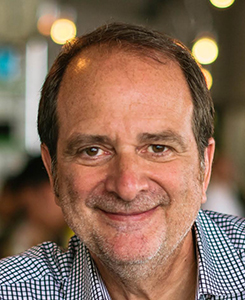 ANDY D'AMICO
5 NAPKIN BURGER
Andy D'Amico is the Executive Chef and partner of 5 Napkin Burger (New York and Boston) and New York restaurants Marseille, Nice Matin and Nizza. But Chef D'Amico doesn't have a biography that starts at his grandmother's apron strings. His father was a musician, and the young Andy grew up wanting to follow in his footsteps. "I was always in the school band and ended up picking up the base guitar in high school, wanting to be a rock musician. I wound up in a club band. Eventually, I decided it was time to do something else." D'Amico landed a position at a local restaurant, and a friend convinced him to check out the Culinary Institute of America. His very first job out of CIA was working the line next to Emeril Lagasse under Chef Wolfgang Puck. In 2003, Andy became the executive chef at Nice Matin (a Chef Driven Group restaurant). From that point, you might say, Chef Andy D'Amico's culinary career has been rockin' all the way.
---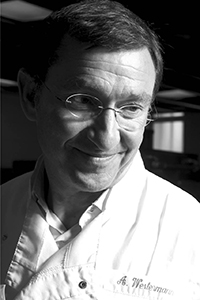 ANTOINE WESTERMANN
LE COQ RICO
French Chef Antoine Westermann's storied career has led him to the world of the Michelin stars and, with Le Coq Rico in New York City and Paris, back to his roots and his original love—poultry. Using only the finest quality of noble and heritage birds raised responsibly and mindfully, Chef Westermann perfectly executes the simple dishes of his childhood and enjoys, rendering them undeniably exquisite. His argument for a return to the farming practices of our past is evidenced in the flavors of his cuisine. As he contends, "A wing has a different flavor from the breast. We want each client to be able to enjoy any part of the bird they prefer." C'est merveilleux!
---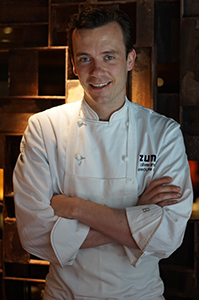 OLIVER LANGE
ZUMA
German-born Chef Oliver Lange developed his passion for cooking by visiting Japan and immersing himself in its culture. "I always made food for friends and family when I was young. Then, I started working at a sushi bar in Berlin, and I knew that was my eureka moment!" In 2009, after winning the German cooking show, Restaurant sucht Chef, Oliver opened his pop-up restaurant Kokoro by Ollysan in Munich to critical acclaim. Soon after he took up permanent residence at Zenzakan, a Pan-Asian supper club in Frankfurt, where his work won the title of "Best Innovative and Creative Sushi" in Germany by Michelin.
With his catering and hospitality company in full gear, Lange subsequently moved to London to open the much-anticipated The Magazine, designed by the late architect, Zaha Hadid. Two years later, he joined Zuma London as Head Chef; he assumed duties as Executive Chef of Zuma New York in September 2015. His work is driven by a continuous search for new inspiration and creativity. We wondered had he not become a chef, what would he have done? "I have never thought about this…I can't imagine having any other job!"
---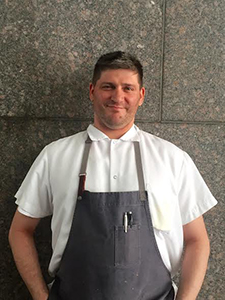 ISTVAN TOTH
DAVIO'S
Istvan Toth is the Co-Executive Chef at Davio's Northern Italian Steakhouse. Toth was born and raised in Hungary and moved to the U.S. at the age of 19 to begin his career as a chef in New York City. He grew up with grandparents who prepared all of their meals from scratch. This upbringing is what started his love affair with quality food and cooking. Before leaving Hungary, he obtained his culinary degree at Le Cordon Bleu Culinary School. Chef Toth began working in the industry as a teenager, where he interned in the kitchen of a well-known resort in Hungary. When he moved to the United States, he held positions at some of New York City's most renowned culinary establishments, including Mario Batali's Eataly. Before long, Toth joined the Davio's family, where he has been cooking since 2013. Toth's favorite part of being in the kitchen "creating flavor profiles and plating stylish dishes."
---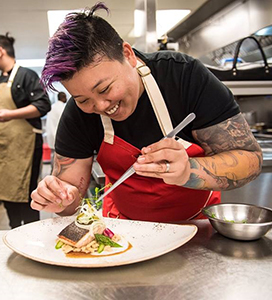 FRANCES TARIGA
MEGU
Chef Frances Tariga, born and raised in Manila, Philippines, began her career in Dubai, cooking at the world's first seven-star hotel, Burj Al Arab. After proving herself in Dubai, Frances was brought into the UAE Royal Family's household as their private chef. Soon after, Chef Tariga moved to the United States to return to the restaurant business as a Sous Chef at Buddakan before working as the Chef de Cuisine at Catch. Today, she is telling the story of modern Japanese cuisine at MEGU. Tariga, who is fluent in six languages, has also appeared on national cooking shows from Chopped to Top Chef. We asked her if she could be a food what would she be. The chef laughingly said, "I would be a jackfruit as it looks intimidating, but once you eat it, you will say, 'I had no idea it's sweet and tastes amazing!'"
---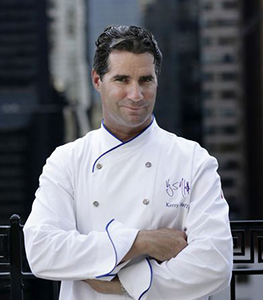 KERRY HEFFERNAN
GRAND BANKS
Chef Kerry Heffernan began working in New York City restaurants at age 15. Following high school, Kerry bicycled through Europe, eventually settling in the South of France baking croissants. He returned home to attend the Culinary Institute of America to eventually hone his skills at such highly regarded restaurants as Montrachet, Le Régence, Restaurant Bouley and Mondrian with Tom Colicchio before landing his first job as Chef de Cuisine at One Fifth Avenue. Heffernan later became the Executive Chef of the Westbury Hotel's famed Polo Restaurant, the training ground of such extraordinary talents as Thomas Keller and Daniel Boulud. Soon afterward, he opened Union Square Hospitality Group's Eleven Madison Park as Executive Chef and eventually became a partner. During his time at 11 Madison, he worked with Danny Meyer to develop the original menu at the Shake Shack in Madison Square Park.
An avid outdoorsman and seafood expert (he's won several charity fishing tournaments), you can find Chef Heffernan at Grand Banks, a seasonal oyster bar and galley on the deck of an old cod fishing schooner moored at Pier 25. He remains active outside the kitchen in philanthropy, serving on the City Harvest Food Council, and an occasional game of tennis, too. Heffernan looks forward to taking part in Citi Taste of Tennis which will mark his 15th year. "I love New York City and have seen so many amazing talents on and off the court."
---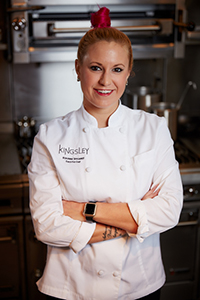 ROXANNE SPRUANCE
KINGSLEY
Chef Roxanne Spruance entered the culinary world as a pastry chef apprentice in the highly regarded restaurant, Blackbird in Downtown Chicago. Working her way up in the Chicago restaurant industry, Spruance gained valuable knowledge and experience in all aspects of the kitchen. An athlete at heart, Chef Spruance has taken her fearless, winning attitude towards sports and translated it into her approach towards food. As Executive Chef and co-owner of Kingsley, she's confident to experiment with different genres and ingredients and believes in creating a culinary product that is stimulating while never losing respect for the product. She creates innovative, seasonal food while respecting and incorporating regional traditions in her Lower East Side restaurant.
Chef Spruance's experience has been far and wide. In 2010, she landed a coveted spot as Chef de Partie under world-renowned chef Wylie Dufresne at New York's WD-50, where she took full advantage of the opportunity to absorb modern techniques and experiment with flavor profiles and menu creation. Her tenure at WD-50 was followed by a Sous Chef position at Blue Hill at Stone Barns outside of New York City, where the daily exposure to fresh and local ingredients reinforced her passion for continuing to support that cause in her cooking today. Believing that the best food comes from fresh, seasonal products, she is passionate about purchasing from local farmers. Keeping to her word, after our interview session was completed, Chef Spruance was running off to where else? The Union Square Greenmarket!
---
INTO THE NIGHT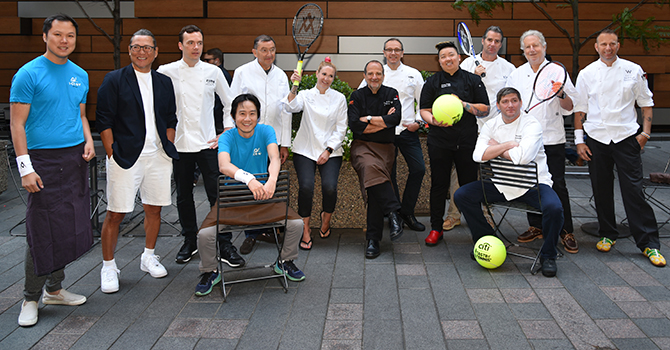 The fun continues with Citi Taste of Tennis After Dark, a delectable dessert-tasting extravaganza in the CitiGold Lounge from 9 to 11 pm. You'll enjoy New York's popular sweets, dessert drinks and, of course, the company of top tennis players who also have a sweet tooth.
---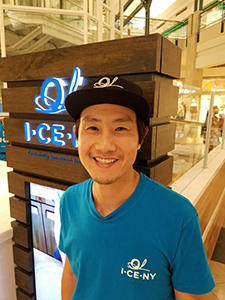 I-CE-NY
Head Chef, Danny Naruenartwanich, will serve up his new sensation: Ice cream base and mixers are poured onto a special iced plate that can get as cold as -4 degrees. In just minutes, the cream firms up and it will be spread into a thin layer, then, scraped into the chubby rolls.
---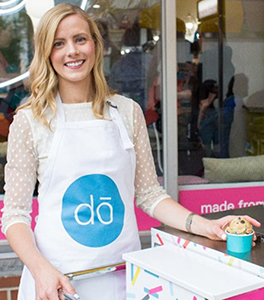 COOKIE DŌ
Kristen Tomlan will feature her creative, and delicious cookie dough based treats for sweets lovers like her. Her scoop shop serves signature flavors, all of which are available daily.
---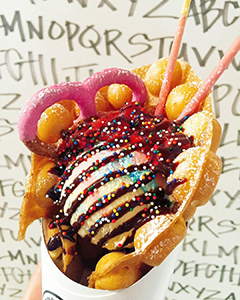 WOWFULLS
David Chan and his team will be serving Hong Kong-style egg waffles (gai dàn jai) filled with all sorts of goodies including ice cream fruit, Oreo crumbles and more.
---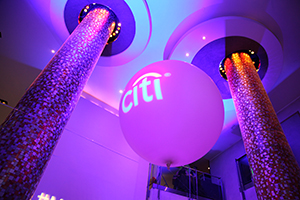 FOR MORE INFO
Citibank , Jamaica Tourist Board, Etihad Airways, Genesis Motors USA, Lifeway Foods, Campari America, ChefWorks, Voss, and Volkl Tennis are just some of the major sponsors; Wellness In The Schools (WITS), a non-profit partner, inspires healthy eating and fitness for kids in public schools. Citi Taste of Tennis kicks off at 7 pm, August 24th at W New York (Lexington and 49th Street). For more information and tickets, visit tasteoftennis.com.