STEVE GUTTENBERG: NY ROOTS ALLOWED HIM TO GROW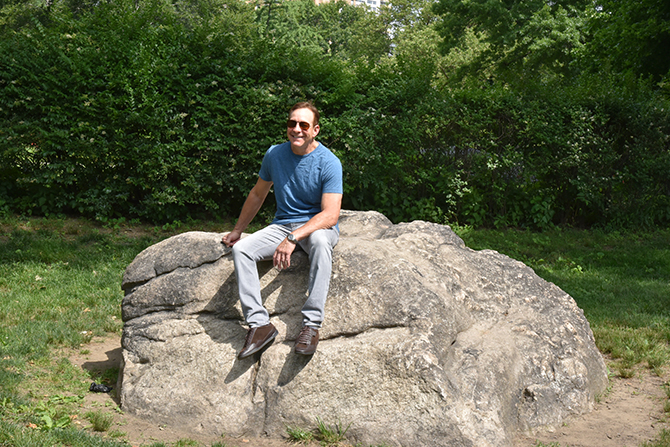 By Anthony Rapacciuolo
At a young age, this Brooklyn born native was told he wasn't cut out to be an actor, but did he listen to the criticism? Of course not, he's from Brooklyn remember. Rather than call it quits, Steve Guttenberg went on to star in more than 60 films, play leading roles on Broadway, direct, produce, and even author two books. Throughout his career, his movies have generated over $1 billion dollars in international box office sales, a feat very few stars have ever achieved. See what happens when you tell a New Yorker they can't do something!
New York Lifestyles had the chance to speak with Steve about his personal life, career and his newest role on the HBO hit series, Ballers. He also divulged something he does on a weekly basis right here in the heart of the city; you'll never guess what it is so you'll simply have to read on.
It's been said, that at an early age you were told to 'forget about acting,' how did that make you feel then, and more importantly now, looking back?
In his writing, the author Joseph Campbell always talks about foreshadowing and the villain. For me, the foreshadowing was people telling me what I can't do, and the villain came in the form of somebody not opening the door of opportunity. The villain, however, can always be beaten if you're vigilant. For me, when that agent told me I wasn't going to amount to anything as an actor, I didn't hear a word he said, and I didn't take it to heart because I'm the captain of my future. Looking back now I only wish him well and hope he's as happy as I am.
Who or what was your inspiration?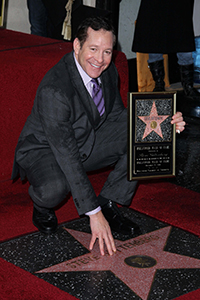 It's always been Theodore Roosevelt for me. Since I was seven years old, I've been going to visit Sagamore Hill, and I've always been inspired by his respect for family, for the country and his fellow man. Frankly, my fans also encourage me. Every day someone will come up to me and talk about their lives and values and character, and these are people I don't know. I'm thrilled because I get to meet these new people all the time, and I'm fortunate to be in a business that allows me to do that.
Talk about being born and raised in New York, and what it means to be a New Yorker.
I was very fortunate to be born into a loving family in Borough Park. Later in life, we moved to Flushing, Queens and still later we moved to Massapequa, Long Island where I graduated high school. I've got a beautiful book of memories about my childhood in New York. I'm very proud of being a New Yorker. I think you have to have a tough skin, but also a flexible skin because here if you don't bend, you'll break. It was great to grow up here, and live here as I do now, it teaches me to be flexible every day.
What's changed in the Big Apple from your childhood till now?
I think the city has gotten better. There are so many more amenities now compared to when I was growing up. Lincoln Center now offers dance nights and even shows the opera outside as well. And, of course, there's The Philharmonic, the Ballet, and The Metropolitan Opera House are now more available for everyone to enjoy. Whereas when I was growing up, it seemed more elitist. The city has created opportunities for those who are less fortunate to expand themselves. Education has never been better in my opinion, and even the people are friendlier.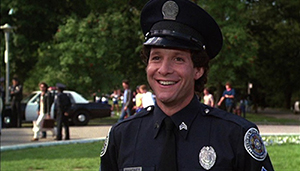 Police Academy
You've starred in over 60 features including stage and film, is there a difference? Do you prefer one over the other?
The commitment to the acting craft is universal. It's the same whether you're doing a short film for NYU or a full-length feature for Warner Brothers. The enjoyable part of theater is that you get to practice every night, and the wonderful part about film is that one special moment is captured that will never come again.
What's been your favorite role or character throughout your career?
I just played a role on Ballers, the HBO series starring Dwayne Johnson, and I had a great time playing Wayne Hastings Jr., who is a psychologically complicated billionaire hotel owner from Las Vegas. Dwayne, Rob, and Richard all want him to be a part of their investment business. He's pretentious, selfish, and self-involved but a hell of a lot of fun to play.
What's it like working with Dwayne "The Rock" Johnson?
He is a well-mannered, generous, thoughtful, kind actor. He is attentive and centered, and present at the moment. He's also an excellent listener on and off the set. I was impressed by his character and integrity.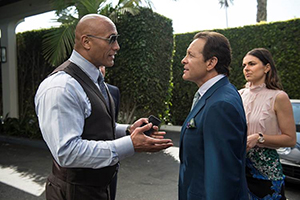 HBO's Ballers ©HBO/Jeff Daly
Give our readers a taste of what's to come this season on Ballers.
I think the audience will get a kick out of the writing. The writing was just stellar beyond anything I thought was possible on a series show. The writers and directors are of the top caliber, and because of that, it's going to be a great season.
Tell us about Steve the person, not the actor.
I think I'm a modern man with old fashioned values. I'm interested in today and the future, and I respect the past. I think our Senior Community is one of the most undervalued communities because of what they know and what we can learn from them. I have a wonderful home life living on the Upper West Side, and I love to visit the park, go to the theater, and the ballet. I still have deep roots in Brooklyn, Queens, and Long Island.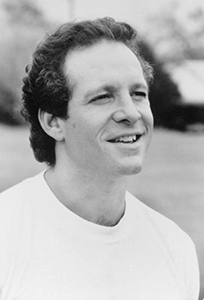 You've done so much, what's next?
I'm not a medium, but I know that I'm going to do the right thing every day and that I'll always have loving and meaningful relationships with my family and friends. Every day I'm going to try to do everything I can to make the lives of the people I care about better.
Sound Off! Tell our readers something they don't know about you.
People probably don't know that I visit what I consider two of the greatest pieces of art quite often at MoMA. I'm there probably once a week to look at two paintings which are Van Gogh's Starry Night and Wyeth's Christina's World. There's a personal relationship that I have with these paintings. I don't know why but I must see them at least once a week. The other thing they may not know is that everything I've ever learned that was important and meaningful, I learned at my parent's kitchen table. I highly recommend sitting around the kitchen table to see what you can learn.
---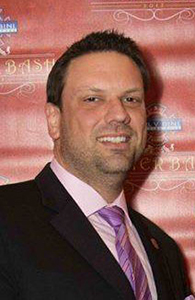 Anthony Rapacciuolo is the owner of New York-based  PRcision LLC, a full service public relations, marketing and events firm. His company has been called upon by numerous clients to assist in their fundraising and communications efforts. He is also a partner in an Italian Restaurant based on Staten Island.