YBOR CITY - THE CUBAN CONNECTION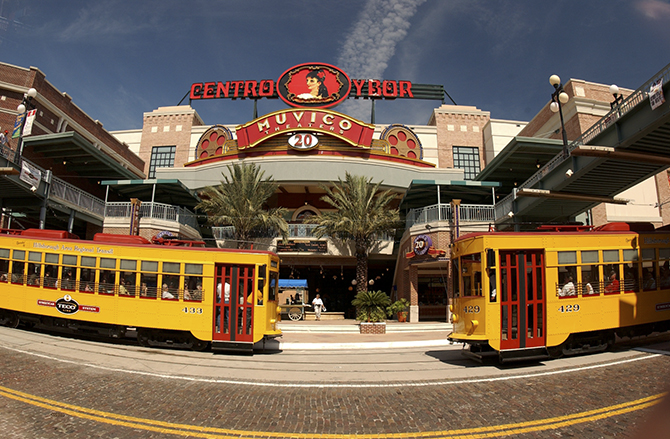 By Jeff & Stephanie Sylva
Of course, we're all familiar with the likes of John D. Rockefeller, J.P. Morgan, Andrew Carnegie and Cornelius Vanderbilt—those industrial giants of the Gilded Age. But what about Vicente Martinez Ybor? You might know of him if you're a cigar aficionado. After all, he was primarily responsible for making Ybor City, Florida—and Tampa—the cigar capital of the world. Today, Tampa proudly embraces its Cuban heritage born of the cigar industry and the man for whom Ybor City is named.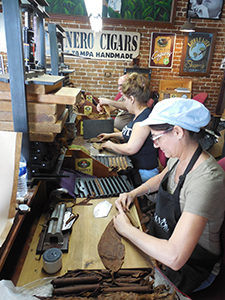 Cigar rollers at Tabanero Cigars
THE EARLY YEARS
As a young boy Vicente left Spain for Cuba to avoid being enlisted in the Spanish army. At the age of 14, Vicente started working as a cigar broker in Cuba becoming quite successful. However, Ybor's sympathy for Cuba's independence from Spain resulted in his fleeing Cuba and setting up his cigar business in Key West. In the mid-1880's Ybor purchased land in Tampa, knowing that the hot and humid climate was perfect for making cigars.
The cigar industry in Tampa—especially in Ybor City—flourished, growing Tampa's population from a small village of 400 in 1880 to a town of 15,000 by the turn of the century. Because of its highly successful cigar production, the City of Tampa annexed Ybor City into its city limits in 1887.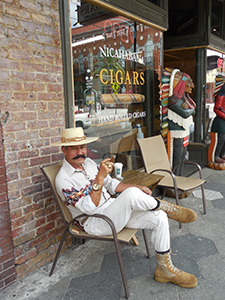 Local resident enjoying an Ybor City cigar
A SUCCESS STORY
The story of Ybor City's success goes beyond its quality cigars, hand-rolled from the finest Cuban tobacco. During much of its heyday spanning the decades of the 1880's to the 1930's, the city became a model of immigrant success and prosperity. Skilled artisan workers from Cuba, as well as other immigrants from Italy, Spain, and Germany, lived and worked together, supporting each other's "American Dreams."
Vicente Ybor and other cigar manufacturers were quite instrumental in the prosperity of their immigrant workers. "Casitas" were built for the workers providing clean, comfortable and safe housing. Social clubs were built for the various immigrant cultures; and benefits, including medical coverage, retirement plans, and funeral and burial services, were all provided at no cost to the workers: Essentially the country's first Social Security and Medicare.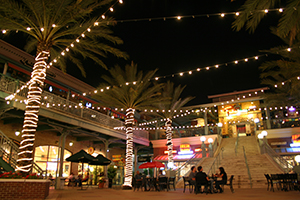 Ybor City Centro
©Visit Tampa Bay
YBOR CITY TODAY
A visit to Ybor City will provide a chance to experience the history and culture of this unique neighborhood. Following the demise of the cigar industry in the 1930's due to the Great Depression and a few other factors, Ybor City fell upon some hard times. The Cuban Revolution and the subsequent embargo accelerated the decline, and the construction of an express highway in 1976, essentially dividing the neighborhood in two, certainly didn't help. A so-called renewal project accomplished nothing more than the leveling seventy acres of Ybor City.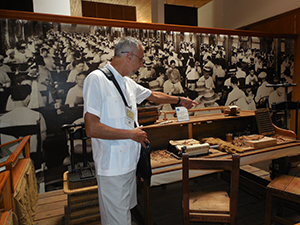 Wallace Reyes at the
Ybor City Museum
In 1974, the Ybor City Historic District was established, which enabled the protection of
the nine remaining cigar factory buildings and other historical sites and the designation of the District as a National Historic Landmark. The neighborhood's recovery continued in fits and starts for a few decades. Today, Ybor is alive, as new pubs and restaurants add to the already bustling food scene. Some cigar shops populate Seventh Avenue (Ybor's main commercial street) where tabaqueros mesmerize onlookers with their skills at rolling cigars by hand. Most of these shops sport a comfortable array of couches and easy chairs inviting visitors to slow down, unwind, and enjoy one of the shop's finely-crafted cigars while sipping a café con leche.
Strolling along palm-lined Seventh Avenue (residents know it as "La Setima" or "Broadway"), we were impressed by the European-city ambiance. Italian and Spanish architectural designs are evident, including wrought iron balconies, ornate cornice work, and intricate tile designs. Authentic five-globe street lamps lining the wide sidewalks add a nice historical touch.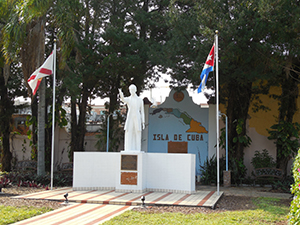 Jose Marti Park
Your first stop in Ybor should be at the Ybor City Museum State Park (ybormuseum.org), located in a 1923 building that was originally the Ferlita Bakery. (Note: The museum is closed on Mondays and Tuesdays.) The museum documents the rise and fall of Ybor from the 1880's to the 1940's. And if your interest in Ybor City's history and heritage is as deep as ours was, you will want to contract the services of Wallace Reyes and his Cigar Industry History Tours (reservations required; yborcitytours.com). In addition to an in-depth explanation of the museum's exhibits, Wallace will take you through the museum's reconstructed casita, to Vicente Ybor's factory building, and a number of other historical sites. One of his stops is on Cuban soil. That would be the Jose Marti Park. Jose Marti—poet, essayist, journalist, revolutionary—is considered the Apostle of Cuban Independence. The lot where the park is located was donated to the Republic of Cuba in 1956. Walk through the park's gate, and you are in Cuba. No visa necessary!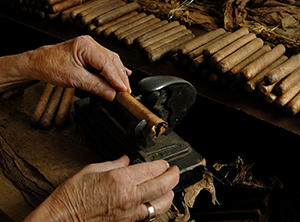 THE ART OF CIGAR MAKING
Sipping the almost-addictive café con leche, we sat with Steve Stamberger inside Tabanero Cigars (tabanerocigars.com) as he described the intricate details of making (and smoking) cigars. From the different tobacco leaves and how they affect flavor, aroma, and strength of the cigar to the correct ways to cut, punch, light and set off a hand-made cigar, it's quite an experience. "Never crush a cigar to put it out," he told us, "just let it go out. It's a work of art; don't insult it." Tabanero Cigars offers a 45-minute tour of its cigar-making, which includes observing skilled workers rolling hand-made cigars and a visit to the humidor to experience the different aromas of various tobacco leafs.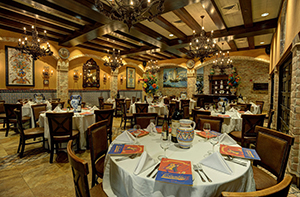 Andalucia dining room
THE FOOD SCENE
To fully appreciate Ybor City you must savor its food—and there are a few important choices. First, you need to have a Cuban sandwich. Miami residents may claim it originated there and that they have the best. But Ybor City locals will tell you the sandwich began here. As one story has it, it was created as a lunch alternative for the cigar factory workers' typical large meals that often would induce an afternoon sluggishness. The Ybor version (originally called a "Mixto" and whose ingredients represent the prominent ethnic groups in the city) includes Cuban-styled mole roasted pulled pork, Spanish ham, Italian salami (Miami's version does not include this), and a pickle, mustard and a slice of Swiss cheese representing the German influence. Finding a good Cuban sandwich in Ybor is easy. The one we sampled was from Stone Soup—a stop on the Original Historic Ybor City Food Tour (yborcityfoodtours.com). This tour offers a wealth of history while making 5 to 6 stops for some tastes of Ybor.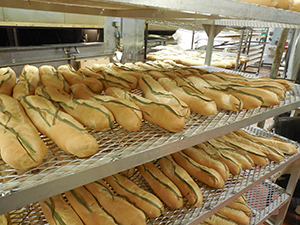 La Segunda Central Bakery
Another must-try food experience is the Columbia Restaurant (columbiarestaurant.com). Established in 1905, it is Florida's oldest restaurant and the largest Spanish restaurant in the world: it serves a killer Cuban sandwich. For a perfect lunch, we suggest sharing the Original 1905 Salad and a pitcher of Sangria (both made tableside). We especially liked the Sangria de Cava made with sparkling Spanish wine. Dinner at Columbia is a treat, as the menu offers a full array of Spanish and Cuban dishes. Every night (except Sunday) a Flamenco Dance show is presented in one of the restaurant's 15 dining rooms. Reservations required; $6 cover applies.
No matter where you get your "Mixto," it probably will be made with bread from La Segunda Central Bakery (lasegundabakery.com). Copeland More, whose great-grandfather opened the bakery in 1915, described with pride the time-honored process of "slow and deliberate" proofing steps to create the perfect taste of La Segunda bread. Entirely
hand-made and crafted—no timers used—the bread's signature split crust is created by laying a palm frond across the dough before entering the oven. With a wide variety of pastries and bread, including the traditional favorite of many locals, a guava & cheese turnover, La Segunda is a great breakfast stop. The only problem is they have no seating for dining. Just take your breakfast over to Centennial Park, and settle on one of the benches. A note of warning: Overlook the resident chickens, descendants of chickens who arrived in Ybor over a hundred years ago. They are venerated by locals and protected by law.
For more information on Ybor City and Tampa visit visittampabay.com.
---
A WALK ON THE WILD SIDE
For a little off-center look at Tampa and Ybor City, take the Cigar City Magazine Mafia Tour (cigarcitymagazine.com/events.) This 90-minute walking tour through Tampa's mafia history is led by Scott M. Deitche, author of five books on the mob. Ybor's checkered mafia history is brought to the screen in Ben Affleck's Live by Night. The author of the novel, Dennis Lehane, was inspired by Deitche's Mafia tour.