JERSEY'S OCEAN PLACE RESORT & SPA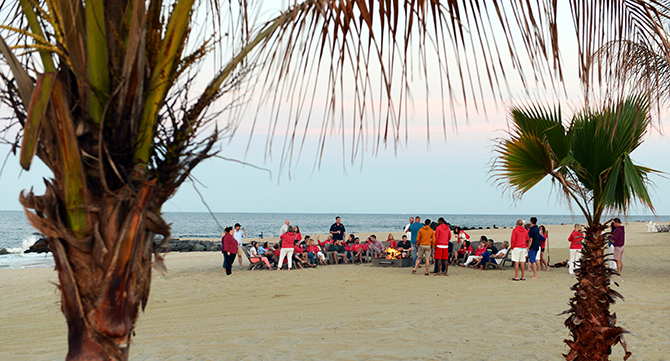 By Jeff & Stephanie Sylva
The Jersey Shore has long been a favorite retreat for those looking to enjoy the sandy beaches along its long coastline. One town that boasts a long and fascinating history of famous visitors to its beaches is Long Branch. As a matter of fact, it's attracted many U.S. presidents—Ulysses Grant, Rutherford Hayes, James Garfield, Chester Arthur, Benjamin Harrison, William McKinley and Woodrow Wilson—who have all stayed here. One of the town's beach front parks, Seven Presidents Oceanfront Park, pays tribute to Long Branch's past. In recent years Long Branch has experienced a renaissance that has returned the resort town to much of its former glory,
A perfect way for visitors to experience the best of Long Branch's oceanfront relaxation and beauty is a stay at Ocean Place Resort and Spa, the only full-service luxury oceanfront resort between Manhattan and Atlantic City. Just like much of Long Branch's ocean front, Ocean Place Resort and Spa has undergone a major renovation resulting in luxurious accommodation, dining, and spa experiences.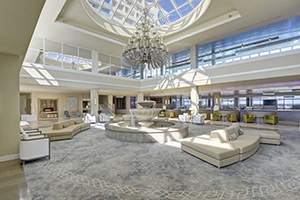 Lobby
SLEEK & ELEGANT
We were immediately impressed with the sleek style of the large, welcoming lobby. Numerous stylish couches and chairs create an upscale yet relaxed ambiance. With a large sense of openness, the lobby seamlessly incorporates the 70-foot marble bar of the Seaview Lounge, which smoothly flows into the resort's sophisticated Seaview Restaurant, both of which have panoramic ocean views.
The resort's South Beach-inspired guest rooms feature luxury bedding, duvets, and down pillows, as well as spa-inspired baths with glass-walled showers enhance the elegant feel of the room. Rooms with a king bed or with two queen beds are available as well as junior suites and oceanfront suites.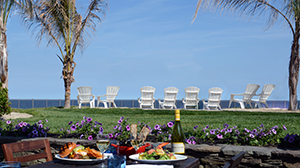 Terrace dinner
IMAGINATIVE CUISINE
Ocean Place Resort offers guests sophisticated dining at Seaview Restaurant where Chef Guillermo Veloso creates a seasonal menu with Spanish-Caribbean fusion influences. The Portuguese-style clam chowder; Basque Tuna Mignon; and the Seafood Mixto Vera Cruz (a generous mix of jumbo shrimp, jumbo crab, mussels, scallops, and lobster in a lime-charred tomato salsa) are excellent, flavorful offerings. Other dining options include the beachfront Terrace Grill serving breakfast, lunch and light fare from before dusk. The Seaview Lounge also offers a bar menu. Most Thursdays the lounge offers a complimentary tasting with samples of refreshing cocktails using the day's designated spirit.
One of the Jersey Shore's favorite places is Ocean Place's Tiki Bar. The traditional thatched roof venue is set right alongside the Long Branch Promenade offering unique views of the beach and surf. With live music on weekends, signature libations including fusion-jar creations, and specialty cocktails, it's sure to please. Once cooler weather closes in, the bar closes down. Entertainment moves inside to Seaview Lounge.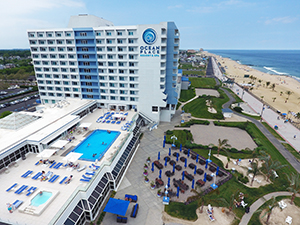 North coastal view

A RELAXING EXPERIENCE
Our second day proved to be even more of an escape, as we were pampered at the luxurious Ocean Place Spa. A recent $4 million makeover makes it unforgettable. After enjoying a soothing couple's massage, we enhanced our experience with a rejuvenating Joint & Muscle Arnica Soak in a private soaking tub romantically illuminated by candlelight. It was easy for us to imagine that with its excellent spa and inviting indoor pool, Ocean Place Resort and Spa would be a great escape any time of the year.
Ocean Place's beachfront location, upscale facilities, and numerous amenities made us feel like we had escaped to paradise. Ocean Place's private beach welcomed us with swaying palm trees and comfortable lounges and umbrellas set up by the beach attendants. Also, on-site parking, internet service, room mini-fridge, an indoor pool with heated soaking tub, an outdoor pool with Jacuzzi, and a well-equipped fitness center are tempting amenities. Children will be kept occupied with the Ocean Play room equipped with small couches, games, a large-screen TV, movies, and counselor-led program on weekends.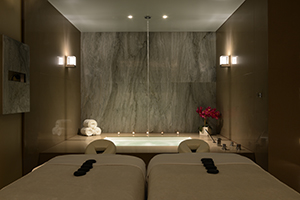 Spa treatment room
Visitors will find plenty to do all year round at the resort as well as the neighboring Pier Village, a collection of 30 shops and dining venues. Be sure to ask for the special brochure filled with discounts at some of the shops and restaurants, many of which are well known for their outstanding cuisine.
GETTING THERE
Ocean Place Resort & Spa is an hour-and-a-half from Manhattan by car or train (with complimentary shuttle service to and from the station). Be sure to check the Ocean Place website for special deals and packages such as the "Let's Get Together," the "Spa Escape Lite," and the "Girlfriends Getaway" packages.
For more information on Ocean Place Resort & Spa,
visit oceanplace.com.
---
Jeff and Stephanie Sylva are retired English and Social Studies high school teachers who have been freelance travel writers for over 28 years. They've been publishing in many national publications and who love to write about the great outdoors and, of course, travel.