A GOLD COAST RESTORATION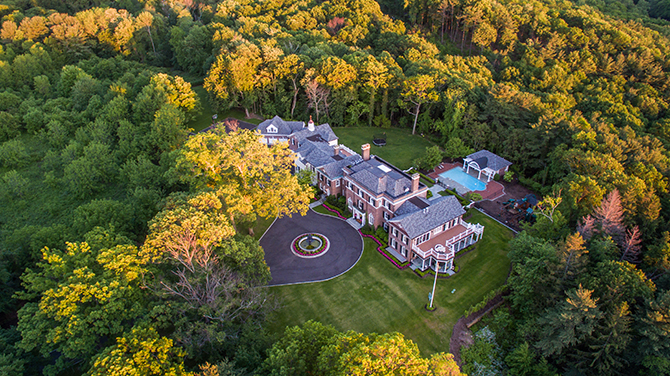 By Daniel J. Bollinger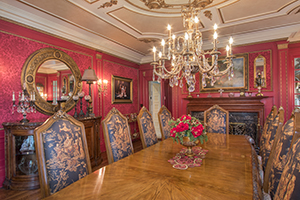 Set on more than five acres with views of Long Island's Cold Spring Harbor this 17 room, 22 thousand square foot Georgian Colonial has been beautifully restored to perfection. Originally purchased in the early-20th century from Effingham Lawrence, it was JP Morgan who in 1933 bestowed this 17-room house to his daughter Jane as a wedding gift. One of Jane's stipulations, who donated many acres of this original estate to a conservancy, was that it "never to be developed." Decades later, an original architectural rendering was discovered during the early stages of renovation. The exciting revelation disclosed the home at one time had two symmetrical wings. At the time the current owners purchased the home, only the left wing was remaining. This meticulous pencil-drawn back elevation of the home inspired the owners, along with luxury restorative architects A.T. Gray P.C., and the talented building team at Locust Valley Partners to add back the wing to restore it to its original glory.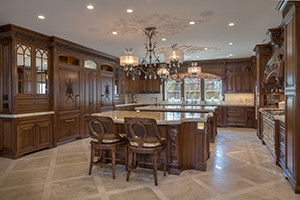 MUSEUM QUALITY
The interiors have been designed with classic ornate detailing: Ceiling medallions, wedding cake plaster detail, Milton tiles, carved wood, as well as custom wallpaper and cabinetry can be found in the secluded estate. In fact, many of the designs are commissioned pieces. There is great flow throughout the house, and different rooms and wings are strikingly magnificent. The formal dining room is done in a beautiful cranberry while the family room is a royal blue. This three-and-a-half year renovation has kept the stately, grandeur design that is to be expected of the North Shore and has updated to the 21st century with additions like a theater room, the man loft, and a chromo therapy spa in the master bath. As the owner and lead designer of the project stated, "We decided to go with a bold color palette throughout the home which was inspired by the richness of early 20th-century estate decor." Some details that highlight this design aesthetic include the dining room with its red damask textile walls. The library features wallpaper with hand-painted hunt scenes by British luxury interior company De Gourney and the foyer not only has hand-painted linen chinoiserie scenes by Gracie Studios but also is adorned with commissioned chinoiserie artwork by Lisa Agosti of L.A Creative Finishes. Lisa was hired as the head artistic consultant overseeing the home's many luxurious wall finishes and elaborate mouldings. All of this combined with one-of-a-kind pieces like the unique double ring chandelier made in Austria by Vienna Lights in the living room, creates this estate—a real masterpiece.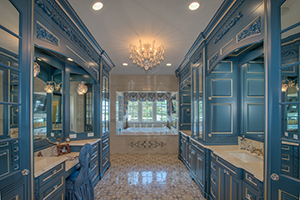 Bathrooms feature a wet room with a marble seating bench, steam, and his/ her rain shower heads with additional sprays. There are his/her walk-in closets and a private sitting/changing room with a wet bar.
The kitchen is Architectural Digest-worthy with two islands, three copper sinks, including one double sink that is very functional, all of which were custom designed by Rachiele (there is even a personal note to the owner's handwritten on one of the sinks). Custom walnut cabinets grace the kitchen with a lot of carved wooden details. The La Corneu La Chateau French stove with double ovens is set below a custom one of a kind Rose relief backsplash that was designed and hand carved by classically trained sculptor, Walter Arnold, who created the piece from a single piece of limestone he hand-picked from Italy. With additional American Range convection and regular ovens, this kitchen is hard to match. Double Thermador fridges flank a hidden walk-in pantry. The kitchen is full of artisan details and very functional at the same time. It is also windowed, overlooking the backyard and pool area.
TIMELESS CHARM
With a total of six bedrooms, ten full bathrooms (each with a fireplace), and an outdoor fireplace who would ever think of leaving this piece of heaven on earth? The master bedroom was designed with views of the Long Island Sound and Connecticut. Also with two garages that accommodate four cars, a saltwater pool with a pool house, a large fenced children's playground, and an outdoor porch heated with heat lamps for those chilly nights.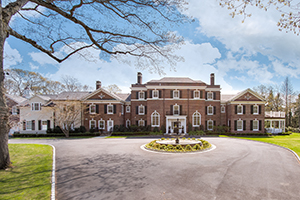 When you are retired NBA professional Wally Szczerbiak, you don't just build a man cave, you go one better and create a man loft. It is quite large with double height gabled ceilings and an outdoor deck. There is a full bar, ping pong table, a card table, and plenty of TVs to watch the game. An example of the care and detail that went into this restoration: The card table and chairs are all custom-made. Off the man loft, is an acoustically designed 20 seat, 16 foot screened theater room with plenty of leather seating, counter seating, and two auxiliary TVs.
This restoration is a reason why the Long Island's North Shore is known as the Gold Coast. The owner also said, "I could not have fulfilled my vision for this home without my collaboration with Karen Soujian of KSID Design Studio, who designed and helped procure many of the home's luxurious window treatments and furnishings."
This classic estate which has been modernized has retained its timeless charm. The custom furniture throughout the house is equally noteworthy and compliments this restoration project. This is a real beauty inside and out.
For more information, contact Marilyn Szczerbiak at 631-988-7305.