LONG ISLAND'S GREYBARN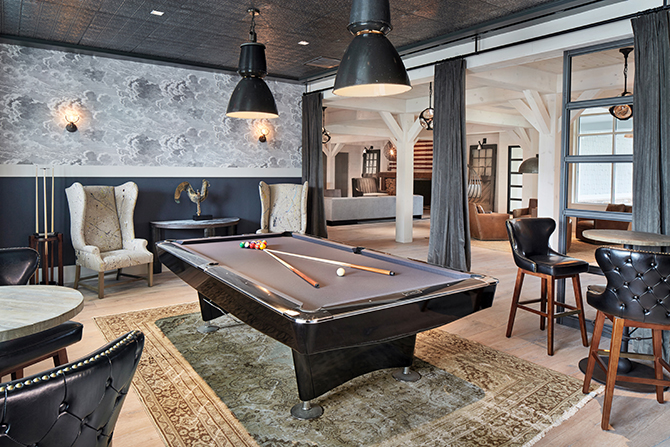 By Daniel J. Bollinger
Nestled in Amityville, Long Island is the new 500-unit rental development called Greybarn featuring 1 and two bedroom units. The units are housed in five separate buildings sitting on 28K square feet of retail space and are the brainchild of third generation developers Mitchell & Gregg Rechler of Rechler Equity Partners—one of the largest owners of industrial and commercial space on Long Island. Over the years, they have received feedback from their tenants that, "it is so hard to hire and retain good talent on Long Island because there is a shortage of high-quality rental product." After hearing this many times over the years, the Rechlers and their associates decided it was time for a change. Hence Greybarn was born.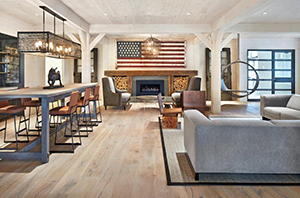 IT'S ALL HERE
Greybarn is not a cookie cutter institutional project. It is a community with a personal feel specifically designed for suburbanites. Suitable for any age, from young professionals to empty-nesters looking to downsize, there is a balanced mix of age demographics at Greybarn. Mitchell Rechler states, "We wanted to design something Long Island with a high-end functional design." They drew their inspiration from historic South Shore and classic East End architecture. The whole project ties in great design, suburban living, and convenience into one great development.
The retail section of this project was designed to offer convenience. With so much space available, there is everything you need within a few steps of your apartment including Starbucks, an Urgent Care medical center, a pizzeria, a convenience store, a sports burger bar, a nail salon, and more. It harkens back to traditional suburbia when everything you needed was a short walk away.
The apartments are beautiful. They are comparable to many of the luxury apartments I have viewed in New York City. With ceiling heights of 9' 7", master suites with walk-in closets and kitchens with quartz countertops, double sinks and large refrigerators, it is a step above the norm on Long Island. The bathrooms have full-length mirrors, subway tiles (kitchen backsplashes too), and large vanities. Two bedroom units have two baths. The common areas are laid out like many of the new luxury residences in Manhattan with an open kitchen, dining, and living room layout. All apartments come with a washer/dryer. All the apartments also come with zoned NEST smart wiring, with three zones in the two bedrooms and two in the one bedrooms. As if the retail convenience and the well-designed apartments weren't enough, Greybarn's amenities package is also not only comparable to some of the luxury NYC developments but exceeds them in some respects.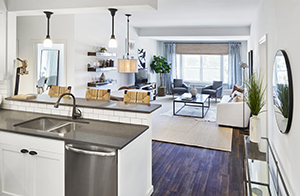 PLENTIFUL AMENITIES
The club area which is aptly named "The Barn" is designed as a retro barn but with a contemporary feel. The exposed beams and columns are just like a traditional barn, and all the hardware has a 'worn' look to them. The Barn houses all the inside amenities including Library and office space, billiards room, lounge, yoga room, and gym that offers personal training sessions. There is an 18 seat screening room that has programming twice weekly. There is also an oversized kitchen with a beautiful island and large dining area that can also be rented for private events. Cooking classes are also available as part of the amenities package. All of these amenities are on par with Manhattan. But these are just the inside amenities. Outside amenities include two pools with lounge and seating areas, a community garden, a doggie park named "Bark Park," a barbecue pavilion, and a large playing field for Frisbee, football, and more.
I have to give kudos to the newest technology incorporated into this development as well. There is video capability accessible with your smartphone to communicate with arriving guests (or you can just buzz them in too). The Luxer One Package Locker System is new technology and perfect for both the UPS man and residents.
Greybarn is an excellent example of a new Long Island. Community planning of the future is here today. This mini-suburbia with its high-end design offers convenient living while catering to all ages. Just like Levittown was the example of suburban planning after WWII, Greybarn is the example of new suburban life for today's generation.
For more information on Greybarn, visit greybarn-li.com.