DESIGNING WAYS
By Daniel J. Bollinger
With the unprecedented new real estate development in the city, there is also a record amount of excellent new interior design and product as well. From London to California designers are making their mark on showcasing fantastic new ideas. Below are some of my top picks of what is on the market today.
---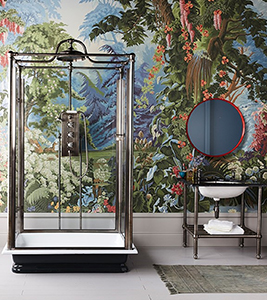 THURSO SHOWER
The Thurso freestanding shower from Drummonds is an inspired redesign of their classic Severn version. The Thurso shower features an elegantly rounded skirt that perfectly matches the curvature of their signature baths. Thurso is an entirely glass-enclosed shower unit, which can stand magnificently in the middle of the bathroom. Thurso has a perfect 12" showerhead and hand shower built in, providing a blissful all-over drenching. The base is ceramic and comes raw, primed or polished. The exterior is available either in Brass, Nickel, Chrome, Antique Brass, Antique Bronze or Antique Nickel (drummonds-uk.com).
---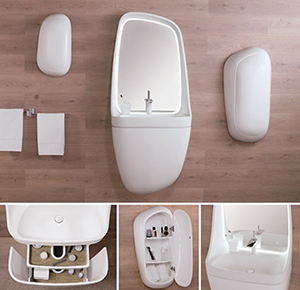 THE PEBBLE VANITY
Designed by award-winning French designer Ora Ito, world famous for his iconic work with brands such as Heineken, Nike and Toyota, the Pebble Collection by Ronbow represents Ito's idea of "Simplexity"—art to give an object with complex functions a visible simplicity. The Glossy White wood finish acts as a canvas to best showcase the unique, organic, "pebble-like" shapes and curves. The Pebble vanity design also integrates a LED mirror and a solid surface sink top for a simple, seamless look, bringing natural elegance and harmony to the contemporary bath (ronbow.com).
---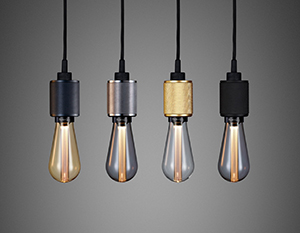 HEAVY METAL PENDANT
The Heavy Metal Pendant is made from Solid Steel, Brass, Smoked Bronze or Matt Black with its signature knurled satin metal and matt rubber detailing. Buster + Punch also offers a range of light bulbs that look cutting-edge with this light including the LED Buster bulb. The Buster bulb is the first stylish eco-friendly LED alternative to traditional filament bulbs (busterandpunch.us).
---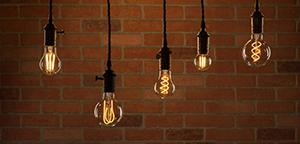 ORIGINAL VINTAGE LED LIGHT BULB
This bulb comes with a curved design filament that fills the glass with a swirl, knot or loop, offering an impeccable design and unique, but traditional look. Feit's Original Vintage look has been popular for hospitality use, such as restaurants and hotels, but has recently trickled its way into the home and will now be available in mass market retail in a variety of styles. Perfect for decorative and accent uses, they come in seven distinctive designs. They offer an elegant, beautifully warm, amber glow that creates a vintage touch, at an affordable price. The LED exposed curved filament is wrapped in a clear or amber glass housing to enhance both the vintage look and feel. The bulb is energy efficient and environmentally friendly without compromising performance, individuality or design (feit.com).