HOW HEALTHY ARE ACAI BOWLS?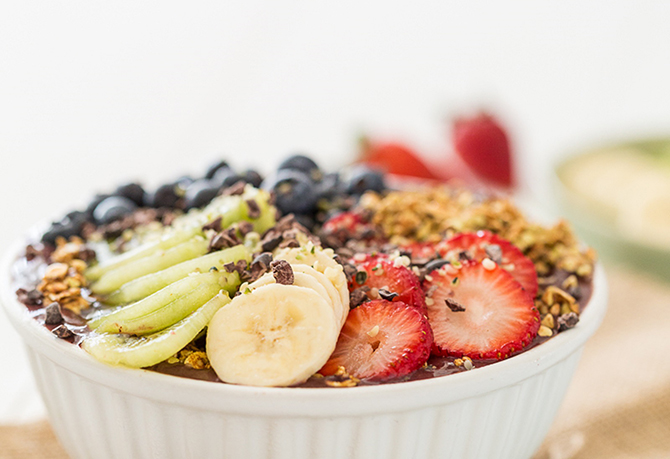 By Shari Bilt Boockvar
Yes, it's Summer, and just like me, you may be looking forward to ordering your favorite acai bowl. These purple-hued concoctions taste like a cross between sorbet and ice cream. You will be mesmerized by the beauty of these meal options.
You may be wondering what acai (pronounced ah-sigh-EE) is. The acai berry is harvested from Brazil and is loaded with antioxidants, minerals, and healthy fats. The benefits range from weight loss, detoxification, to heart health and skin health. Frozen acai is delicious when blended with frozen bananas to make the base of an acai bowl. Top it off with fruit, nuts, honey, coconut, nut butter, and other yummy toppings, and you have yourself a healthy treat. Right?
Not so fast! Read on to find out how your selections add up.
---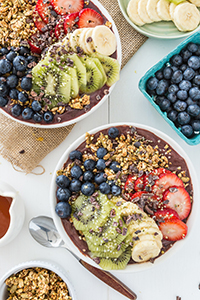 MIX-IN STARTERS
Acai 1 pack (some places may use 2) = 70 calories, 5g fat, 0 sugar.
Almond milk 1 cup, sweetened = 60 calories, 2.5g fat, 7g sugar.
Almond milk 1 cup, unsweetened = 30 calories, 2.5g fat, 0 sugar.
Apple or pineapple juice ½ cup = 60 calories, 0g fat, 14g sugar.
Coconut milk 1 cup = 70 calories, 5g fat, 3-7g sugar, 1g fiber.
(Make sure the establishment is not using real coconut milk which comes in a can: that one is 360 calories & 36 g fat per cup!)
Protein powder (You'll have to ask to see the label if you want to know.)
---
TOP IT OFF
Granola ¼ cup = 150 calories, 7g fat, 5g sugar.
Flaked coconut, unsweetened ¼ cup = 100 calories, 10g fat, 1g sugar.
Sliced banana medium = 110 calories, 0g fat, 19g sugar.
Berries 1 cup = 60 calories, 0g fat, 7g sugar.
Honey 1 tablespoon = 60 calories, 0g fat, 16g sugar.
Nutella 2 tablespoons = 200 calories, 12g fat, 21g sugar.
Nut butter (peanut, almond, etc.) 2 tablespoons = 190 calories, 16g fat, 2g sugar.
Coconut oil 1 tablespoon = 13 calories, 14g fat, 0g sugar.
---
Keep in mind that the above are estimates and you can always ask to see the labels of products used. In fact, many places like Jamba Juice have the calories listed on their website.
Now let's do the math: If I were to make a bowl using all of my favorite ingredients and toppings, it would clock in at about 600 calories, 30g fat, and 37g sugar. Instead, if I top my acai bowl with berries, two tablespoons of granola, one teaspoon honey and one tablespoon peanut butter it would total about 390 calories, 18g fat, and 25g sugar.
DIY
If you have a blender or Nutribullet at home, you can easily make this yourself and save some money too. Your local supermarket likely has frozen acai packs, and you can simply blend one bag with a ½ frozen banana and a small amount of milk or non-dairy beverage such as almond or cashew milk. Top with some fruit, a teaspoon of honey and a light sprinkling of granola and nut butter.
---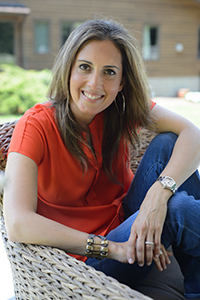 Shari Bilt Boockvar, MS, RDN is a nutritionist in New York and the Tristate area. She specializes in nutrition counseling and consulting for weight control and fitness. Shari can be found blogging about her favorite products and recipes at
Facebook.com/NutritionShari,
Twitter.com/NutrtionShari,
Instagram: NutritionShari,
and nutrifactsforyou.com.