ETHYL'S ALCOHOL & FOOD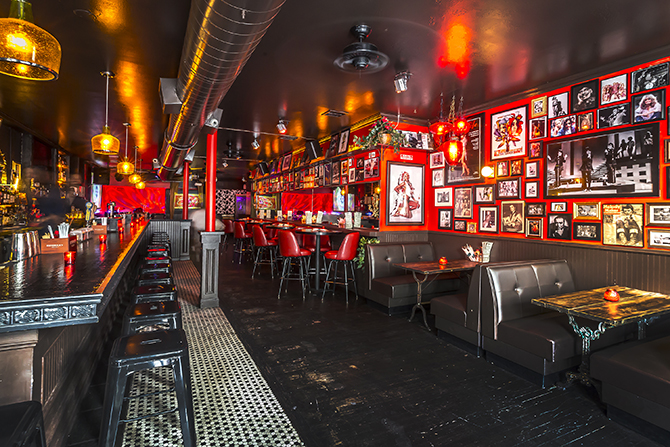 By Patricia Canole
Ethyl's Alcohol & Food is a wild ride back to 1970s. Opened in May 2016, Ethyl's is led by a diverse team of rock stars who were there in the heyday of the disco, punk, and rock 'n' roll scenes in NYC. Co-owner and designer Paul Gerard is an acclaimed NYC restaurateur, chef and musician known for capturing the retro spirit of the city with places such as Belle Reve and Exchange Alley, after revamping larger venues like Soho House, and Soho Grand Hotel. Without stopping there, he continued to use his creative energy to design his latest project, Antique Bar & Bakery in Hoboken.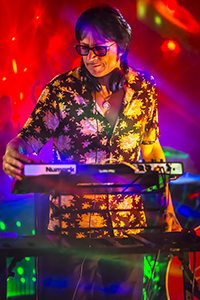 A STEP BACK IN TIME
To create the Ethyl's concept, he partnered with Brooklyn-born Gerard Renny (aka "The Skipper"), a seasoned industry veteran and cookbook author who happened to be a former doorman at the original Studio 54. Renny created such restaurants as critically acclaimed Bar Stuzzichini and founded Pacific Street Hospitality consulting group. Paul also brought to the team his lifelong friend, Ronnie Magri, a drummer, actor, DJ, and Geffen recording artist who played with Little Richard, Joey Ramone and a series of greats that earned him the title at Ethyl's of "Consigliere of Cool." Magri also created the score for the Broadway show Present Laughter by Noel Coward starring Kevin Kline and served as guest of honor at BurlyCon, an annual burlesque social and educational convention. He uses his musical experience to ignite the crowd with his dynamic playlist. To complete the "cast of characters" at Ethyl's is Lower East Side-born, Adam "Skinny Papa" Velez, who was a co-host with Paul on their Heritage Radio Show and all around nightlife guru. Adam moves the crowd like no other with his witty banter.
The space decked out in the regalia of the '70s, surprises diners with images of icons, starlets, poets and punk rockers adorning the cherry red walls. The swivel chairs and plush leather banquettes are perfectly in keeping with the theme, while a shimmering disco ball radiates rotating flecks of color across a stage always ready for the impromptu jam. Don't miss the themed entertainment nights featured throughout the week when go-go dancers will sway to the sounds of 1970s funk and disco jams from a rotating cast of DJs.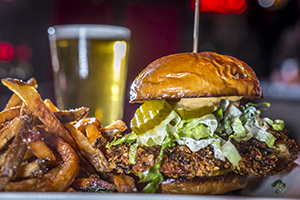 FAVORITE CHOICES
The creative food offerings by Executive Chef Paul Gerard draw on the fun and playful themes of the restaurant, but with serious kitchen skills that reinforce the establishment's '70s New York cool. Colloquially named options doused in punk-rock attitude include the Fi-Dolla Burger, a single all-beef patty, layered with melted American cheese, lettuce, tomatoes, pickles and house Go-Go Sauce, a signature version of Thousand Island dressing. The burger can be enhanced with add-ons like a fried egg, caramelized onion, guacamole, bacon, or you can Make It a Double or order The Stacked Ethyl with the works. The Coventry Burger Sub is named after The Coventry, the acclaimed rock club that launched KISS, The Ramones and others. The sandwich pays homage to the famous foods of the era with an all-beef 8 oz. patty with port wine cheese, crispy bacon, sautéed onion and watercress on a pretzel hero bun, slathered in go-go sauce. Other creative favorites are the Mozzarella French Toast with spicy maple tomato dip, and inventive takes on Mexican cuisine—try the Cheese-stuffed Mexican Meatballs with molé sauce. The menu also offers a nod to New Orleans with Dirty Fries doused in a creamy signature gravy blend of ground chicken livers and pork with creole spices.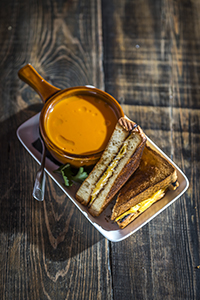 The cocktails stay decidedly on the theme, from The Sleazy Mustache with mezcal, honey syrup, lime juice, bitters and egg white that leaves behind a frothy "mustache" on your upper lip, to the Hot Blooded with tequila, blood orange, agave, muddled jalapeño and fresh lime juice. The bar staff is headed by Julia Daniels who radiates the Ethyl's energy with her experience, style, and energy. Affordably priced global beer is available by the bottle or on draft. A well-selected wine menu is also affordably priced by the glass and bottle.
For more information on Ethyl's Alcohol & Food (1629 2nd Avenue between 84th and 85th Streets), visit ethylsnyc.com.