ON STAGE
By Pat Collins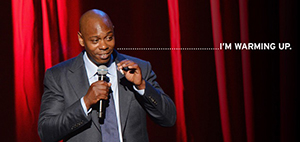 DAVE CHAPPELLE
Radio City Music Hall
Unquestionably one of the best standup comedians of all time Mr. Chappelle returns to the "Showplace Of The Nation" in August for 11 performances. Three years ago he entertained a sold out crowd there. It marked his first major appearance in eleven years. At no point in his career could he be accused of overexposure. Seeing him in person is comparable to observing a solar eclipse or any other rare celestial event. He famously walked away from the eponymous critically acclaimed Chappelle Show on Comedy Central in 2003 to travel and collect his thoughts. He explained the unexpected departure in this quote: "I figured let me cut myself off from everybody, take a minute and pull a Flintstone, stop a speeding car by using my bare feet as brakes." Known for impromptu appearances at comedy clubs around the country, he broke his own record with a six-hour-plus set in April 2007. Mr. Chappelle accepted supporting roles in The Nutty Professor, Men In Tights, Con Air, and Undercover Brother but turned down the part of Benjamin Buford Blue (aka Bubba) in Forest Gump. Ask any comedian /comedienne to name the funniest stand up in the business, and invariably Mr. Chappelle is at the top of that list.
---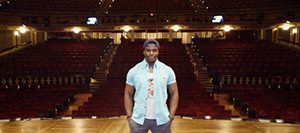 A NEW STAR IN THE GREAT COMET
Imperial Theater
The Tony-nominated musical's new Pierre who replaced Josh Groban is well known to those fortunate theatergoers who saw him in Hamilton. Okieriete "Oak" Onaodowan originated the roles of James Madison and Hercules Mulligan, a tailor/spy and Hamilton ally. Oak, as he is known, joins Denee Benton (Natasha), and Lucas Steele (Anatole) in director Rachel Chavkin's electric pop opera Natasha, Pierre and The Great Comet of 1812. Oak previously appeared in Rocky The Musical and Cyrano de Bergerac. Raised in Orange County New Jersey, Oak, a scholar/athlete, was severely injured playing football. Rather than sit on the bench, he joined the high school drama club. A simple twist of fate that led to leading man status on Broadway.
---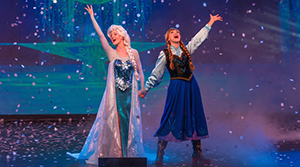 FROZEN
Coming to Broadway/Spring 2018
If you want to be among the very first to see the stage musical version of Disney's enchanting 2013 blockbuster—fly to Denver. It's where the cast and creative team will assemble for a tryout run at the Buell Theater in the Denver Center For The Performing Arts from August 17th through October 1st. Caissie Levy who played Fantine in the 2014 Les Miserables revival is Elsa, and Patti Murin has the Anna role. Behind the scenes are two of the most admired and awarded theater pros—director Michael Grandage (Evita, Red, Frost/Nixon) and choreographer Rob Ashford (Evita, Thoroughly Modern Millie, How To Succeed In Business Without Really Trying).
---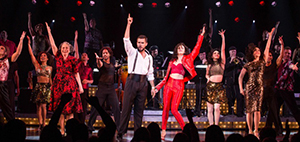 ON YOUR FEET
Ankling in August
The cast of the impossible-to-resist biographical musical performs its final show August 30th. Until then, the cast members encourages members of the audience to form a conga line at the end of Act 1 with Ana Villafane and Ektor Rivera as Gloria and Emilio Estefan leading the way. The rhythm is going to get you and so will the real story of the Miami Sound Machine's meteoric rise to stardom in the mid-'70s. Their chart-topping hits "Turn The Beat Around," "Conga," "1-2-3," and "Dr. Beat" are among the 22 show stopping numbers. During their careers, the Cuban-American superstars sold 100 million records and won 26 Grammys. The production directed by Jerry Mitchell and choreographed by Sergio Trujillo begins a national tour soon after the final Broadway performance. Buffalo is the first stop with a scheduled opening date of September 22nd. The musical is as much about fortitude and resilience as it is fame and hard earned success. Ms. Estefan's slow and painful recovery from a near fatal 1990 collision is the show's emotional anchor. In 2015 President Barack Obama presented the Estefans with the Medal of Freedom, a well-earned honor for two extraordinary immigrants who got Americans up and on their feet.
---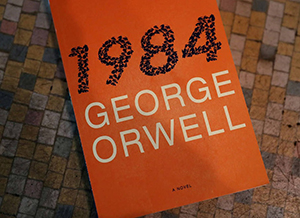 1984
Hudson Theatre
"Big Brother," "Double Think," "Newspeak." All of these now commonly used phrases which first appeared in George Orwell's 1949 novel are frequently used when disgruntled and or discouraged Americans discuss the current state of affairs in Washington DC. The producers of this new adaptation of Orwell's seminal work could not have hoped for better timing. Imported from London where it ran for four years, 1984 is the 2017-2018 Broadway season's first production. It's not for those who faint at the sight of a bloody nose. If Broadway had an MPAA-like rating system, 1984 would be R-rated for violent and gory scenes. Children under 13 are not allowed in the theater. The three principal characters, Winston Smith, O'Brien, and Julia are played respectively by Tom Sturridge a Tony nominee for Orphans; Reed Birney, a Tony winner for The Humans; and Olivia Wilde making her Broadway debut. New York and not London where the play ran for four years is the location for Orwell's tale about a dystopian future where citizens live in fear under a totalitarian regime Not surprisingly the book is at the top of Amazon's best-seller list. A limited number of tickets priced at $19.84 for front row seats will go to the lucky winners of a digital lottery. For more information download the TodayTix mobile app or visit todaytix.com.
---
LINCOLN CENTER OUT OF DOORS
The (Free) Music of The Night
What began 45 years ago as a small festival of street theater became a massive, city-wide event featuring jazz, folk, gospel, blues, and rock—all performed under the canopy of the night sky in a variety of Manhattan locations. Now through August 13th, all events are free. For scheduling information and event locations, visit LCOutOfDoors.org.
---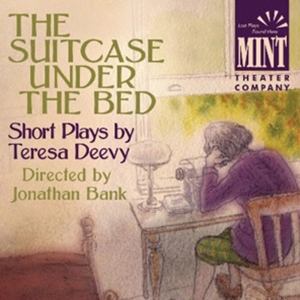 THE SUITCASE UNDER THE BED
The Beckett Theater
Performances of four short plays by Irish playwright Teresa Deevy run two hours with an intermission and are directed by the Mint's Producing Artistic Director Jonathon Bank who with other members of the company is dedicated to "restoring Ms. Deevey to her proper place in the canon of Irish dramatic literature." The title is named for the location of Ms. Deevy's written work which unbeknownst to her family and friends was stored in a valise. The plays respectively deal with a wedding, three marriage proposals, and two break-ups. For more information about the production visit minttheater.org. Performances are Tuesday through Saturday at 7:30 pm; Saturdays and Sundays at 2 pm. The Beckett Theater is located at 410 West 42nd Street (between 9th & Dyer).
---

MARVIN'S ROOM
American Airlines Theater
Janeane Garofalo, known for her work on Saturday Night Live, The Ben Stiller Show, and movies including Steal This Movie and The Truth About Cats And Dogs makes her debut in the first Broadway production of the late Scott McPherson's 1990 play. It premiered at Chicago's Goodman Theater before opening Off-Broadway at Playwrights Horizon. Ms. Garofalo and Lili Taylor, a co-star of ABC's American Crime are Lee and Bessie, estranged sisters forced to reunite after an 18-year separation to cope with family crises. Bessie, who has taken care of their bedridden father Marvin for twenty years is diagnosed with leukemia and requires a bone marrow transplant to survive. Do critical problems bring a family together or tear them apart? Is it possible for two siblings to forge a bond after years of holding grudges and perpetuating their silent feud? Mr. McPherson's play debuted Off-Broadway during the height of the city's AIDS epidemic. A victim of the disease, he passed away at the age of 33—two years after his play debuted Off-Broadway. The movie version with Meryl Streep, Diane Keaton, and Leonardo DiCaprio as the delinquent son was released in 1996.
---

A DOLL'S HOUSE, PART 2
Extended Run
Laurie Metcalf, who won a Tony for her acclaimed performance as Nora and fellow cast members Chris Cooper and Condola Rashad—both Tony nominees—departed the show in July. But given the production's rave reviews, 8 Tony nominations and Jayne Houdyshell's extraordinary performance, the show's run will continue through January 7th at the John Golden Theater with new cast members Julie White (The Little Dog Laughed), Stephen McKinley (Fences) and Erin Wilhelmi. Director Sam Gold and playwright Lucas Hnath were Tony-nominated as well.
---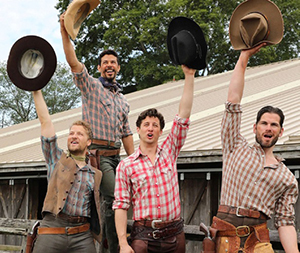 OKLAHOMA
The Goodspeed
New Yorkers looking for an idyllic weekend in the country not too far away should head to East Haddam, Connecticut and The Goodspeed Theater where the cast is performing Oklahoma. The show runs through September 23rd and is the theater's first-ever production of the 1943 award winning show. The Richard Rodgers/Oscar Hammerstein musical opened on Broadway seventy-four years ago and was an immediate hit. The score includes "Oh, What A Beautiful Morning," "Out Of My Dreams," "People Will Say We're In Love" and, of course, the title song. The cast will be led by Rhett Guter (Curly), Samantha Bruce (Laurey), Terry Burrell (Aunt Eller), Jake Swain (Will Parker) and Gizel Jimenez (Ado Annie).