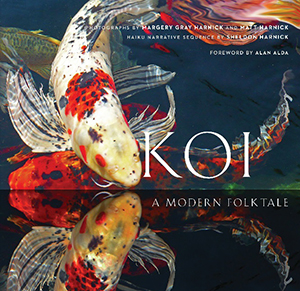 KOI: A Modern Folk Tale
The legendary Pulitzer Prize and Tony-winning lyricist Sheldon Har-nick, his photographer/actress/painter wife Margery Gray Harnick and their photographer son Matthew collaborated on this beautiful, charming book. In the forward Alan Alda advises readers to "jump into the water with this happy, creative family and swim with them toward delight and meaning. It will be a refreshing dip." During a visit with their daughter, Beth in Malibu Margie photographed the Koi, and both she and Sheldon were curious about its origins prompting him to write, "Where did they come from, these multi-colored marvels, Nature's objects d'art? Well, carp from China somehow became the wondrous koi bred in Japan". In his research, Sheldon learned of its origins and the legends associated with the colorful, beautiful fish. In keeping with the Koi's Asian origin Sheldon's narrative is in the form of haiku verses. The book received glowing reviews and praise from some taste makers in the Broadway community including Lin-Manuel Miranda who wrote, "In this masterful book, Margie, Matt, and Sheldon weave together their disparate crafts. Through their luminous photos and his beautiful poetry, they frame the mighty Koi and get after its essence. You'll never see Koi the same way again".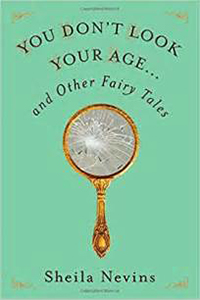 YOU DON'T LOOK YOUR AGE AND OTHER FAIRY TALES
In her new provocative book television producer Sheila Nevins who earned 32 Primetime Emmy Awards and was President of HBO Documentary Films addresses many issues relating to women of all ages including the challenges facing young working mothers and the difficulties older women encounter in a culture which seldom values, wisdom, and experience. Meryl Streep, one of the book's many fans, wrote, "Thank you, Sheila Nevins, for putting all this down for posterity. Women need this kind of honest excavation of the process of living."
I asked Ms. Nevins a few questions about her life and career.
Who or what inspired you to produce documentaries?
Life's injustices inspired me to reveal stories of the underdog so that their voices could be heard.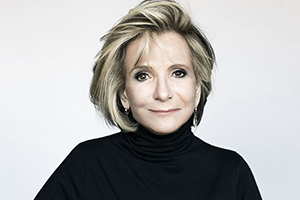 Several of your documentaries were created for young viewers. Which of them are most meaningful and why?
The one about Tourette's called I Have Tourette's But Tourette's Doesn't Have Me. My son had Tourette's and nobody knew anything about it, or about the pain children go though who have it.
What are the challenges for working women today and are they much the same as they were in the '70s?
The challenges for working women are working men. They were and always will be.
Did you regret turning down Don Hewitt's offer to join the 60 Minutes team as a producer?
It wasn't as a producer it was as an on-camera talent. I regret nothing.
What advice do you have for the next generation of documentary producers?
I'd say, the word Documentary is no longer a dirty word. So your journey should be a hell of a lot easier than mine was!