DRESSING: A NATURAL ACT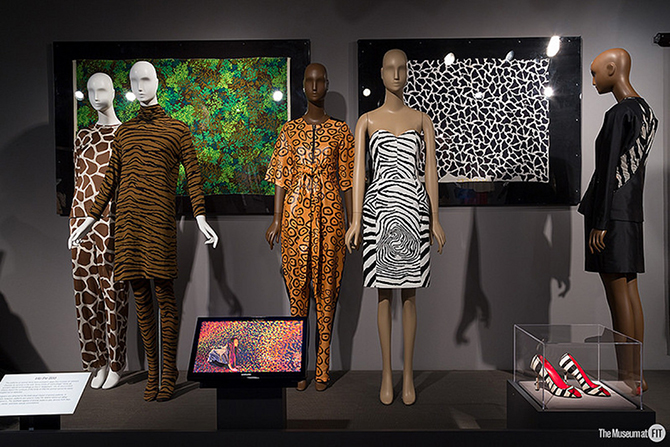 By Miki Makrillos | Photos courtesy Museum at FIT
With the environment taking center stage these days, there couldn't be a more appropriate time to ponder the relationship between humans and nature. Intrigued? Now through November 18th, the Force of Nature exhibit at the Museum at FIT will help you explore this vital connection: the interaction between fashion and the natural sciences.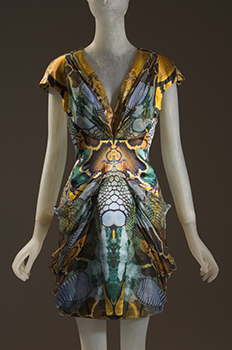 Alexander McQueen dress,
Plato's Atlantis Collection,
Spring 2010, England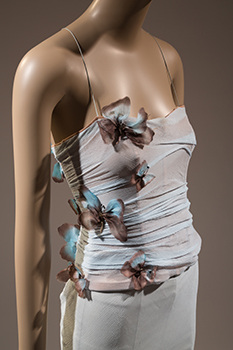 Dolce & Gabbana, evening dress, Spring 1998, Italy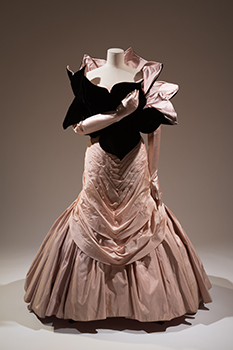 Charles James, Tree evening dress and Petal stole, 1955, USA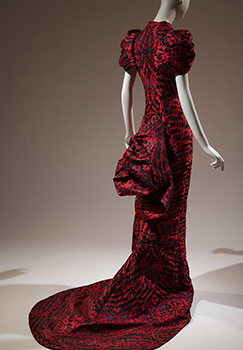 Alexander McQueen, dress, Horn of Plenty Collection, Fall 2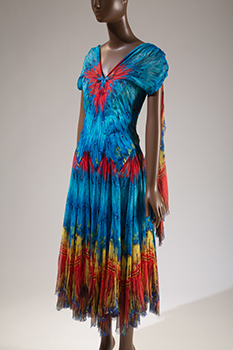 Alexander McQueen dress, Irere Collection, Spring 2003, England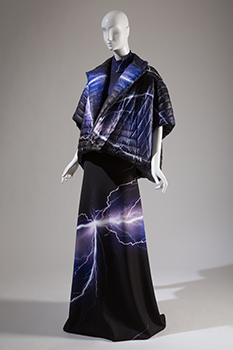 Arzu Kaprol, evening ensemble, Fall 2014, Turkey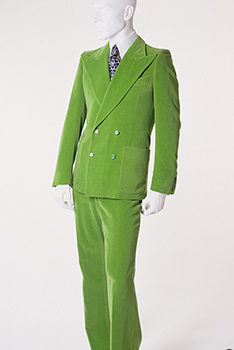 Yves Saint Laurent Rive Gauche, suit, circa 1972 France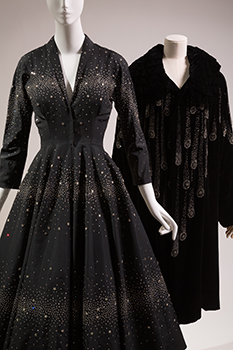 (L) Saks Fifth Avenue, cocktail dress, Fall 1953, USA
(R) Evening coat, circa 1920, France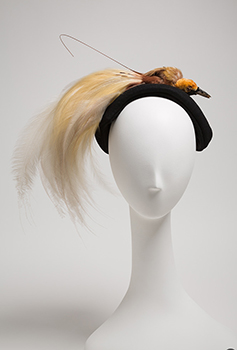 Mme. Pauline, hat, circa 1955, USA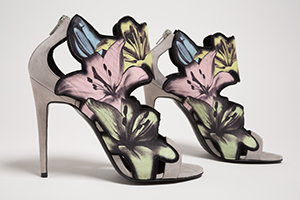 Pierre Hardy, shoes, Summer 2015, France
The garments and accessories, representing a span from the 18th century to contemporary times, are drawn from the permanent collection of the museum. The exhibit reveals the impact of nature historically within the context of society's interpretation, understanding, and embracing these natural world elements into fashion. Natural elements have inspired diversity and creativity throughout time with the use of water, lightning, celestial bodies, botanical, florals, animal prints, feathers, and microorganisms among the examples displayed at the exhibit. Museum curator, Melissa Marra, explains how "the natural world has influenced fashion in positive ways; however fashion's impact on the environment has been mostly detrimental." Today, there are growing technological and scientific inquiries that work with nature to help create fabrics that are more sustainable, and biomaterials that are developed using biological organisms. The Force of Nature exhibit closes with emerging dynamic and encouraging discussion about future directions in fashion.
For more information on the Force of Nature, visit fitnyc.edu/museum.