THAI HIGH STYLE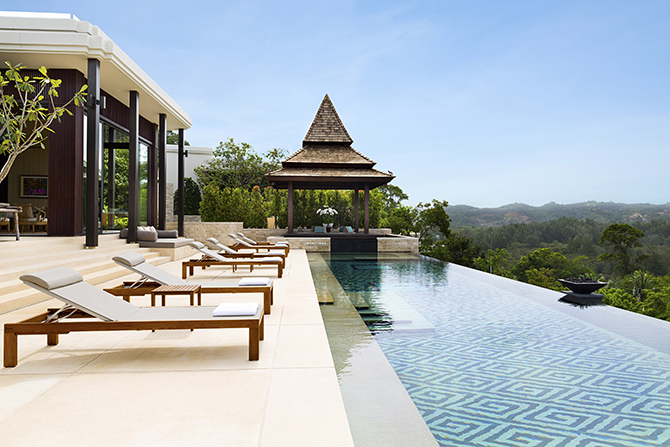 Residences Pool Terrace
By Ruth J. Katz
Now, let's see: Which soap do I want to turn into bubbling lather in the beckoning, soft-peach-marble-clad shower chamber where I will attempt to shed a day-and-a-half worth of travel grime from my weary body? New York to Taipei, Taipei to Bangkok, and Bangkok to Phuket. It was, indeed, a very long haul (although a singularly pleasant one on EVA Air), but worth it, because the pot of gold at the finish line was one of the 15 residence villas at the Anantara Layan Phuket Resort and Spa. Here, nestled into the side of a lushly verdant mountain, is my five-bedroom complex, replete with staff. For several days, my friends and I would not have to lift a finger, as the resident butler and concierge would fulfill our every whim, while our chef and his team would prepare bountiful and delightful repasts.
All I had to do was figure out which aromatic soap to use, as recommended by a menu presented by the resort's Soap Guru. Proffered are indigenous scents and alchemic mixtures, highlighting vetiver, ginger flower, cedar wood, and patchouli. After a sybaritic scrubbing, I was ready for a fabulous wine-tasting with—whom else?—the hotel's Wine Guru. Measured sips of some remarkable wines provided the perfect fillip to the day, followed by a refreshing and flavorful dinner on the terrace of one of the resort's scenic restaurants, Dee Plee. The feast of native dishes was abundant, including a mix of khao soi gai, massaman nua, pla grapong neung—sumptuous chicken, beef, and sea bass respectively.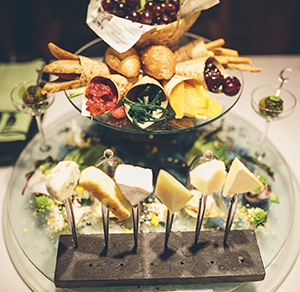 Wine Room Tasting
THE SPICE OF LIFE
So inspired were we by dinner, we took Anantara's celebrated Spice Spoons cooking class the next day, which turned out to be one of the best cooking lessons I have ever chopped my way through. We set out early the next morning with Chef Suthat Ajmanan to the Banzaan Market, adjacent to two colorful temples—no surprise in this country of hundreds and hundreds of temples, one more decorated and gilded than the next; color is omnipresent in Thailand. Chef Ajmanan made sure our wicker basket was full as we headed homeward, where our cooking stations awaited us, with foodstuffs in place. We prepared a tasty three-course banquet and afterward were rewarded with serious-looking diplomas, an encyclopedia of recipes, and cooking paraphernalia.
The afternoon was devoted to a languorous few hours at the signature Anantara Spa. The distinctly unique bamboo-stick massage with aromatic oil alleviated any hint of fatigue. Another signature indulgence was the sea shell and herbal therapy treatment, accented with the gentle "whoosh-whoosh" of the sea, heated shells, and acupressure. (Worth noting: There is a Little People's Spa menu; additionally, there is the youngsters' Chang Club to keep the under-12 set busy while the grown-ups are taking Muay Thai boxing lessons.) Post spa, I felt blissful, ready to attend the daily pool closing ceremony, highlighted by soft candlelight and the soothing, reverberating hum of the huge gong.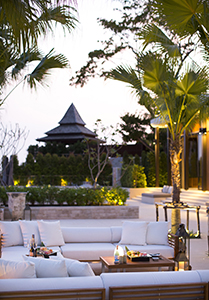 Residences Outdoor Dining
Back "at the ranch," our residence's chef had impressed into service his sous chefs and they prepared a hotel specialty extravaganza—a Dining by Design supper—at our outdoor barbecue pit in the sunken dining area. Countless courses, unusual flavors. It could not have been a more idyllic day, but then every day is planned by your hosts to be flawless. Nights are meant to be perfect, as well. And, yes, there is even a Slumber Guru.
ELEGANT SURROUNDINGS
The residences, which debuted in Layan in 2016, are the ultimate in vacation luxury and were added to the existing resort-hotel (opened in 2014), which also offers lavish villas beachside, as well as other categories of accommodations. Ideally suited for multi-generational vacations, the residences range from a "mere" three-to-nine bedrooms. Each villa complex features a series of semi-detached buildings, massive outdoor space, an infinity pool (ours was lap-size), and outdoor cooking facilities. The residence's communal areas are all tastefully, thoughtfully, and functionally furnished (there is even a chic tote bag in each bedroom walk-in closet, so you have something useful and elegant to take to the pool or beach). The "work" areas—kitchen, laundry and so on—are all hidden. Hungry for a little chocolate at midnight? The guest pantry even offers a cupboard chock-a-block with necessities, like M&Ms. (Alas, however, there is no M&M Guru.)
For more information on Anantara Layan Phuket and other properties around the world, visit anantara.com.
FLY IN STYLE
EVA Air has several beautiful, comfortable lounges in the Taipei, Taiwan (your stopover), all with flavorsome Eastern and Western cuisine and gracious amenities geared to a tired traveler. Cabin service includes five classes—Royal Laurel, Premium Laurel, Business Class, Elite Class, and Economy Class; Elite provides plenty of extra pitch for comfort/leg room, thoughtful amenities, and probably the cleanest restrooms in the sky.
For more information on EVA Air, visit evaair.com
---
Ruth J. Katz is a style and travel writer and has written extensively for both The New York Times and New York Magazine and has served as an editor at numerous magazines and appeared regularly on Fox television as the consumer services expert. © Ruth J. Katz 2017 All Rights Reserved.