ROLL IT FORWARD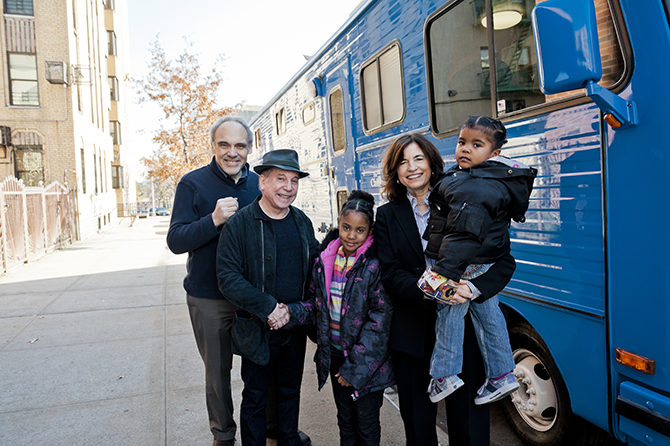 Paul Simon and friends
By Joan Hornig | Photos courtesy The Children's Health Fund and Publicolor
I've always felt September marks the beginning of every year. That "back to school" mentality still lingers even though our oldest daughter is 30 and our youngest 26. Luckily, we are past the frenzy to get doctor appointments squeezed in so they can return to school fully inoculated and healthy.
Fortunately for us, the challenge of getting those doctor appointments was only in scheduling a convenient time. It wasn't about finding a doctor, paying for the appointment or finding their medical records. But some parents in our city and country cannot say the same.

Big Blue Bus
THE CHILDREN'S HEALTH FUND
In 1987 (which coincidentally was the year I became a parent right here in NYC) singer/songwriter Paul Simon and Dr. Irwin Redlener founded The Children's Health Fund (childrenshealthfund.org) after touring a shelter for homeless families in the city. In response to the desperate conditions they witnessed, they launched the first Big Blue Bus, a specially designed pediatric mobile medical clinic equipped with an examining room, waiting area, nurse's station and lab.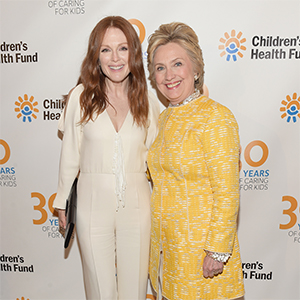 Julianne Moore and Hillary Clinton
Thirty years ago, while CHF Mobile Medical Unit 1 parked in front of a homeless shelter hotel, I was secure in knowing my kids would have easy access to top quality medical care. But less than 4 miles north of our apartment was the poorest congressional district in the United States. (And still is today.) Yes, even today, children living there may never see a doctor without the intervention of non-profits like CHF.
Many amazing things have begun in NYC which then go on to mature and spread their wings. CHF is among them. Today across the U.S. there are 53 mobile CHF clinics which provide more than 290,000 doctor visits each year for children. Found in 14 states and the District of Columbia, the Big Blue Buses deliver primary and preventive care for children regardless of their ability to pay. They travel to more than 360 schools, Head Start programs, shelters and community clinics, and remote rural stretches of America.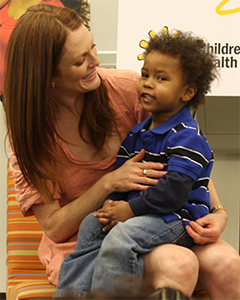 CHF also provides specialized mobile clinics focusing on dental, mental and emotional health services using the most up-to-date technology-enriched tools. Because inadequate health care undermines learning, CHF also goes directly to schools offering "Healthy and Ready to Learn" initiatives, comprehensive screening, and follow-up programs tailored to meet each child's needs. CHF, a first and agile responder to crises, remains active in the communities it serves. They have remained in South Florida since Hurricane Andrew in 1992 and continue ongoing programs in Flint, Michigan addressing the impact of the lead poisoning crisis on children.
Last autumn I asked CHF to park a mobile health unit in front of our apartment building to show my friends and their children how impressive their buses and programs are. It was mind expanding for all who attended. On average, if we matched our monthly Starbucks budget with a donation to CHF, each of us could provide two pairs of eyeglasses for 30 first graders. If we did the same when upgrading our iPhones, then four children could receive asthma care, and if we applied the price of a one-way coach fare for our family's vacation, we could underwrite a mobile clinic and medical services for an entire day to homeless families. Volunteers are also accepted with open arms!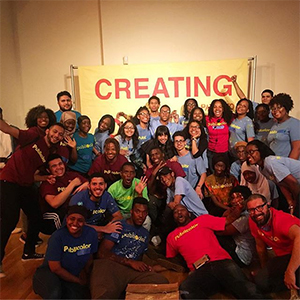 Publicolor
PUBLICOLOR
Research shows that low-income students who do not have access to organized activities lose about two months of grade equivalency over these same summer breaks. This further deepens the achievement gap and puts underserved students at greater risk of dropping out of school. One program aimed at ameliorating this problem was introduced to me by Ruth Lande Shuman, the founder of Publicolor (publicolor.org). Ruth asked me to participate in an annual fundraiser—Paint, Splatter, and Roll—where artists design totes which are then painted by gala attendees and auctioned off to raise funds. I enjoyed painting alongside students, alumni of the program and inspired community philanthropists!
I am particularly impressed by Publicolor's Summer Design Studio, a seven-week enrichment program which provides at-risk teens literacy and math skills through its prism of product design program. With paid work experience available to each child, it revitalizes the neighborhood with fresh coats of paint.
For 20 years, Publicolor has engaged disaffected youth through design projects in their schools. By changing their dreary, middle and high school facilities into appealing and vibrant educational facilities, student performance and attendance statistics have measurably increased. The tools: commercial paint, community-based volunteers and the principles of color, collaboration and design, combined with innovative programming!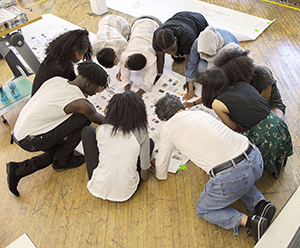 Publicolor
Like CHF, Publicolor has been nationally recognized for its successes. Since inception in1996, some 227 NYC public schools and 214 community facilities have been transformed. Nearly 98 percent of the kids in these schools had on-time graduation rates. The Center for Benefit-Cost Studies of Education at Teacher's College, Columbia University estimates this translates to $755,900 in average social benefits/high school graduate.
Also, Publicolor brings an intense and long-term commitment to providing lasting change. Because one size does not fit all, various programs continue year-round including COLOR Club, Next Steps, and Summer Design Studio which middle and high school students participate in for a minimum of three days a week. Scholarships and support continue through college for Publicolor high school graduates.
These are just two examples of NYC responses to helping our underserved children. But there are many more in need of your help. As you make "back to school" plans, consider adding one more objective – help another child reach his or her potential. Whether by supporting a bus or a brush, you can make a lasting difference.
---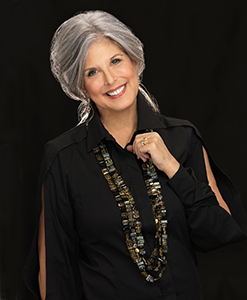 Joan Hornig is a New York-based Jewelry Designer, Social Entrepreneur, and Philanthropist. She left a Wall Street career 15 years ago to create a jewelry line at Bergdorf Goodman, where 100 percent of her profit is donated to the charity of the purchaser's choice.