SPA SCENE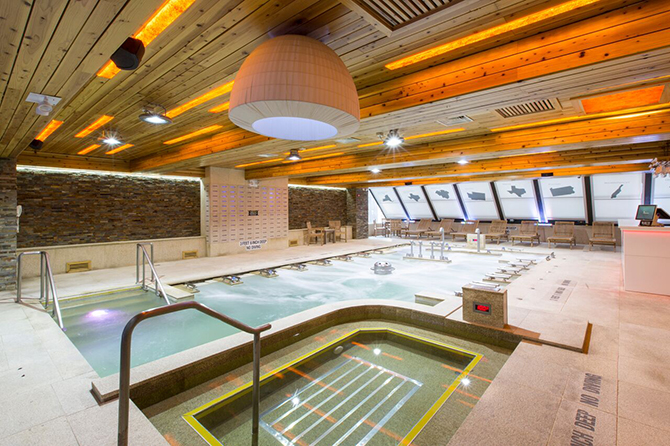 By Ruth J. Katz
It is hard to imagine dedicating a staggering 40 thousand square feet (on three levels) to a spa in Manhattan, a city that has to thrust steel, concrete, and glass heavenward to create new space. While I have visited some pretty indulgent spas in the city, with lavish facilities and appointments, I'd be hard-pressed to name one that could also be characterized as a hydrotherapy hub. The water therapy pools (yes, plural with an "s"), are just about the best I have seen or used anywhere. I am comparing them to two spas I thought had pretty nifty hydrotherapy facilities—at the Château de Pizay in Saint-Jean-d'Ardières, a sort of long stone's throw from Evian, arguably the water capital of France, and the hospitable Corinthia Hotel in Lisbon, with a highly therapeutic hydrotherapy circuit. It is truly not adequate to call Premier 57 simply a spa. Company literature says that it is Manhattan's East-Meets-West Spa Country Club.
SPA-LA-LA
Designed as a traditional Korean spa, it will impress for several other reasons. For starters, it's the only spa I have visited where, sensibly, before you even step into the dressing area—where everyone is barefoot or padding around in flip-flops—you leave your street shoes in a tiny locker in an ante-chamber. Then you put on your spa slip-on to enter the changing areas so that you do not drag sidewalk grime and germs in. Also, it's the only spa I know where each visitor is provided an electronic-style watch, to be used throughout their visit, and used to open your locker.
The main hydrotherapy bade (German for bathing) pool offers a dozen individual stations, with jets targeted to various body parts. The most potent jets are in the center of the pool, emanating from a metal monolith with a handrail around it. Yes, you will need the hand bar to stay put, so the powerful rush of water doesn't blow you half-way across the pool! If you get tired of the water treatments, paddle over to the pool bar and enjoy a refreshing beverage. On the rooftop, there are a few more hydro pools and even more stations for targeted therapy.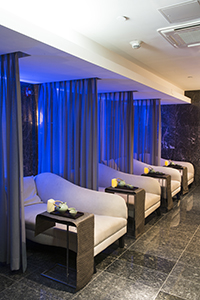 Premier 57
Those are not the only things that captivate here. On the ninth floor, there is a veritable sauna smorgasbord, called Sauna Valley, with a half dozen novel saunas. Company literature describes the various potential benefits that each one may produce:
• The gold sauna, which the company says is 98 percent gold-plated, takes a cue from the ancient Romans and Egyptians, who felt gold induced healing, and may well improve mental acuity through the increased conductivity between nerve endings.
• Korean loess soil lines the walls of the hottest and largest sauna; it encourages a very meditative state because of the aroma of the Korean yellow clay and additionally, it may aid in circulation and metabolism.
• The walls of the Himalayan salt room have a gentle pink cast; this environment helps to regulate blood pressure and the sundry minerals in the salt may lessen allergic reactions, soften the skin, and reduce signs of aging.
• The ice igloo—hardly a sauna!—delivers a virtual trip to the Arctic; exposure to the chill just may improve the body's anti-oxidant capabilities, strengthen the immune system, and reduce chronic pains.
• The infrared sauna looks very futuristic. The heaters convert the infrared light into heat, which is absorbed into the skin (as opposed to heating the air), and that may just sooth stiff joints and increase oxygen flow to the brain, resulting in better circulation.
• The chromo therapy sauna features a half dozen individual booths, each surrounded by a different-colored light and aimed to soothe and relax.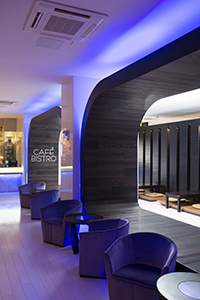 Cafe Bistro
However, if you prefer the classic dry sauna chamber in traditional burnished wood, you will find one each, in the individual men's and women's lounges. Additionally, each same-sex locker room has a classic steam room, a plunge pool, and a Jacuzzi in the wet area adjacent to the locker area. (The remarkable waterworks are co-ed, on the eighth floor and the rooftop.)
When you're completed with all the novel indulgences, there are several places to rest and relax, as well: The healing zone, the meditation room, the sleeping room, and the infrared zone lounge. And, if you spend the day there, take a lunch break at Café Bistro on the ninth floor, where the chef prepares smoothies, popular Western luncheon fare, and delectable Korean favorites.
Oh, and did we mention that, since this is a spa, there is a vast menu of spa treatments, Korean and Western-style—scrubs, wraps, hammam, massages, and facials, including the Asian bamboo massage, traditional Japanese shiatsu, and kung fu ball massage. Services can range from a 15-minute amma treatment to a two-hour Japanese Onsen experience.
A day pass is $75 and just may be the best money you'll ever spend (of course, incidentals and meals are extra). And, unlike most spas, bottled water is at an additional cost. However, there are water coolers for use on each floor. You will find the staff very caring and attentive.
For more information on Premier 57, visit premier57.com.
© Ruth J. Katz 2017 All Rights Reserved