PAT COLLINS' PICKS OF HOME ENTERTAINMENT RELEASES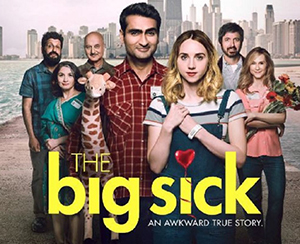 THE BIG SICK
Rated: R
With his superb and hilarious film, director Michael Showalter resuscitated the romantic comedy genre, gave comedian Kumail Nanjiani a starring role, and turned a modestly budgeted movie into an indie hit praised by critics and audience members alike, scoring 98 percent with reviewers and 91 percent with ticket buyers according to Rotten Tomatoes. For inspiration, Mr. Showalter drew on the real life romance of Mr. Nanjiani, a Chicago stand-up comedian and part-time Uber driver and writer Emily V. Gordon (Zoe Kazan). Eight months after they began dating Ms. Gordon was hospitalized with an unknown infection and placed in a medically induced coma. Her parents (Holly Hunter and Ray Romano) attempted to ban Mr. Nanjiani from visiting their daughter. His equally displeased Muslim parents (Zenobia Schroff and Anupam Kher) expect their son to marry a suitable Pakistani young woman. Behind the scenes: Ms. Gordon and Mr. Nanjiani wrote the screenplay, Judd Apatow, the director of The 40-Year-Old Virgin and Knocked Up added his expertise as executive producer. Expect The Big Sick to be among the contenders for best film at the Independent Spirit Awards on March 3, 2018.
---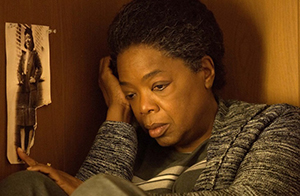 THE IMMORTAL LIFE OF HENRIETTA LACKS
Rated: NR
The HBO film based on Rebecca Skloot's non-fiction best seller stars Rose Byrne as the author; Oprah Winfrey, the film's executive producer in the role of Deborah Lacks, Henrietta's daughter; and Tony nominee (Hamilton) Renee Elise Goldsberry as Henrietta. In 1951, her cancer cells—one of the primary cell lines in medical research—were taken without her consent at Johns Hopkins, the only hospital at the time to admit and treat African American patients. Henrietta's family never knew of her involuntary contribution to cancer research until long after her death. Why were her cells unique? Reed Birney, in the role of Dr. George Otto Gey, explains, "Her cells reproduced at a very high rate and could be kept alive long enough to allow more in depth examination."
The cell line, HeLa, is named for the woman who in death contributed to medical research that resulted in keeping other cancer patients alive. Courtney Vance, Leslie Uggams, Ruben Santiago-Hudson and John Douglas Thompson co-star and are first rate.
---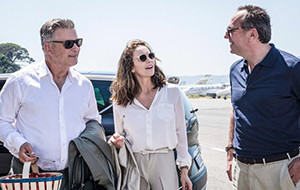 PARIS CAN WAIT
Rated: PG
An uncountable amount of calories contained in red wine and gourmet dinners are consumed by Ann (Diana Lane) and Jacques (Arnaud Viard) in director/writer Eleanor Coppella's comedy which resembles a lengthy travelogue produced by the French Tourism Bureau. Anne's successful movie producer husband Michael (Alec Baldwin) in Cannes for the festival -is needed in Budapest to solve an on set crisis. Before heading to Paris Ann's painful ear infection rules out flying to the City of Light where she and hubby will reunite. Michael's business partner Jacques volunteers to drive her to Paris with stops along the way at expensive chateaux and restaurants—all charged to her credit card. He has a lame excuse for not using his card. After a few miles and a more than few glasses of Champagne (not consumed behind the wheel), his charm turns more flirtatious. Ever the good and faithful wife, Anne rejects his subtle and not so subtle advances. One could be forgiven for dozing off between Cannes and Paris but not forgiven for not correctly predicting how this story ends. Ms. Lane's captivating performance is the only reason to see Ms. Coppella's disappointing indie film.
---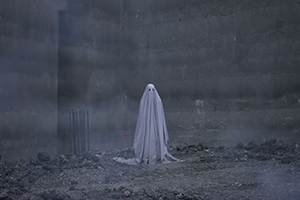 A GHOST STORY
Rated: R
Oscar winner Casey Affleck—Manchester By The Sea—is covered in a white sheet with two black eye holes looks like a Halloween party guest who put no effort into his costume. Mr. Affleck and Rooney Mara who co-starred in director David Lowery's Ain't Those Bodies Saints reunite in an unusual love story about loss and longing. He's "C, " and she's "M." No need for a spoiler alert. As revealed in the trailer, C does not survive a car crash and returns in spectral form to the modest home he and M once shared. She eventually leaves but not without placing a post-it size note in a crack in a wall. C's most memorable dialogue: "We build our legacy piece by piece and maybe the whole world will remember you or just a couple of people…but you do what you can to make sure you are still around when you are gone."
---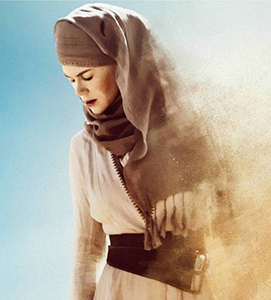 QUEEN OF THE DESERT
Rated: PG 13
Nicole Kidman described her character—the 19th-century British cartographer, writer, and archaeologist—Gertrude Bell as the female Lawrence of Arabia. The daughter of wealthy Londoners, she was uninterested in the city's social life and eager to experience the world: she embarked on a journey to Tehran, where her uncle was a high ranking diplomat, at a time when it was unthinkable for a young woman to travel without a father, husband or brother. A love affair with Henry Cadogan (James Franco), an embassy staff member, was doomed. After he had taken his own life, she found solace and a mission writing about and journeying throughout the Middle East. "I'm not afraid. For the first time in my life, I know who I am-my heart belongs to no one but the desert." Her knowledge of the Arab world made her invaluable to those in the British government shaping Middle East policy in the late 19th and early 20th century. Robert Pattinson looks distinguished as the young T.E. Lawrence who would be immortalized as Lawrence of Arabia.
---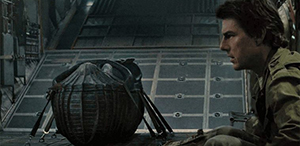 THE MUMMY
Rated: PG 13
Despite the best efforts of their human enemies big screen mummies keep coming back to wreak havoc on the living. In this latest version Army Sergeant Nick Morton (Tom Cruise) while plundering graveyard antiquities with his buddy (Jack Johnson) resurrects a Pharaoh's daughter (Sofia Boutella) who despite the passage of time holds a grudge against her father for putting her brother on the throne and not her. Hell hath no fury like a century's old mummified princess. Her sarcophagus is placed on a military transport plane which crashes on route to England. As revealed in the coming attractions trailer Morton busts out of a body bag in the morgue to prevent the undead princess from wreaking further havoc. Also in the cast is Russell Crowe as Dr. Henry Jekyll. Given the action movie's less than enthusiastic reception director Alex Kurtzman need not contemplate resurrecting the mummy again for a sequel.
---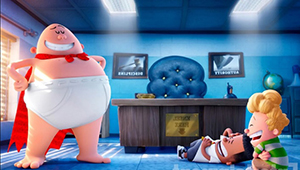 CAPTAIN UNDERPANTS THE FIRST EPIC MOVIE
Rated: PG
Two fourth grade pranksters, George (Kevin Hart) and Harold (Thomas Middleditch) create a crime fighting oddly underdressed character who comes to life after they hypnotize their mean spirited principal Mr. Krupp (Ed Helms) and convince him he is a superhero. The very mention of villainous German scientist Mr. Poopy pants, or an oversized Turbo Toilet 2000 and a character named Uranus never fails to get laughs from young movie goers. The DreamWorks animated feature directed by David Soren is based on Dav Pilkey's series of 12 books for children ages 6 and up. Nick Kroll voices a German scientist whose secret sinister goal is abolishing laughter. He will not succeed as long as there are giggling kids eager to watch this family comedy over and over. The movie took in a solid 90 million.