ON THE BOOKSHELF
By Patricia Canole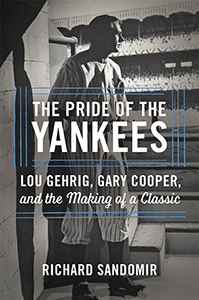 THE PRIDE OF THE YANKEES:
Lou Gehrig, Gary Cooper, And The Making Of A Classic
By Richard Sandomir
Hachette Book; $27
Movie and baseball fans unite. Richard Sandomir, sports writer for The New York Times for the past 25 years, has beautifully written about one moment in baseball history and the movie it inspired.
It was on July 4, 1939, slugger Lou Gehrig stepped onto the field at Yankee Stadium to deliver a dramatic speech dedicated to the fans who inspired him during his brilliant career. In what has been called "baseball's Gettysburg Address," Gehrig declared himself the "the luckiest man on the face of the earth" even as his body was being ravaged by the neurological disease that would soon be named after him. This became one of the signature moments in sports history—but it might have been lost if not for Samuel Goldwyn's 1942 film The Pride of the Yankees.
Timed to the 75th anniversary of the beloved movie, Sandomir tells the entire story behind a movie that ranks number 22 on the American Film Institute's Top 100 list of the most inspiring films of all time and third on the list of greatest sports movies. The book provides a behind-the-scenes look at a movie that Samuel Goldwyn, who knew nothing about baseball, ordained would be a romance about the great love between Lou and Eleanor Gehrig and how they faced the tragic illness that killed him at age 37.
Sandomir brings to life the lives and careers of Gary Cooper (who played Gehrig), one of Hollywood's greatest leading men, and shares a new understanding of the "luckiest man" speech: the one that Gehrig delivered and the one that Cooper portrayed before the Goldwyn's cameras. For Yankee fans especially this book recaptures some fascinating moments in the filming of The Pride of the Yankees. One that stands out is Gary Cooper could not, in the end, convert to a left-hander and that the film of him batting, fielding and throwing right-handed was flipped to make it seem he was doing everything as a southpaw. But a frame by frame analysis shows that such an effort was unlikely to have occurred; that too much effort would have been required to maintain the subterfuge and that only a sequence of Cooper throwing was reversed. It turns out it is just a myth. Babe Herman, a smooth fielding major leaguer with a good bat, was Cooper's double.
Another little-known fact: Samuel Goldwyn was not willing to pay for a significant amount of Gehrig's former teammates to be in the movie, in large part to recreate the day Lou made his speech but a few reluctantly agreed—including Babe Ruth.
It's a remarkable account of Lou Gehrig, Gary Cooper and written for all those who love the great sport of baseball and appreciative of Hollywood's magnificent films.
---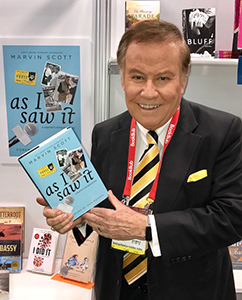 AS I SAW IT:
A Reporter's Intrepid Journey
By Marvin Scott
(Beaufort Books; $26.95)
Here's your chance to get a behind-the-scenes look at one of New York's fabled reporters, Marvin Scott. Spanning more than 50 years, it's a career that most could not even dream of having. For his stellar reporting, he's amassed more than 10 Emmy Awards.
From international headlines to local heroes, this member of the New York State Broadcasters Hall of Fame has covered the news with objectivity and integrity, bringing journalistic excellence to every level of reporting. Scott has interviewed six presidents, visited the front-lines of war in the Middle East and Asia, and witnessed the rise of America's space program. For him, it's all in a day's work.
You don't have to be a news aficionado to enjoy this book. For me, it is a first-hand, personal account of events that have shaped this world we live in. He recounts stories that have touched him personally—and the people who gave them life. Marching with Dr. Martin Luther King, Jr., tense meetings with Yasser Arafat, and a little 11-year-old girl, Stephanie Collado, who needed a heart—and in so doing touched his. With more than 30,000 interviews conducted during his career, Scott opens us to the worlds of politics, business, entertainment and everyday life in NYC. The King of Comedy, Jerry Lewis, reveals his secret to longevity; why Sophia Loren wants to be remembered as something other than a glamorous movie star; the infamous bank robber who inspired the film Dog Day Afternoon, reveals to Scott why he wanted a job as a bank security guard.
Marvin Scott has seen it all. He's a born storyteller who gives a fresh perspective on life's everyday experiences that have shaped us all. Dan Rather (he wrote the foreward) probably best describes him best. "The dictionary describes intrepid as being of resolute fearlessness, fortitude, and endurance. That is exactly how to describe Marvin Scott's journey as a lifelong reporter—and to describe the man himself. It fits Marvin like a bespoke suit."