PAWS DOWN, TAILS UP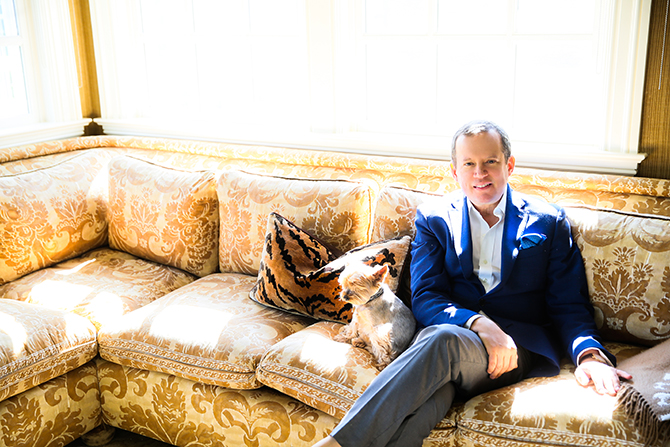 By Lori Zelenko & Susan Traub
For Fido or Fifi, there's a mantra among those who decorate with the family pet in mind: never sacrifice aesthetics for practicality. While some may opt for high-performance upholstery and others, choose natural fibers, uniformly pet-friendly interiors are sophisticated if not even playfully luxurious.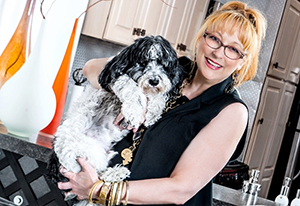 Robin Baron, of Bravo's Million Dollar Listing New York, with her Havanese, Oreo. Photo courtesy: Robin Baron
POSH PETS
Our four-legged friends are increasingly an important part of the family. And with nearly 80 percent of New York City apartments allowing dogs today, this is a trend that's here to stay. As kids grow up and homes become empty nests, pets replace the human children; the cost of their upbringing in some cases being almost equivalent.
According to New York decorator Alex Papachristidis who has seen this upturn in pet-friendly décor, he explains that "with my clients, it is not unusual to have a room in the home where the groomer can wash the dog. Very often owners need a specially constructed space where the dog has its food and water bowls and its bed." In fact, he's frequently called upon to create such spaces often complete with built-in cabinetry to accommodate the paraphernalia that comes with a pet.
And while not every pet appreciates a trip to the groomer, not every owner wants to spend the time to deliver and collect their pet to the groomer. Select groomers often make house calls, like Ryland Burnett whose New York City client base calls on her not just for convenience. Because a dog may have tremendous anxiety about being bathed, Ryland works with the dog to overcome this, even getting in the tub herself with a frightened puppy. "Today," she observes, "in-home grooming is not merely a luxury, for many pet owners it's a necessity."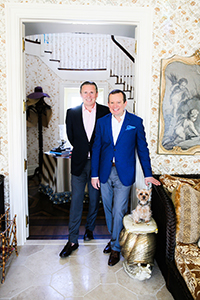 New York City Decorator Alex Papachristidis at home with partner, Scott, and their Yorkie, Teddy, whose paws never touch city streets. Photo courtesy: Alex Papachristidis
PAMPERED PLACES
Where once a basic dog bed in a neutral shade worked for any interior, today a "pet parent" frequently turns to their decorators to create beds in the same fabrics they are choosing for upholstery or drapery, all elegantly integrated into a well-designed and often, eco-conscious interior. "Our clients prefer natural fibers," says Alex Papachristidis. Observing that his customer base is as conscientious as they are indulgent of their pets and, "pays attention to the chemicals from the carpet to the garden."
Nancy Pearson, an interior designer, who counts star of Real Housewives of New York City, Sonja Morgan, among her clients, often replaces silk velvets and taffetas with synthetic blends, especially when the environment needs to be pet-friendly. "I've seen natural fabrics ruined by pets where if a synthetic—which may look the same—were used, the effect would be just as striking but maintenance would be far easier." Nancy continues to explain that it's "very much a trend now to use outdoor fabrics indoors since stain and dirt resistant materials look as luxurious and beautiful as many finer fabrics; there's no sacrifice for style and they hold up better."
Beloved pets are accommodated with whimsical décor options such as little gilt chairs which allow Teddy, Alex Papachristidis' Yorkie, to hop from sofa to floor without risking damage to his back. Nancy Pearson opted for a velvet ottoman for her dog as an interim step when jumping up or down from the furniture, a favorite look she's also featured in Sonja Morgan's interior.
Of course, bed linens may be a significant investment with Pratesi, Frette or custom linens costing into the thousands of dollars. How to protect them? Nancy Pearson not only suggests regular "pawdicures" for the pet but also laying an extra sheet or coverlet over fine bed linens to protect from pet damage.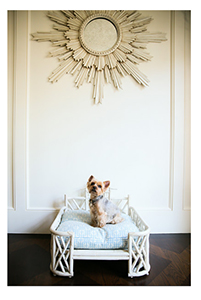 Decorator Alex Papachristidis' Yorkie, Teddy, poses on a custom dog bed designed to complement a sophisticated interior. Photo credit: Donna Newman
HOME, SWEET HOME
Not every pet owner, however, opts for the uber-luxe. There are those who go for what's immediately accessible choosing pillows, throws, even twin beds purchased from Restoration Hardware or Pottery Barn, observes Richard Nassimi of The Nassimi Group. "What works for kids, works for pets too."
Robin Baron agrees that educating clients about which fabrics will maintain their look best with a pet is key to a successful project. Robin, a celebrity interior designer and lifestyle expert (she's appeared on Million Dollar Listing New York and HGTV), sometimes finds a client may insist on a certain fabric or color, but they may not understand how dander will affect textiles. "An open weave like linen is not a good choice as it is porous and the dander and hair will get trapped. The best option for a home with a pet that sheds is a patterned fabric with a tight weave that is not in a dark color." She reminds her clients that confidence begins at home. "Remember when creating a pet-friendly environment opt for non-toxic choices in materials (synthetic or natural), flooring that is non-slippery (avoid marble) and consideration for the pet in every way—from size and age to personality and fitness."
What counts in the end is no matter what the interior design choices whether velvet or chintz, natural or synthetic fibers, designated space or the run of the house, priority #1 is the overall health and wellness of the pet.
---
Lori Zelenko and Susan Traub have teamed up to reveal exclusive personal insights into the luxe life of pets in the city offered by the influencers in Manhattan's design and real estate communities. Each a devoted dog owner as well as an entrepreneur, Lori and Susan are mutually dedicated to improving the well-being of pets in NYC and beyond. To learn more, email info@royalanimals.com. ©2017 Lori Zelenko and Susan Traub, All rights reserved.