MY NEW YORK STORY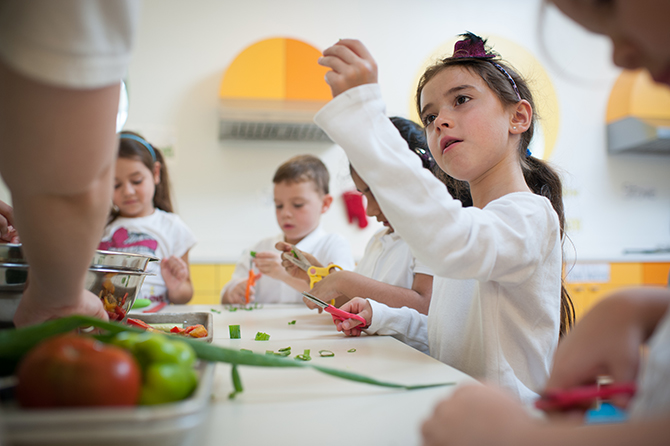 By Kate Brashares
I'm originally from England and have been in New York for about 17 years. I came here to attend Columbia Business School—and never left! Today, I have an American husband and three very American children who make fun of my accent. I love the energy, vibrancy, and diversity of New York. Every neighborhood is different. And, of course, I love the food.
For about ten years after business school, I worked in the for-profit world, doing marketing for beauty and food companies here in New York and California. I've always been drawn to companies that have a strong social mission, and about seven years ago I realized that the aspects of my work that I most enjoyed were those areas—so I decided to move to the non-profit world.
I started at Edible Schoolyard NYC as the Interim Executive Director, thinking it would be for just a couple of months, but I fell in love with the program immediately and was excited about the opportunities for growth and building the program from the ground up. Now, five years later, we've grown into a vibrant teacher training program with twenty-six members and have expanded to include six schools.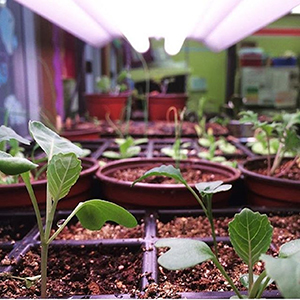 SOW TO GROW
Edible Schoolyard NYC has been in New York since 2010, and our mission is to transform the hearts, minds, and eating habits of young New Yorkers through hands-on, experiential gardening and cooking lessons incorporated into the school day. We are an affiliate program of the Edible Schoolyard Project, started by Alice Waters, acclaimed restaurateur and food activist, in Berkeley, California in 1995. Alice felt the best way to teach children the connections between food, health, and the environment was by integrating an edible education program into a school curriculum. We have adapted her vision to meet the unique needs of New York City by developing our own curriculum and programming, but Alice's original vision remains a huge inspiration for us.
We currently reach about 3,000 students (and growing!) through our Demonstration School and Network School models. We also touch about 53,000 students indirectly through our Professional Development programs. Our teachers, who are embedded in schools, teach gardening and cooking during the school day, run family and after school programs. The children in Edible Schoolyard NYC schools go to gardening and cooking class in the same way they go to science or art class. All our lessons are standards-based and academically rigorous, but also bring joy, wonder, and discovery of food. Every class incorporates tasting food—the best way of getting kids eating new things, and new healthy things are to expose them to these new things time and time again!
To make the biggest impact, we work with Title 1 schools which have been identified by the Department of Health as having high rates of diet-related diseases. Students learn everything from how to plant seeds to how to make a salad using all parts of the plant. My favorite part of Edible Schoolyard lessons is at the end of cooking class when the students will clean up, lay the table, and sit down to share the food that they have prepared as a family after saying 'Thank you, gardeners! Thank you, cooks!' That ritual of sharing food together, the community you build around the table, well, it's magical.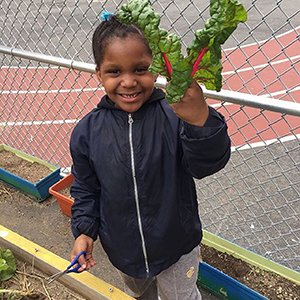 SPREADING THE WORD
The benefits of an edible education are numerous! Experiential garden and kitchen nutrition have been shown to help students develop a sense of responsibility, self-efficacy, and ownership, increase physical activity, improve food and nutrition knowledge, improve interest in eating, improve social skills (including interpersonal relationships, and group cohesion), help foster family relationships and increase parental involvement! Students are not only becoming advocates for their own health, but for their families, communities, and the environment. We see numerous changes in our kids and parents—from changes in eating habits to increased confidence in the kitchen and the classroom. One thing I love about our program is that we get kids to eat new foods every class. Nearly 99 percent of our students try the food in kitchen class. I'm often asked what we do about picky eaters, as so many people experience that with their own children. Our educational philosophy, our thoughtful approach, and our incredible teachers encourage students to keep an open mind. It works! Picky eaters become adventurous tasters with Edible Schoolyard NYC!
As we look forward, I'm really excited about what's to come for our organization, and for kids in New York. Our vision is that one day all children are educated and empowered to make healthy food choices for themselves, their communities, and their environment, actively achieving a just and sustainable food system for all. Our work is about creating a generation of healthier kids, and about changing the food system in NY and creating a more equitable playing field for our children. I hope that the kids that we work with truly are the advocates and the agents for change.
For more information on Edible Schoolyard NYC, visit edibleschoolyardnyc.org.
---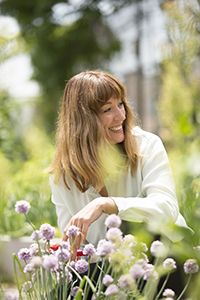 Kate Brashares is the Executive Director of Edible Schoolyard NYC. She lives in Montclair, NJ with her husband and three children, where she enjoys attempting to turn her wild backyard into a beautiful garden and cooking with her family.