DAVID HYDE PIERCE & THE ACTORS FUND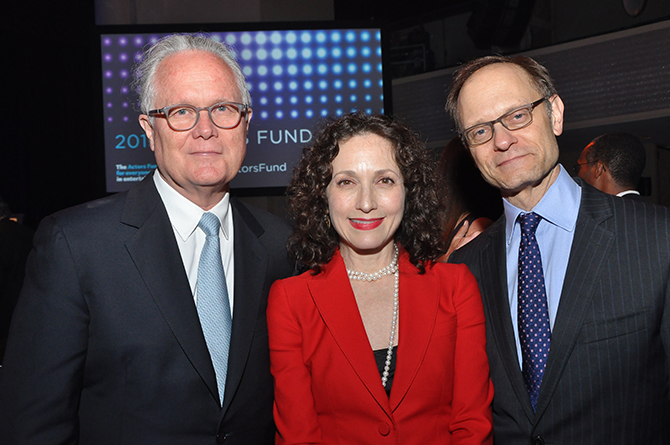 Christopher Calkins, Bebe Neuwirth and David Hyde Pierce at The Actors Fund Gala in 2015.
Photo: Anita & Steve Shevett
By Pat Collins
With a Tony Award (Curtains) four primetime Emmys (Frasier) and a record-setting 11 consecutive Emmy nominations, David Hyde Pierce is one of the most admired and popular actors of his generation. His long list of memorable roles includes Sir Robin in Spamalot; Vanya in Vanya, Sonia, Masha and Spike; Peter Patrone in The Heidi Chronicles; and currently Horace Vandergelder in Hello, Dolly! Behind the scenes, he is a stalwart supporter of The Actors Fund. We caught up with David to find out more about his long-time philanthropic commitment to the Fund.
You're a longtime supporter of The Actors Fund, the national human services organization that helps everyone in performing arts and entertainment in times of need, crisis or transition. How did you first become involved with The Fund?
I've always appreciated and supported The Actors Fund. I really got to know how much it has done when I was invited to perform in a benefit concert in 2005. A Wonderful Life—a musical version of the classic Frank Capra film—was a one-night-only event. As you know, it has beautiful music by Joe Raposo and lyrics and book by Sheldon Harnick. It was a joy being on stage for such a worthy cause with The Fund's Chairman Brian Stokes Mitchell, Judy Kuhn, Karen Ziemba and a fantastic cast.
Hurricanes were such a devastation for thousands this past year. I understand The Actors Fund provided help for the arts community?
Yes, they were able to provide emergency financial assistance to actors, dancers, musicians and so many who work in arts and entertainment in the areas impacted by the disaster. The Actors Fund responds quickly when a crisis occurs, as they did with Katrina, Sandy, 9/11 and more. It's a nimble human services organization that walks-the-walk in a remarkable way.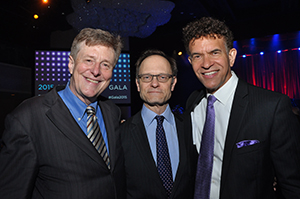 Brian Hargrove, David Hyde Pierce,
The Actors Fund Chairman Brian Stokes Mitchell at The Actors Fund Annual Gala in 2015. Photo: Anita & Steve Shevett
Access to affordable health care is such a hot topic these days. I understand The Fund opened The Samuel J. Friedman Health Center for the Performing Arts at their main office in Times Square. And this past spring you appeared in promotional videos to help spread the word. Can you tell us about why The Fund is focused on health care for the arts community?
Finding quality medical care can be confusing for anyone who isn't covered by an employer or union health plan, which is often the case for people in arts and entertainment. So access to good, quality and affordable health care is a major focus for The Actors Fund.
In fact, they've been ahead of the curve on health insurance enrollment for years. Since the late 90s, The Fund has provided our community nationally with personalized health insurance counseling, guidance and enrollment support, as well as referrals to health care resources. The Fund even
operated a free medical clinic which has evolved into the primary care Friedman Health Center for the Performing Arts. It's right in the heart of Times Square and provides for continuity of care for those who cycle on and off their union plans and other types of insurance, allowing our community to stay with the same doctor. Also, it's in partnership with Mount Sinai, so the care is top notch, and there are plans in place to add specialty services targeted to our entertainment community's needs.
One of The Fund's best-known facilities is The Lillian Booth Actors Home in Englewood, New Jersey, which provides assisted living, skilled nursing and now short-term rehabilitation services to those who dedicated a major portion of their professional lives to arts and entertainment and their immediate families. The Actors Fund Home is in the middle of a major expansion and renovation. How's that going?
Well. They just finished the first phase of its expansion with the opening of The Shubert Pavilion. The ribbon cutting is October 6th. We had significant support from the Shubert Organization, The Walt Disney Company, the Waldman Foundation, and all the essential entertainment unions and hundreds of individual donors. This new wing houses a rehabilitation center and 25 subacute beds for people recovering from illness or surgery as they prepare for a safe return to their private homes. It even has a state-of-the-art gym with physical, occupational and speech therapies and a hydrotherapy pool. I'm really proud of all these services available to our elders in the arts—those who worked on stage and screen, and behind the scenes. It's a fitting tribute to their work that they have a safe and welcoming place to go for rehab services or to enjoy their "golden years."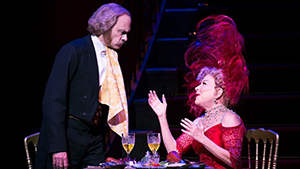 Hello, Dolly! with Bette Midler
The Actors Fund Home has a wing dedicated to providing care for those in the arts who are living with Alzheimer's and many other services for seniors in the arts. I know you are passionate about Alzheimer's awareness. Can you tell our readers about why it's important to you?
Well, it's personal for me, just like it is for the estimated 5.5 million individuals who face this devastating health challenge. My grandfather was diagnosed when he was 85 years old, so I've seen first-hand how difficult it can be for families facing this challenge. And for many seniors in entertainment, they might have fewer support systems in place. Many left families and other support networks behind to come to the city and devote their lives to bringing joy to our stages and screens. So where do they turn when they need community?
The Actors Fund does caring and compassionate work with seniors in arts and entertainment. They have amazing programs focused on health and wellness that keep seniors engaged with their communities and with each other. And their social workers provide support for individuals and families who face this diagnosis. In fact, The Actors Fund Home was just accredited by Comfort Matters, a nationally and internationally recognized dementia care program. It's a philosophy of caring for these individuals holistically, all to improve the quality of care and quality of life for persons experiencing dementia. And it's just par for the course for the kind of quality care The Actors Fund Home provides for everyone.
I was privileged to attend The Actors Fund gala in the spring honoring Sally Field, Danny De Vito and Hal Prince. What events are on the calendar for October and the rest of the year?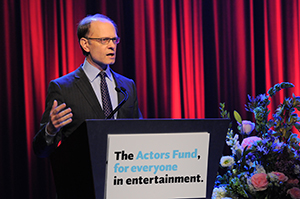 David Hyde Pierce at The Actors Fund Gala in 2015. Photo: Anita & Steve Shevett
They have so many events, Pat! How can I choose? One exciting upcoming event is The Actors Fund's Career Transition for Dancers Jubilee Gala on November 1st at the New York Marriott Marquis. It raises funds for services for the dance community. The one and only Bebe Neuwirth will be hosting, and they're honoring dancer, choreographer and dance competition judge Carrie Ann Inaba, New York City Ballet principal dancer Robert Fairchild and the amazing Catherine Zeta-Jones. It should be an exciting night.
The Actors Fund is there for everyone in performing arts and entertainment, including actors, dancers, singers, musicians and all those who work on set or behind the scenes. What advice do you have for young aspiring artists and arts professionals?
One thing I'd say is to remember that The Actors Fund is there over the course of your career, not just in times of crisis. They have services around financial wellness, budgeting for a fluctuating income (which is so important for people in the arts), preparing for a sideline or parallel career for leaner times, seminars on affordable housing and much, much more. There's a community that is there to help you lay the groundwork for success in all facets of your life outside "the biz," so you are better able to pursue your work as an artist.
As Co-Chair, with Laura Linney, of The Actors Fund's Artists' Committee, you regularly give of your time and resources. Why, in your opinion, should people support this organization?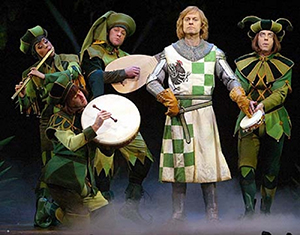 David Hyde Pierce and the cast of Spamalot
The arts are essential to a healthy society. Orchestras, dance companies, film, TV, theatre—these art forms each sustain and transform people in so many positive ways. The Actors Fund is the organization that's there to nurture these people that contribute to our nation's culture. And on a separate note, here's an insider's tip. The Actors Fund has access to Broadway house seats for most shows. You can go to their website or call for details. So if you want great seats to Hello, Dolly! for you (or your cousin from Nebraska), The Actors Fund has your ticket.
You've had incredible success in film, TV and theater, but many are not aware that the average salaries for actors or dancers are actually quite low, and many struggle to afford health insurance and basic living expenses, let alone plan for the future. How does The Fund help artists navigate their finances?
They have an entire program dedicated to Financial Wellness. They offer free classes and workshops on cash flow management, managing credit and debt, savings and investing, and financial planning. It's great information for anyone really, but these classes are uniquely tailored to people who work in the arts and deal with fluctuating income and episodic work. No one understands this community like The Actors Fund.
The organization has an incredible history, going all the way back to its founding in 1882. What's next for The Actors Fund?
The Fund is working on building and expanding their reach for the services they already provide—whether it's emergency financial assistance, affordable housing, health insurance enrollment and support, or career counseling. The "Actors" part of their name is really a misnomer. They're for everyone in show business. And did I mention they're also opening a senior community center soon called the Waldman Living Room at one of their affordable housing facilities this fall, The Dorothy Ross Friedman Residence in midtown. It'll be a safe space for seniors in the arts to gather and stay connected to each other and all these amazing supportive services. I love this organization. They really do it all!