BRIGHT LIGHTS, BIG CITY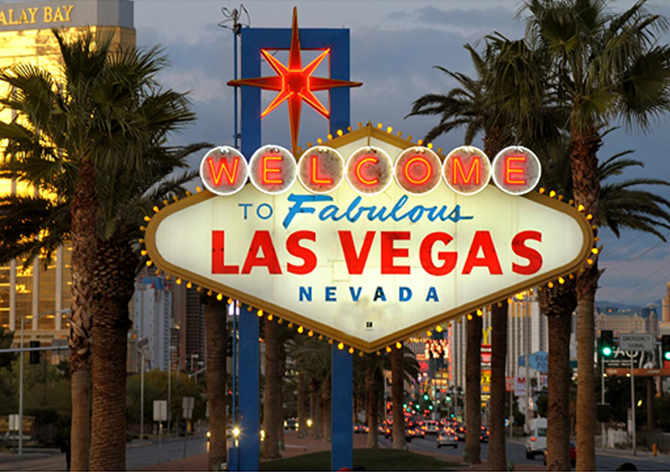 By Norah Bradford
When it comes to bright lights, New York's Great White Way can't hold a candle to the Vegas Strip, which has cornered the market concerning neon. Today, the former haunt of Sinatra and his Rat Pack is about more than just craps and roulette wheels. You'll find everything from fantastic shows to fine dining. To get you started on an unforgettable getaway, here's our hour-by-hour guide to what's in store in American's favorite city, Las Vegas.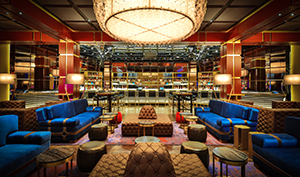 The Dorsey Bar
6 PM—CATCH THE FEVER
Vegas provides great people-watching. Ease into your evening with cocktails at The Dorsey at The Venetian (venetian.com) which transports you from the gaming floors of Las Vegas to a sophisticated bar serving cocktails designed by Sam Ross of Milk & Honey. Sit amongst the library books and fireplace early evening and enjoy a pre-dinner drink, while viewing stunning digital art displayed on eight screens from well-known artists. Come back later and experience the DJ and music while finishing your night. Be sure to try the signature cocktail; The Penicillin is said to have curative powers.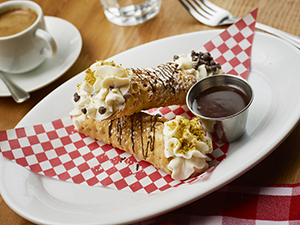 Buddy V's Ristorante
7 PM—WINE & DINE
Vegas is a culinary dream come true with some of the world's best restaurants within easy reach. For serious foodies, there's TAO (taolasvegas.com), still the hottest spot on The Strip. An unbeatable combination of Asian-influenced food, exceptional service, music, and entertainment. LAVO (lavolv.com) provides a hip Italian-American dining experience with a vast menu of wines and cocktails. House specialties include Penne Seafood Alfredo and Fresh Spaghetti with Tomato and Basil. Beauty & Essex (beautyandessex.com) nestled in the Cosmopolitan (cosmopolitanlasvegas.com) blends the Lower East Side vibe of New York with the glamour of Vegas for an outstanding dining experience. Enter this speakeasy-style venue through a working pawn shop where dinner choices range from Alaskan King Crab Legs to Fish & Chip Tacos.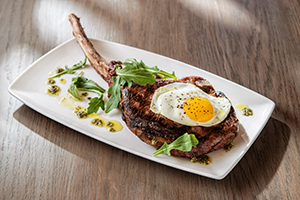 Giada
But remember Vegas is the ultimate food destination. Other tasty options include world-famous Carmine's (carminesnyc.com), the perfect rendezvous to meet up with family or friends and share classic family-style Italian fare. A wide range of dishes coupled with warm and friendly service will put you in a relaxed state of mind. Buddy V's Ristorante (buddyvlasvegas.com) is the brainchild of Buddy Valastro, the star of TLC's Cake Boss. Here, it's all about casual Italian dining in a sophisticated setting and of course, his deserts such as the famous Flake Cream-Filled Lobster Tails, Cannolis, and Italian Birthday Cake. At Giada (caesars.com/cromwell.com) enjoy the cuisine of award-winning, classical trained chef, Giada de Laurentiis. Do not allow yourself to be distracted by the views of The Strip. Think Italian cuisine with a Californian influence. Searsucker (searsucker.com/lasvegas) dishes up New American cuisine with hip music and a modern interior which adds up to sure-fire success. Try Chef Malarkey's Drunken Skirt Steak with Beer Marinade and Grilled Crispy Potatoes. You won't be disappointed.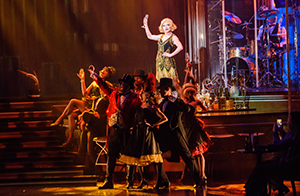 BAZ - A Musical Mash-Up
9 PM—THAT'S ENTERTAINMENT
There's probably nothing on earth that can match the pure spectacle of a Vegas show. Marvel at the Baz—A Musical Mash-Up (palazzo.com/baz) at The Palazzo takes three of Australian Director Baz Lurhmann's movies—Moulin Rouge, Romeo and Juliet, and The Great Gatsby—and combines them into a live music performance where the audience sits amongst the performer's stage. Super songbirds Jennifer Lopez and Britney Spears continue their runs at Planet Hollywood (caesers.com/planet-hollywood).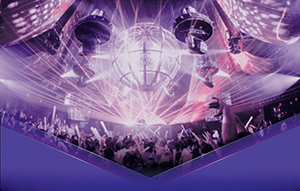 Cosmopolitan's Marquee Club
11 PM—LET THE MUSIC BEGIN
The city now shifts into high gear with more entertaining options and non-stop fun. Ultra - Lounges and clubs dot The Strip and heat up nightly. Are you ready? With hip DJs, unique cocktail menus, and a chic crowd, the top venues are packed every night of the week. At Bellagio, there's The Bank (thebanklasvegas.com), the upscale club, is the place to be seen! Dress to thrill at the Cosmopolitan's Marquee Club (marqueelasvegas.com) for top entertainment. With vast glass window-walls overlooking The Strip, you will enjoy an unforgettable nightlife experience.
4 AM—CALL IT A NIGHT
Time to pull the curtains closed, hang that "Do Not Disturb" sign and remember there's a tomorrow. Set the alarm? Never. Remember this is Las Vegas—no one has a clock around here!
---
WHERE TO STAY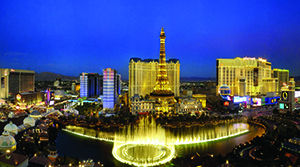 Bellagio (bellagio.com) The beautiful Italian-inspired architecture is a spectacle to be seen. Check out the lobby—especially the exquisite glass chandelier of 2,000 vibrant hand-blown glass flowers designed by Dale Chihuly. Request a room in the Spa Tower where you're steps away from relaxing in a hot tub or a soothing couples massage.
---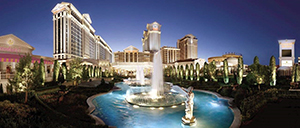 Caesars Palace (caesarspalace.com) The opulent entrance, fountains, Roman statuary, and roaming centurions all add up to the iconic, over-the-top Las Vegas hotel. Attracting superstar entertainers such as Rod Stewart, Elton John, Celine Dione, Mariah Carey and Jerry Seinfeld who wow audiences. Dining options read like a who's who—Rao's, Nobu and Mr. Chow is just the start. With accommodations including upgraded Caesars Suites and the addition of new luxury rooms at the Palace Tower it seems there are few excuses to postpone booking.
---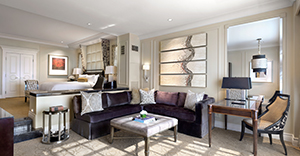 The Palazzo (thepalazzo.com) In a city that thinks big, The Palazzo offers the largest standard size suite on the strip which is almost twice the size of the average hotel room in Las Vegas, providing a beautiful base from which to explore. The Palazzo creators have thought through the relationships needed to build a successful one-stop resort hotel in the center of Las Vegas, Canyon Ranch Spa, high-end retail and designer brands and, of course, a bustling casino.
---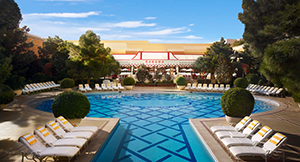 The Wynn (thewynnlasvegas) This resort is a playground for jet-setters, high rollers, and anyone who wants to feel like one. The Wynn and its sister Wynn Encore possess no fewer than thirteen Forbes Five-Star travel awards. Boasting an array of dining, shopping and entertainment options including a new nightclub, Intrigue. Last, but not least, you'll find the only 18-hole golf course on the strip boasting arguably the highest green fee in the U.S.—one for the golfer's bucket list.