POCONO PLEASURES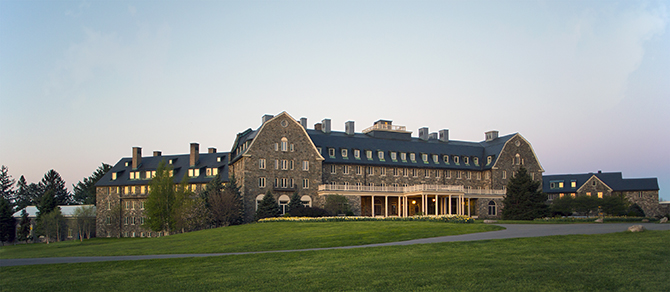 By Jeff & Stephanie Sylva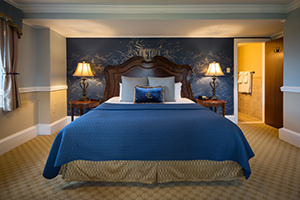 Lasting memories are what you will take home after a visit to Skytop Lodge, a premier Pocono Mountain resort just two hours from Manhattan. As you explore, play, and relax at this 5,500-acre elegant country estate, you will revel in the splendor of the stunning natural surroundings and beauty of this historic hotel.
Built in 1928, Skytop Lodge is a resort where first impressions become indelible images. The word stunning comes to mind and is the only way to describe your initial glimpse of the stone Dutch Colonial-style manor sitting atop the hill overlooking the lake. Skytop's founders envisioned a building that would have the look of belonging to the mountains.
Skytop Lodge is a year-round resort, and now is the perfect time to experience nature's colorful changing foliage. Get acquainted with the resort and take the Estate Tour Hayride, where an activities counselor will show the resort's facilities and tell of the various activities.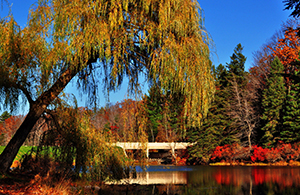 NATURE'S BRILLIANT SHOW
An excellent way to immerse yourself in Skytop's autumn beauty is to set out on one of the resort's 30 miles of hiking trails. One of our favorites was the famous Trout Stream Trail, which took us to the picturesque Indian Ladder Falls. From here we continued up the challenging Waterfall Ramble, where we climbed some very steep terrain alongside the falls using a series of ropes. Be sure to look for the guided hike of this trail by Skytop's resident naturalist, Rick Koval, who will have you accomplishing things you never thought you could. Or maybe you want to get out and explore the miles of Skytop's trails on a mountain or cruiser bike that are available for rent.
For an even more exciting foliage encounter, try flying through the trees with the Treetop Adventure Course. A four-hour tour traverses over 3,000 feet of elevated obstacles including bridge ways to walk from one platform to the next, a cargo net to crawl, and a total of 16 different zip lines! Other options at the Center include Archery Tag using foam-tipped arrows, Paintball Adventure on three separate courses, and Rockwall Climbing on the 33-foot wall. You can appreciate nature's beauty from the middle of the lake in a kayak, canoe or rowboat, or try your hand at fishing Skytop's private trout stream or the lake. Fly casting lessons and guided trips are available.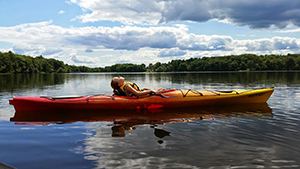 The vibrant fall colors are a perfect backdrop for a round of golf on Skytop's highly-rated 18-hole championship greens—considered one of the best in the East. The mountain-style course plays over rolling terrain with wide, tree-lined fairways and small greens for that extra challenge. A variety of Stay-and-Play golf packages and kids' game programs are available. Tennis, including a variety of daily tennis clinics or private lessons, is another great way to get an invigorating outdoor workout.
Still looking for other ways to appreciate the beauty of Skytop's natural surroundings? Why not saddle up and take a ride at the resort's riding stables? Or try your hand at the Skytop Outfitters 12-station Clay Shooting Range. Novices are welcome. If the weather doesn't cooperate, there's still plenty to do! Take a yoga, Zumba, or stretch class; or swim some laps in the indoor pool. Skytop's Activities Staff organizes a variety of arts and crafts, trivia contests, and games, and also conducts a very popular Kids Camp.
HEAVENLY HAVEN…AND MORE
Skytop offers a variety of accommodations: The Main Lodge features 124 rooms and suites in three signature themes—water, garden, and mountain-design—each reflecting the beauty of the natural surroundings. The Inn features 18 luxuriously appointed guest rooms each with a fireplace, private balcony, and built-in Jacuzzi. Other options are The Cottages and The Streamside Cottages providing seclusion in a peaceful setting.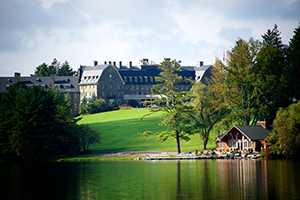 Whether it's breakfast, lunch or dinner, you'll not be disappointed in the options available. Serving traditional yet innovative cuisine in a classic setting, the Windsor Dining Room is the resort's flagship dining venue. The seasonal menu features many locally-sourced ingredients. The Lakeview Restaurant offers spectacular views of the lake while the Tap Room features more casual dining in a bistro-style setting.
Skytop Lodge, of course, has numerous activities to fill your day and evening. But it's also important to take some time to relax and simply enjoy the beauty and splendor of nature. There are many quiet spots to kick back and find some peace. Choose a classic rocking chair on the back porch overlooking the beautiful gardens and South Lawn, or a quiet place on a bench with a view of Indian Ladder Falls. Roast some marshmallows as you sit around the evening campfire. Or for a more relaxing time, enjoy a spa service at the Skyview Spa.
Skytop Lodge has seen many changes since it first opened, all of which are designed to continue the resort's many traditions and high standards. This commitment to excellence is reflected in Skytop's inclusion in Historic Hotels of America and its prestigious AAA Four Diamond Award.
For more information on Skytop Lodge visit skytop.com.
---
Jeff and Stephanie Sylva are retired English and Social Studies high school teachers who have been freelance travel writers for over 28 years. They've been publishing in many national publications and who love to write about the great outdoors and, of course, travel.