5 TOP SPOTS TO SEE FALL FOLIAGE
By Norah Bradford
With lazy days at the beach a memory, along with the temperatures taking a quick dip and shorter daylight hours, there's no question Fall is here in all its glory! But there is an upside to this story: The opportunity to experience the exquisite beauty of Mother Nature. And you don't have to travel far to take in this phenomenon. Wherever you decide, seeing trees put on their dazzling annual display is awe-inspiring. Here, our picks on the best places to see Fall's natural wonder.
---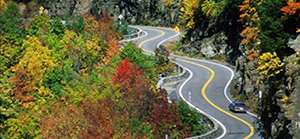 Hawks Nest
Sullivan County, NY
Just northwest of New York City lies the Catskill Mountains and the Upper Delaware Scenic Byway. Drive North from Port Jervis on County Rd. 97 to experience the foliage and sights. Be sure to stop at the iconic Hawks Nest to see picture-perfect river views and forests on the winding road made famous in car commercials. Visit the small cozy towns such as Barryville for the River Market (iloveny.com)
---

Hudson Valley
On the National Geographic Magazine list of must-see places, a drive through the Hudson Valley is a welcome escape from the pressures of urban life. Make a weekend of it and drive from New Paltz through the Shawangunk Mountains Scenic Byway en route to Phoenicia—named one of America's Top 10 coolest small towns (iloveny.com)
---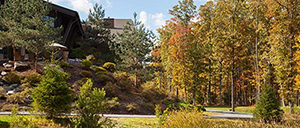 THE LODGE AT WOODLOCH
Hawley, PA
The Lodge at Woodloch encompasses 40,000 square feet of peaceful serenity and beautiful views. Luxurious is the word that comes to mind; it's been named one of Travel + Leisure magazine's top spa destinations. Just 90 miles from New York City, visitors enjoy a Pocono Mountain setting as well as the world-class spa with treatments and services customized to meet your unique goals (woodloch.com).
---

Hither Hills State Park
East Hampton, NY
More than just Fall colors here; it's sea air too! Take a drive to the Town of East Hampton and walk in the nearby Hither Hills State Park. Experience the Napeague Bird Conservation area and watch the variety of rare and endangered species in their natural locale. Afterwards why not stop and engage in one of the great Fall traditions of the Hamptons – pumpkin picking on the way home? (parks.ny.gov).
---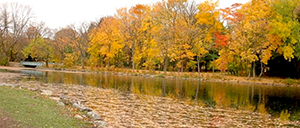 Van Cortlandt Park
The Bronx, NY
Van Cortlandt Park in the northwest Bronx encompasses over 1,100 acres that include a beautiful lake and the first municipal golf course in the country (it opened in 1895). Why not participate on October 21st in the "Get Active Hiking" program. Take the #1 subway to Broadway and 242nd Street to meet up with Friends of Van Cortlandt Park. (vcpark.org).