FASHION—MORE THAN CATWALKS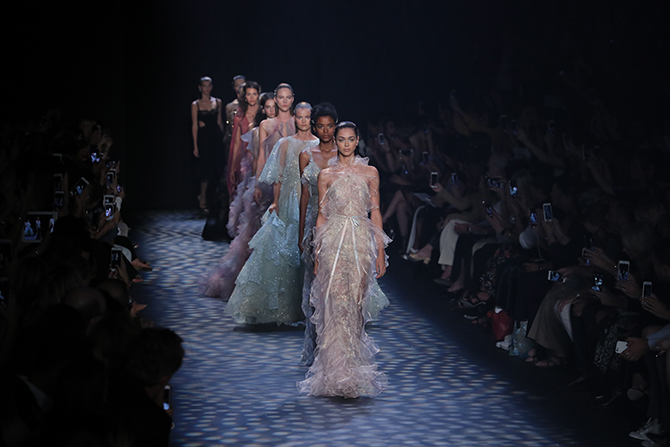 By Joan Hornig
Just about every woman I know finds autumn to be a great time to consider adding to her fall and winter wardrobes. Store windows beckon us to think about the newest palettes and silhouettes, fashion ads are abundant and retailers (both online and brick and mortar) do all they can to highlight our "must haves" of the season. There's also a renewed sense of getting back to business in the city, and New Yorkers and tourists alike provide us with an ever-changing fashion show 24/7 everywhere you go.
Despite the return of traffic jams from summer respite, one of the highlights of the season is New York City Fashion Week. Fashion must be taken seriously, not just as self-expression or a celebration of creativity, but as a major source of employment in our city. And with world-class educational institutions devoted to it (think FIT, Parsons, Pratt), NYC is truly a capital of fashion with a leading role to play in deploying both stylistic and technological innovations globally.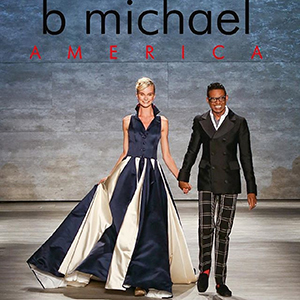 B Michael on the runway
A BOON TO THE CITY
The world apparel market is valued at over three trillion dollars and accounts for two percent of the world's GNP. And this includes only womenswear, menswear, luxury goods, children's wear, sports footwear and bridal industries. You have to add the manicurists, hair and makeup stylists, photographers, producers, publicists, models, construction crews, real estate owners and brokers, security guards, and electronic security tag makers who benefit from the industry being here in NYC all year—not just during Fashion Week.
Fashion Week in NYC was launched in 1943 by legendary publicist Eleanor Lambert as a response by America to counteract the established Parisian couturiers of the time. But it wasn't until 1999 that NYC Fashion Week moved up from last place in the schedule of International Fashion Week events to first place. When it did, the tone clearly said to the world: American fashion is not a derivative version of European fashion, it leads the way!
There were hundreds of NY Fashion Week runway shows this past September. Direct visitor spending was estimated to be in the reach of $500 million by the NYC Economic Development Corp., with $6 million going to hotels and each attendee spending $650/day on average during the 8-day event.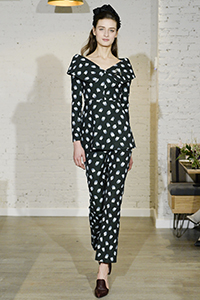 Lela Rose
INSTANT ACCESS
While NY Fashion Week is an invitation-only event reserved for accredited members of the media, select VIPs and other fashion industry insiders, we all got an immediate view through social media and live streams. Instagram and Twitter provide us with designer's curation of the newest offerings.
For me, the kick off of NY Fashion Week began with the FIT Couture Council Luncheon at Lincoln Center. In its 12th year, this special event is the perfect kick-off to the fall benefit season. The Couture Council was created in 1969 to support the Museum at the Fashion Institute of Technology (fitnyc.edu/museum). It houses a permanent collection of over 50,000 garments and accessories from the 18th century to the present, but is best known for its aesthetically and historically significant clothing, accessories, textiles and visual materials emphasizing contemporary avant-garde fashion.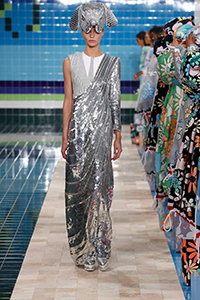 Thom Browne
With Dr. Valerie Steel as the Director and Chief Curator, the exhibitions, publications and programs have received critical acclaim and many awards and sees nearly 100,000 visitors each year. And while admission to the Museum is free, everyone is invited to join for Couture Council of FIT for an annual fee and take advantage of private viewings, visits to designer's ateliers and other special events; the fee also helps to underwrite FIT student education.
Fashion and art are comingled in many museums in our City and around the world. Consider the many visitors drawn to the Metropolitan Museum of Art just for the Costume Institute, or exhibits all over the City using fashion to tell a story of our history and culture—The City Museum of New York. The New York Historical Society, The Cooper Hewitt and the Museum of Arts and Design all use fashion items to elevate our knowledge of our ever-changing culture and the aesthetics of various periods.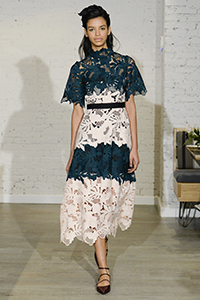 Lela Rose
But if you are an aspiring fashion designer or just devoted to supporting NYC designers, there are endless ways to be chic, knowledgeable and "au courant." One of the most exciting things to develop on the NYC fashion scene in recent years is the introduction of Made in NY: Fashion. More than a logo, it is a platform created in a joint effort by the Mayor's Office and the New York City Economic Development Corporation (NYCEDC). Made in NY: Fashion raises awareness of the economic as well as artistic impact of selecting clothing predominantly designed or manufactured in NYC.
In just two years since its founding all kinds of opportunities to start and grow a fashion business have grown out of this initiative, with collaborative efforts by non-profits, governmental agencies, and industry trade associations including:
• Documentary style videos, photography, social media and web content created to encourage NYC designers to join the Made in NY: Fashion community.
• The creation of NYC Fashion Production Fund (nycfashionproductionfund.com) which provides emerging designers with production loans. To date the fund has provided 30 loans amounting to $2.5 million.
• A fashion manufacturing initiative in partnership with the Council of Fashion Designers of America (CFDA) created to nurture, elevate and preserve garment production in NYC through grants, a resource data base and collaborative opportunities.
• Designers & Agents: Made in NY Collective supporting the participation of local designers at trade events during New York Market Week with full subsidies for exhibition space.
Join me in celebrating one of NYC's greatest assets—the fashion industry and all it does to enhance our daily lives. I for one look forward to making some of the newest styles my own this coming season and remain on the lookout for our home grown creative designers using the fantastic resources our city offers. It's wonderful that every year Fashion Week offers a terrific kickoff to an ongoing and stimulating intersection of art and business which like our city—never sleeps!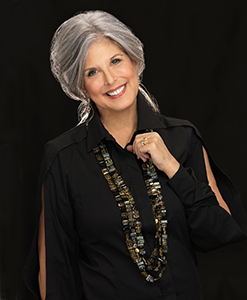 Joan Hornig is a New York-based Jewelry Designer, Social Entrepreneur, and Philanthropist. She left a Wall Street career 15 years ago to create a jewelry line at Bergdorf Goodman, where 100 percent of her profit is donated to the charity of the purchaser's choice.