1399 PARK AVENUE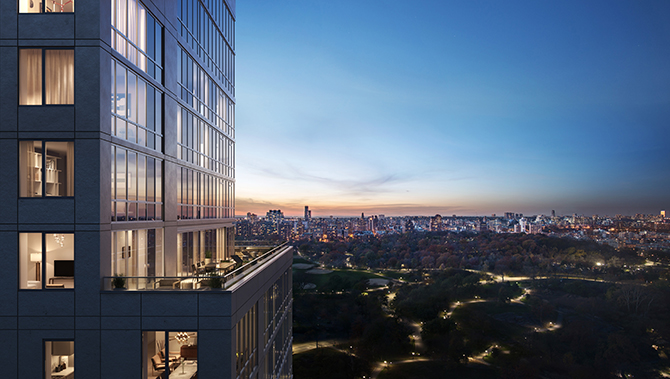 By Daniel J. Bollinger
East Harlem has been going through a renaissance of new development for a few years now. It's not quite "on the map" yet as other areas like Hudson Yards or West Chelsea, but with the new addition of 1399 Park Avenue, it's time has cometh. The new Mondrian-esque development is brought to us by Heritage Real Estate Partners and Hill West Architects. This 23 story cantilevered building consisting of 72 studio to four bedroom residences is sure to please.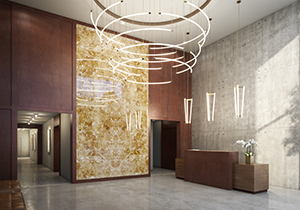 EAST HARLEM LUXURY
The building has some unique attributes. You will notice more setbacks than a typical NYC building. Combine the setbacks with a cantilevered section that stretches over the adjacent school building, and you have much more than the standard rectangular form most NYC buildings are. The lowest part of the building is perpendicular to its higher sections giving the buildings' shape more depth and uniqueness. This lowest section made up of floors one through four still has yet to have a confirmed use, but it will either be a school, a doctor's office, or a non-profit. On top of this section is the building's amenity outdoor space made up of an outdoor terrace with barbecues.
Another unique amenity is that there is a privately owned public park next to 1399 Park and residences will enjoy an easement that leads into this park made up of a basketball court, an organic garden, and children's playground. The most valuable amenity that is offered is on-site parking. There is a children's playroom with a ball pit and rock climbing wall and a state of the art fitness center as well.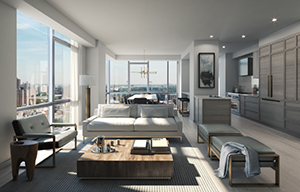 INTERIOR SURPRISES
Whitehall Interiors have produced beautiful interiors. With all floor to ceiling windows, there are great Central Park, and downtown city views galore especially in the corner units. The powder rooms have unique features including a single slab floor to ceiling Honed Calcutta Manhattan Marble accompanied by a beautifully matching floor to ceiling mirror. The main and master baths follow suit with deep soaking tubs, waterfall shower heads, and custom watermark fixtures. Also impressive is the grand custom medicine cabinets. With huge mirrors, a nice shelf with outlets on both sides these medicine cabinets are impressive. The master baths have the same design but are twice as long to match his and her sinks.
The kitchens are also impressive. Open layouts with generous amounts of counter space and a kitchen island provide plenty of room for entertaining a crowd or for hosting a more intimate gathering. Neutral tones consisting of Athens Silver Cream Marble countertops and backsplashes, Oak flooring with custom integrated Oak wood cabinetry create a warm ambiance. A Bosch appliance package with Thermador gas range oven and an Elica stainless steel hood complete the kitchen. A deep stainless steel Kohler sink with antique brass fixtures also compliment the kitchen.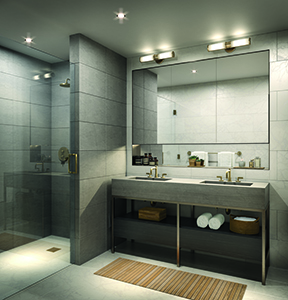 ATTENTION TO DETAIL
All residences are well thought out. Even the one bedrooms have a large study area and walk-in closets. The hallways have custom light fixtures. One other design detail that is impressive is the windows in this building are four paned and have sound attenuation insulation to buffer any outside noise. It's a testament to the quality of the craftsmanship that is 1399 Park Avenue. As David West, founding partner of Hill West Architects explained to us, "The building is an authentic expression of New York City urban design traditions, merging zoning, function, and aesthetics into a singular sculptural form. Despite its height and size, the building has the ambiance of a boutique residence."
With a great location on of NY's most iconic of avenues, the new building is an excellent addition to East Harlem. High ceilings, fantastic views, great floor plans/layouts and high attention to design detail all add up to a significant new development. But the prices here are the real attraction. I have not seen better value being offered for an opportunity such as this.
For more information on 1399 Park Avenue, visit 1399park.com.