REAL ESTATE SPOTLIGHT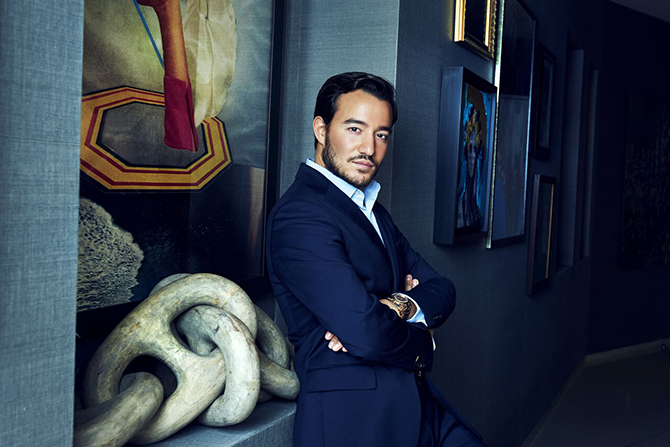 By Daniel J. Bollinger
At just 26, Emir Bahadir has created a stand-out reputation for himself. He already runs a New York City-based brokering and development firm and is currently expanding to a lifestyle brand. Truly a modern day socialite, Emir uses his huge social media following to bring life to his various projects. Originally from Turkey, Emir moved to New York several years ago to study at New York University. After graduating, he received his real estate license and opened Bahadiring in New York. His impressive international education and year-round travels have helped him develop clientele from all around the world and bring something new to the NYC real estate market.
Tell us a little bit about your background.
My family started one of the oldest development firms in Turkey, Bahadiring. Aside from Turkey, we build internationally, in such places as Qatar and Saudi Arabia. I was raised on real estate, so it came very naturally to me; it's not something that I had to study. Growing up around people like my father and grandfather who possess so much knowledge about the industry, I was given an advantage by learning from the best. I wanted to expand my family's legacy by being the first one to branch out to the United States.
You have so much on your plate, what would say your "core" essence is?
I am first and foremost a developer. I love the real estate business, especially here in New York City; it's a fascinating city. My ultimate goal is to bring my expertise to the upper echelons of the NY residential market. I am proud of what I have been able to accomplish, and I am excited to see what we will be able to achieve next. I want to do things that have never been done before by bringing the uber-luxury amenities I have seen in residential developments overseas here to NYC.
How many projects are you currently developing?
I have three currently. One is a hotel conversion in Union Square. I also have a 25-floor condo development in the Meatpacking District and a mixed use condo with retail space on the Upper East Side.
What is one of the biggest challenges that you have faced in NYC?
Starting a business in the greatest city in the world without my family who are thousands of miles away. But, it was important to me to build something for myself and create a legacy. Being a first generation developer in NYC has had its ups and downs, but I am paving the way for future generations of Bahadirs in the city.
What is one of your biggest strengths to help you achieve this?
As a businessman, I can see a 'lack' in a market, and I fill that need. Seven years ago, I saw the lack of luxury real estate and marketing in NYC. It was then I knew I wanted to be a developer. I like to take a different approach when it comes to development, rather than following the lead of the investors—to build around what I know my clientele will want. I want to provide people with luxury, quality, and amenities they will not be able to find in other developments.
Do you have any particular design or architectural style?
I try not to get boxed in with a particular style of anything. I believe that the architecture of a development should work with the neighborhood. Every project is different, and it's important to understand the clientele and what they want. With the amount of new development in NYC these days, we don't lose the essence and culture of the neighborhood. Instead, a good developer should add to that character and the community.
How do you define success?
Success to me is living a lifestyle that balances personal and professional. I work very hard, I have a lot of developments going on, and my biggest priority is building a successful brand. But at the same time, play hard. I see every person I meet as an opportunity, whether they are a potential client, collaborator, or someone who can teach me something in life.
For more information on Emir Bahadir and Bahadiring, visit bahadiring.com.