MACHIAVELLI RESTAURANT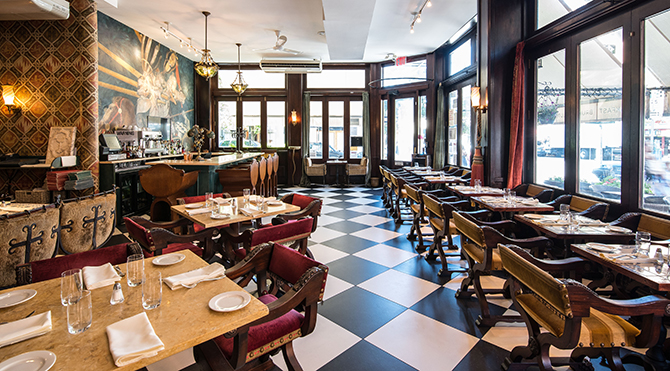 By Patricia Canole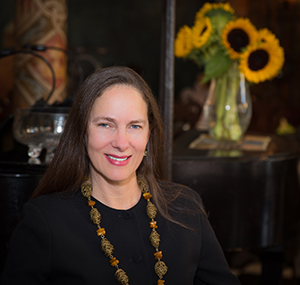 Owner
Nathalie De La Fontaine
Eating at Machiavelli is like stepping back in time to a Florentine village during the Renaissance. Murals inspired by "The Battle of San Romano" by Paolo Uccello—a 15th-century Florentine painter—adorn the walls, wrought iron chandeliers twinkle subdued light, hand-carved chairs are plush and inviting, and a feast that would satisfy Italian royalty.
Machiavelli is the vision of owner Nathalie De La Fontaine, whose passion and inspiration derived from the time spent immersing herself in Northern Italy while living there, and her combined experience as manager and owner of popular Italian eatery La Focaccia in the West Village for 20 years. To make Machiavelli a reality, she commissioned the work of talented artisans, woodworkers, ceramicists, sculptors and blacksmiths for the art and décor of the restaurant.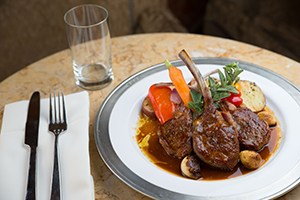 A CREATIVE MENU
De La Fontaine is joined by
an attentive staff and Chef Gian Pietro Ferro, who has recaptured authentic Northern Italian cuisine and creates seasonal, market-driven dishes. Ferro's experience is legendary as executive chef at Osteria al Doge and head chef of Fiorello's, where he was praised for bringing revitalized energy into the traditional restaurant.
To begin this culinary journey, choose from fresh, made-to-order crescentines, traditional lightly fried flatbread, and a selection of Italian cheeses and meats. Leave room for the popular Sformato di Spinaci, a creamy and flavorful spinach and ricotta flan nestled beneath a truffle-scented cheese sauce, and elegantly dressed with swizzles of balsamic vinegar. Or perhaps a simple Broccoli di Rapa con Salsiccia will satisfy. Either way, you won't be disappointed.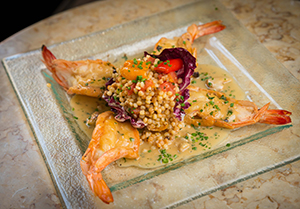 PASTA & PIZZA
Of course, the highlight of the Machiavelli menu is the show-stopping hand-made pasta dishes, such as Gnocchi Tricolore, made with the pillowy pasta in spinach, potato and beet renditions, tossed in a golden heirloom tomato sauce that is equal parts zesty and flavorful. The Farfalle Nere al Salmone features pasta, creatively dyed with squid ink for an eye-catching appearance, tossed with tender Canadian salmon in a creamy pink sauce. The Casunzei "Ampezzani" is a dish taken straight from De La Fontaine's memory of visiting the Dolomite region of the Alps, made with mezzaluna pasta filled with red beets and ricotta and coated in a light butter and poppy seed sauce.
For entrees, choose from Pollo alla Chichi, breaded free-range chicken breast served Milanese style with baby arugula, onions and grape tomatoes, or the Petto d'Anatra con Fichi al Moscato, sautéed duck breast prepared with dried figs and a Moscato wine sauce and served with roasted potatoes. The Zuppa di Pesce is a traditional Italian fish stew with mussels, clams, squid, shrimps, and scallops in a tomato wine broth. Various traditional vegetable side dishes are also offered, such as Funghi Trifolati, mushrooms sautéed with fresh herbs, garlic, and truffle oil. The day we visited, a pan-seared Trout was featured as a daily special. Served with potatoes and lightly seasoned vegetables it was incredibly delectable.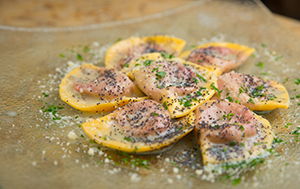 The menu also features made-to-order pizza, prepared with a whole-wheat or traditional crust and extra-virgin olive oil, San Marzano tomatoes and fresh mozzarella. Add various toppings and combinations to create tasty light meals; their legendary Machiavelli, with a black truffle cream sauce, mozzarella, and wild mushrooms, or the Macellaio, with caramelized red onion and sweet Italian sausage is a neighborhood favorite.
To complete this feast, consider the Bongo Bongo, a whipped cream- or gelato-filled cream puff covered with warm Belgian chocolate, or the Budino di Pane con Gelato, a brioche bread pudding with bananas, chocolate, caramel, and walnuts, served warm with vanilla gelato.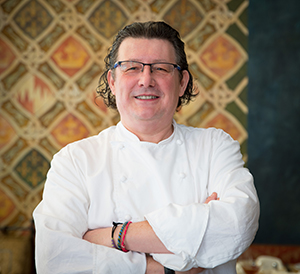 Chef Gian Pietro Ferro
VINO & SIGNATURE COCKTAILS
The all-Italian wine list is also one of De La Fontaine's creations, carefully curated to offer top-ranking wine selections by the glass and bottle. Selections include Livia Felluga Sauvignon Blanc from Friuli Venezia Giulia and Nebbiolo d'Alba Ochetti by Renato Ratti from Piedmont region. Various cocktails named after famous Italian artists are also offered, like the Paolo Uccello, made with Hornitos Reposado Tequila, Solerno blood orange liqueur, and fresh rosemary and thyme.
Evenings are enhanced by a resplendent entertainment experience that features musicians and students from nearby Juilliard and Lincoln Center performing live music and opera.
For more information on Machiavelli (519 Columbus Avenue at 85th Street); 212-724-26580, visit machiavellinyc.com.