ON THE BIG SCREEN
By Bill Bregoli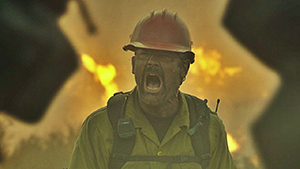 ONLY THE BRAVE
Rated PG-13
With fall upon us, headlines of the summer's wildfires will fade. But Only the Brave seeks to immortalize the Granite Mountain Hotshots, an elite crew of firemen from Prescott, Arizona who battled a wildfire in Yarnell, Arizona in June 2013 that took a horrifying toll on their members. Josh Brolin stars as Eric Marsh, who seeks to turn his crew of fireman into a front-line unit, "hotshots." He's aided by the always welcome Jeff Bridges and his team consisting of Miles Teller, Taylor Kitsch, Geoff Stults and James Badge Dale. They go through training which includes plenty of hazing, male bonding, and pickup trucks. Luckily Jennifer Connelly is along to balance off the guys. Director Joseph Kosinski (TRON: Legacy) filmed in a very parched looking New Mexico and when the fires do come the audience is placed in the middle of a fierce confusing maelstrom. It won't take long to understand what Vice President Joe Biden said when he visited the memorial to the Granite Mountain Hotshots: "All men are created equal. But then, a few become firefighters."
---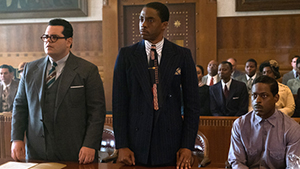 MARSHALL
Rated PG-13
Chadwick Boseman has made a cottage industry of portraying historical figures. He's played Jackie Robinson in 42, James Brown in Get On Up, and Floyd Little in The Express. Now he takes on Thurgood Marshall, the first African-American Supreme Court Justice. But this is no biopic. Director Reginald Hudlin has focused on Marshall's days as an attorney for the NAACP when he crisscrossed the country to defend African Americans wrongly accused of crimes, usually in the Jim Crow south. But this time he's summoned to Connecticut for the trial of a driver (Sterling K. Brown) accused of raping a wealthy socialite (Kate Hudson). When the officious judge (James Cromwell) forbids Marshall from even speaking in court, he's forced to take on as co-council local attorney Sam Friedman (Josh Gad) who has never even tried a criminal case before. Sparks soon fly in the courtroom as Marshall displays the tenacity which was so indicative of his later years. It may take place in history, but Marshall is certainly relevant today.
---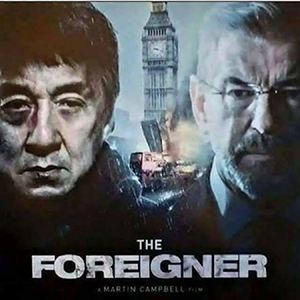 THE FOREIGNER
Rated R
When his daughter is killed in a terror attack by the Irish Republican Army, an unassuming restaurant owner named Quan (Jackie Chan), wants the killers' identities. He seeks out Liam Hennessy (Pierce Brosnan), a former IRA member now working for the Irish government. When answers aren't exactly forthcoming Quan puts his secret skills to use in a one-man campaign against the IRA and the double-dealing Hennessy. This is a much more serious side of Chan than audiences have ever seen, but he soon proves that even at 62 he fights like someone half his age. Director Martin Campbell, who helped reboot the Bond films with Casino Royale, knows how to keep even the dialog scenes moving at a breakneck pace. And Campbell's action scenes scared some Londoners for real last year when a double-decker bus was blown up while filming on city streets. The plot, based on the novel The Chinaman by Stephen Leather, may get a bit complicated but audiences will enjoy watching two not-exactly-young actors go head-to-head in a well-made action thriller.
---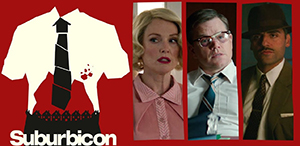 SUBURBICON
Rated R
Taking place in an idyllic 1950s suburb of the same name, Suburbicon's neatly manicured lawns belie some nasty goings on. It's written by Joel and Ethan Coen and directed by their frequent collaborator George Clooney, who, for the first time doesn't act in a film he directed. Matt Damon stars as husband and father Gardner Lodge who must navigate the town's dark underbelly of betrayal, deceit, and violence. Julianne Moore co-stars as Aunt Margaret who moves in after Gardner's wife is murdered, while Oscar Isaac portrays a suspicious investigator. Although the film's trailer has been generating lots of laughs, Clooney says calling it a comedy may be a mistake. "It's very, very dark," he told Indiewire. "It starts out feeling like a Disney film and, by the end, it seems like it takes a pretty dramatic, dangerous turn to like an acid trip of some form." And to keep the movie on a dramatic footing, Clooney even cut a character played by Josh Brolin out of the film after test screenings revealed his comedic scenes diluted the film's tone.
---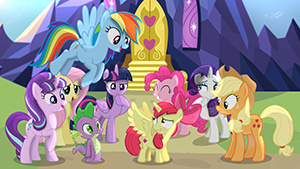 MY LITTLE PONY: THE MOVIE
Rated PG
They're on countless T-shirts and backpacks, and their TV show My Little Pony: Friendship is Magic, has been on for seven seasons, so a big-screen movie was inevitable. There is a plot: To stop a threat to the land of Equestria, Twilight Sparkle and her friends—Applejack, Rainbow Dash, Pinkie Pie, Fluttershy, Rarity, and Spike—embark on a journey beyond their home, meeting new friends and overcoming challenges in the process. Don't worry; your kids will gladly tell you which character is which.
It's directed by Friendship Is Magic veteran Jayson Thiessen and features the TV show's regular voice cast as well as celebrity voice overs by Emily Blunt, Kristin Chenoweth, Liev Schreiber, Taye Diggs and Zoe Saldana.
---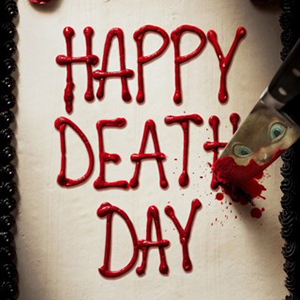 HAPPY DEATH DAY
Rated PG-13
In this latest offering from the Blumhouse production company (The Purge, Get Out) a college student (Jessica Rothe) relives the day of her murder with both its unexceptional details and terrifying end until she discovers her killer's identity. In other words, it's as if Friday the 13th and Groundhog Day got together and had a horrible baby. But there's no goofy weatherman, just a masked killer with a weapon and an entire campus full of suspects. It's directed and co-written by Christopher Landon, who helped create the modern ultra-low budget horror genre with Paranormal Activity. Israel Broussard, Ruby Modine, Rachel Matthews and Charles Aitken round out the young cast.
---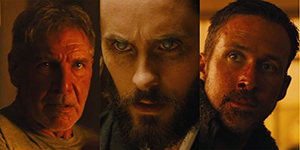 BLADE RUNNER 2049
Rated R
The original Blade Runner, directed by Ridley Scott and starring Harrison Ford, Rutger Hauer, Sean Young and Edward James Olmos didn't generate much sequel talk when it opened in 1982. Based on the Philip K. Dick novel Do Androids Dream of Electric Sheep? it eventually became a cult classic and continues to influence science fiction films to this day. And so here comes Blade Runner 2049. Ridley Scott is one of the producers this time out with Denis Villeneuve directing. He thrilled sci-fi audiences last fall with the surprise hit Arrival and proved he can combine action and character studies with Sicario and Prisoners. About all Warner Brothers has said about the plot is that it takes place thirty years after the events of the first film. There wasn't any material from Philip K. Dick to base the sequel on, but fortunately, Hampton Francher who wrote the original's screenplay wrote the story for the sequel.
Original cast members Harrison Ford and Edward James Olmos reprise their roles with newcomers Ryan Gosling, Ana DeArmas, Robin Wright, Jared Leto, Dave Bautista, Mackenzie Davis and Barkhad Abdi. It will once again take place in a neo-noir Los Angles, As Villeneuve told interviewers "The climate has gone berserk—the ocean, the rain, the snow is all toxic." Not a place you'd like to live in, but audiences will no doubt be lining up to visit.
---
Bill Bregoli has an extensive career in entertainment journalism. He's an Emerson College graduate who started out in movie advertising. He then contributed to The National Lampoon and became a morning show producer at the legendary radio station WBCN in Boston. Now based in New York, Bill is an entertainment correspondent for CBS Radio News, and his daily entertainment reports can be heard nationwide.