BILL BREGOLI'S PICKS OF HOME ENTERTAINMENT RELEASES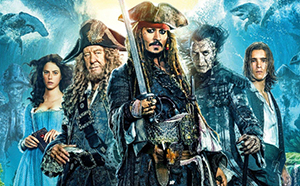 PIRATES OF THE CARIBBEAN:
DEAD MEN TELL NO TALES
Rated PG- 13
In this fifth Pirates installment, Captain Jack Sparrow (Johnny Depp) searches for an ancient and powerful artifact, the Trident of Poseidon. Meanwhile, a crew of old rivals, the cursed Capitan Salazar (Javier Bardem) and his fellow ghost pirates seek to escape from their prison in the depths of the Devil's Triangle and find the Trident of Poseidon for themselves and finally exact their plot of revenge against Captain Jack. Disney brought aboard Kon Tiki directors Joachim Ronning and Espen Sandberg to keep their leaky franchise afloat, and for the most part, they succeed. The plot is easier to follow than past Pirates adventures, and it's also the shortest. New cast members Brenton Thwaites and Kaya Scodelario add some youthful zest, and Javier Bardem makes an engaging villain despite layers of CGI. But the albatross here is Johnny Depp who seems even more distracted than Captain Jack normally is. His energy level is so low he spends much of his time literally tied to the mainmast.
---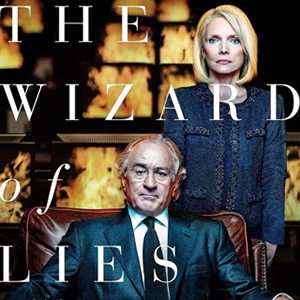 THE WIZARD OF LIES
Rated TV-MA
It's a story that still scares most New Yorkers. Bernie Madoff (Robert De Niro) promised his friends and clients they could get rich if they each invested millions through his Wall Street investment securities firm. But it was all a Ponzi scheme that cost many of his victims their entire life savings. Sure, it's ripped from the headlines but what makes this fascinating is its ability to get under Madoff's skin. Oscar-winning director Barry Levinson elicits Robert De Niro's most memorable performance in years, helping the HBO film earn four prime time Emmy nominations. Michelle Pfeiffer makes her return as Madoff's privileged wife Ruth with Alessandro Nivola and Nathan Darrow as sons Mark and Andrew Madoff, and a memorable Hank Azaria as Frank DiPascali, who was one of the few people in the organization in on the swindle. As far as the con goes, the film is short on the how but tries very hard with the why—the best scenes are simply De Niro going one-on-one with his co-stars. It's great to know he can still send chills up your spine.
---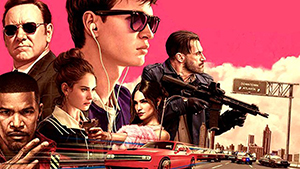 BABY DRIVER
Rated R
Among the first of this year's summer films to generate awards buzz, Baby Driver stars Ansel Elgort (The Fault in Our Stars) as Baby, a disaffected baby-faced getaway driver with ever-present ear buds and a limited vocabulary. An excellent driver with a knack for avoiding danger, Baby finds himself at a loss when he falls for a local waitress (Lily James). Suddenly, he realizes that there could be a life outside of crime for him. His boss, Kevin Spacey, doesn't agree with this sentiment, nor do his boss's underlings, John Hamm, Jamie Foxx and Eliza Gonzalez. Director Edgar Wright (Shaun of the Dead) has created a pure pop pastiche. Part genre movie, part music video, Baby Driver sets its sights on entertaining. It's even fun enough that you'll forgive the moments when it becomes a bit too self-aware, especially during the brilliant chase scenes that are cut to a diverse soundtrack. It's the first action movie that will have you tapping your toes.
---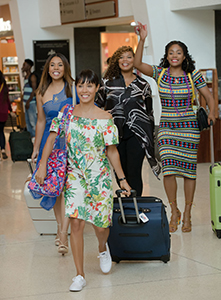 GIRLS TRIP
Rated R
Last summer's surprise hit is the first film produced, written, directed by and starring African-Americans to cross the $100 million mark. It's also a lot of fun. When entrepreneurial self-help guru Ryan (Regina Hall), is tapped to speak at the Essence Festival in New Orleans she invites three old friends (Queen Latifah, Jada Pinkett Smith, and Tiffany Haddish) along for a weekend of relaxing, dancing, partying, drinking and female bonding in the Big Easy. Yes, there have been several movies trying to be distaff versions of The Hangover recently but what sets Girls Trip apart is that it's more concerned with making its characters relatable. The women here have real concerns, such as nurturing intimate relationships and figuring out how to balance professional and personal obligations without going crazy. Director Malcolm D. Lee (The Best Man) makes his talented leads stay warm and wonderful rather than just wacky. That said, once you see the film, you may never look at a grapefruit the same way again.
---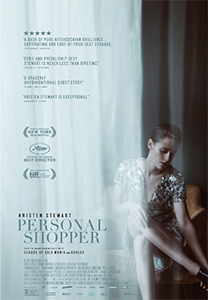 PERSONAL SHOPPER
Rated R
After rocketing to stardom with the Twilight films, Kirsten Stewart has concentrated on honing her craft in smaller, independent films. Here she's entrancing as Maureen, a personal shopper for Kyra, (Nora von Waldstatten) a spoiled celebrity. Maureen spends her days in an almost tranced-out state occasionally trying on some of Kyra's wardrobe. When asked what she's doing in Paris Maureen replies, "I'm waiting." What she's waiting for is some sort of sign from her recently deceased twin brother. Both had been born with a congenital heart defect, and the two had made a deal that whoever died first would attempt to send a message to the other one from the afterlife. Director Olivier Assayas (Clouds of Sils Maria) turns the viewer into a voyeur, following Maureen in her grief as she's caught between worlds. Ms. Stewart seems detached, unwilling for attention, yet you can't keep your eyes off her. What Mr. Assayas has cannily crafted is a supernatural thriller which is also a look at modern life and a study of overwhelming sorrow.
---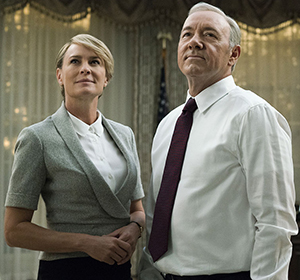 HOUSE OF CARDS
(Season 5)
Frank and Claire are planning for a political dynasty, but events of the past haunt them. And when it comes to manipulation newcomers Campbell Scott and Patricia Clarkson give the Underwoods a run for their money. Current events in Washington give this satire a new urgency.
---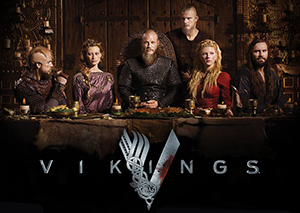 VIKINGS
(Season 4/Vol. 2)
The great saga of the legendary Viking chieftain Ragnar Lothbrok continues and follows battles between Ragnar and Rollo in Francia, Bjorn's raid into the Mediterranean, and the Great Heathen Army's invasion of England. It's also the end of an entire multi-year arc featuring Ragnar and Ecbert.