ENTREPRENEUR'S CORNER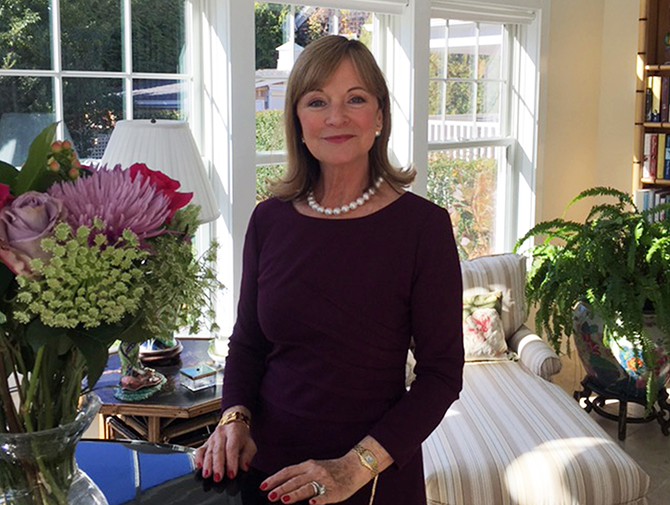 Patricia Napier-Fitzgerald
By Patricia Napier-Fitzpatrick
When I moved to New York City from Washington, D.C. over 30 years ago, I had no idea what the city had in store for me. I only knew I wanted to live in a city where people never stopped learning or striving to be someone. A city where people walked and spoke quickly. A city filled with culture and style, and fabulous restaurants.
Although I wasn't trained for it, I would have loved to have gone straight to Broadway; but alas, my talent did not match my desire. So, I continued my career in advertising, where I spent nearly 20 years before leaving to raise my daughter, Kelly. Two of the companies at which I worked before leaving the corporate world—Estee Lauder and Bergdorf Goodman—were fabulous training grounds for learning how to prepare and present flawless presentations; and project a polished personal brand. I don't think I would be where I am today if I had not worked at these companies. My degree in language arts and education from West Virginia University was certainly helpful but did not provide the polished skill set needed for success in a city like New York City.
When I stopped working to raise my daughter, I started noticing the lack of good manners in not only the children but also in the adults I observed throughout the city. When I heard that one could have a career teaching etiquette, I was so excited. This is what I want to do, I decided. And although I didn't set out to have a career in the etiquette field, it now seems inevitable. I had five younger brothers and sisters, and as the eldest helped my mother in raising them and teaching them good manners.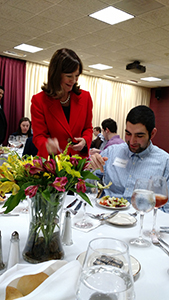 Iona College Seminar
ALWAYS A PASSION
Behaving properly, looking one's best, being kind, and showing respect for others had always been a passion of mine. I now knew there was a need for teaching etiquette and social graces in the city, and I wanted to meet that need; thus, I founded The Etiquette School of New York in Manhattan.
Since founding the school, I have had the pleasure of working with countless persons of all ages and all industries from all over the world. I've met with clients from such countries as Australia, China, Japan, India, Dubai, and South Africa. Everyone wants the same thing: to feel the confidence that comes from knowing that they are doing the right thing and that they are treating others with respect.
As Emily Post once said, "Manners are a sensitive awareness of others. If you have that awareness, you have good manners regardless of what fork you use." Kindness toward others and mutual respect are at the heart of good manners. And nothing is more important than that.
I love what I do. I prepare my students to enjoy life to the fullest by making them secure in life's basic social graces. It is so gratifying to me that the work I do instills a healthy self-esteem in my clients, which enables them to confidently face life's pleasures, as well as its challenges, with grace.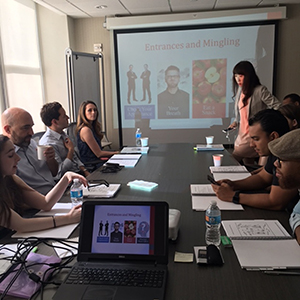 SSM Class, September 2016
The Etiquette School of New York is for anyone who wants to develop the confidence, poise, and polish they need to accomplish their personal and professional goals. We offer a comprehensive program of business and social etiquette training and international protocol seminars. We offer our life-changing, confidence-building, invaluable training programs to corporations, universities, and private persons. Once a month we offer an open-enrollment, one-day "Social Success Makeover—Finishing School for Adults" social etiquette and business protocol program in the city that is attended by people from ages 18 to 60 years plus who come from all over the country, as well as the world to participate in the class.
A BEAUTIFUL WORLD
My new book Proper, Poised, and Polished: The Power of You is a guide to transforming yourself to becoming your unique, personal best. I hope that this book will inspire and empower young and older women alike with its carefully curated selection of quotes from accomplished and iconic people, and actionable tips they can use to become the person they are capable of being so that they can be successful and enjoy their lives to the fullest. Although the book has many tips on proper decorum and good manners, it is not an etiquette book. It is so much more than that. It is an all-encompassing lifestyle book that shares the confidence-building advice, skills, and knowledge I have given my clients over the past 15 years. In the words of Nancy Reagan, former First Lady of the United States, "There's a big, wonderful world out there for you. It belongs to you. It's exciting and stimulating and rewarding. Don't cheat yourself out of it."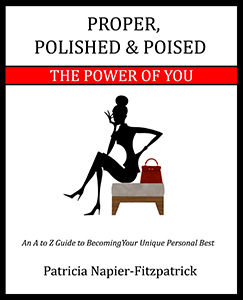 Whatever you decide to do or become, the path will be much more assured if you are poised and polished. The power these three traits will bring you is undeniable. Knowing how to conduct yourself in the business and social arenas properly; being able to make polite conversation; dressing stylishly and appropriately wherever you go; carrying yourself with poise and confidence, and possessing polished social graces will give you the power to achieve your goals.
I never made it to Broadway, but I have been on television numerous times—on some serious news programs and some not so serious reality shows. I've had an incredible life—and feel very fortunate to be living the New York life.
---
Patricia Napier-Fitzpatrick is an internationally recognized etiquette expert. She is certified in Etiquette and International Protocol, and Adult and Corporate Etiquette by The Protocol School of Washington. For more information on Ms. Napier-Fitzgerald and The Etiquette School of New York, visit etiquette-ny.com.