WELCOME TO TV TOWN
By Julie Menin, Commissioner of the Mayor's Office of Media and Entertainment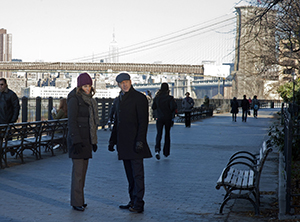 Blue Bloods
Courtesy of CBS
New York City has provided the backdrop for some of the most acclaimed movies. But what some New Yorkers may not know is that in recent years the Big Apple has become the television capital of the world, leading to significant job growth and economic benefit for the city.
Back in the 2002-03 TV season, just seven programs filmed here—and three of them were Law & Order shows. Cut to 2016-17, and 56 episodic series were shot on the streets and soundstages of the city—up eight percent from the year before, and the seventh consecutive annual increase. The number of pilots filmed in the five boroughs rose by 14 percent over last season. Among the New York-based productions are some Emmy-nominated series including The Blacklist, Billions, Blue Bloods, Broad City, Elementary, Gotham, Homeland, Madam Secretary, Mozart in the Jungle, Mr. Robot, Orange is the New Black, Power, and Unbreakable Kimmy Schmidt.
The TV production explosion doesn't just improve our chances of catching a glimpse of our favorite star at the local coffee shop. It provides money, jobs, neighborhood improvements, and fresh hope for underrepresented New Yorkers who want to work in the business. In July, Netflix and Disney announced they'll more than double the number of Marvel superhero episodes set in New York City. Since the Marvel productions started three years ago, they've hired more than 14,000 cast and crew and contracted with 500 small businesses that supply sound stages, equipment, supplies, and food.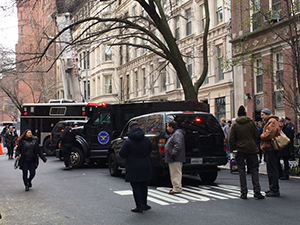 Madam Secretary
Courtesy of CBS
READY, WILLING & ABLE
Why are makers of television flocking here? An appealing statewide tax credit is part of the reason and the rise of streaming services like Amazon, Hulu and Netflix have certainly helped. But NYC's main attraction is the city itself—its iconic locations and its people. No other city can match our five boroughs for energy, diversity, and talent.
Over 130,000 New Yorkers are currently working in the business—and the number is growing. Location managers, script supervisors, camera operators, makeup artists, carpenters, set decorators, production assistants, plus more than a few writers, actors, and directors are ready, willing, and able to deliver whatever a studio needs. Our office provides a one-stop shop for production companies making shooting on the streets of New York as easy and efficient as possible.
The economic benefit to the city is enormous. A successful series can sustain year-round employment for a crew. A network can spend more than $56 million each season. And a good deal of that money trickles down to local businesses.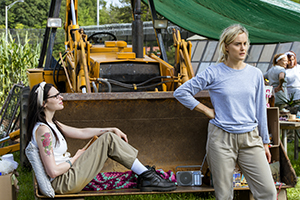 Orange is The New Black
Courtesy Lionsgate Entertainment
ONLY IN NYC
Fans of Lena Dunham's HBO series Girls, are probably familiar with Café Grumpy. The little coffee shop opened in 2005 next to Broadway Stages' Greenpoint building. Owner Caroline Bell recalls, "Some days we'd have very little business. Then someone from the studio would show up at the end of a day with a 75 drink order." Café Grumpy now has six citywide locations that employ 65 people. The Aviles family, who started Bridge Cleaners in Brooklyn in 1969, saw their business take off in 2008 when productions at Steiner Studios started sending thousands of costumes in for dry cleaning. LeNoble Lumber, operating for five generations in Queens, doubled its business when they began supplying Kaufman Astoria and other studios. Jamali Gardens, a family-owned shop in the Flower District, has become a daily destination for set designers.
At the Mayor's Office of Media and Entertainment, we are determined to ensure that productions benefit the local economy. During the filming of Money Monster, we pressed Sony to hire local labor, to give cast and crew lunch money to use at local restaurants, and to book hotels for wardrobe changes, rather than use trailers. The 15-day shoot plowed $300,000 directly into New York small businesses. Our Made in NY Discount Card Program steers TV and film people to over 1,200 local vendors. The Made in NY Marketing Credit offers free advertising on subways and bus shelters to productions that shoot 75 percent locally. These productions must also donate to city cultural organizations, which has netted arts groups $200,000 in the past two years.
Our office also works hard to make sure productions are good neighbors. Our recently launched environmental designation program, NYC Film Green, spurs productions to reduce waste and conserve energy. It's the country's first government-sponsored green initiative for the entertainment industry. And even while filming is at an all-time high, production-related complaints were minimal last year. We're doing our best to notify communities well before camera crews arrive on your block. Our office also sends field reps to sets every day, to liaise with residents and make sure productions are following parking and safety rules, and being considerate to the community.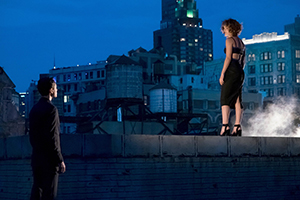 Gotham ©2017 Fox Broadcasting Co.
Cr: Jeff Neumann/FOX
A GOOD THING
With our help, neighbors in Brooklyn's Boerum Hill secured a $16,000 donation for tree guards from the producers of The Americans. A church in Bed Stuy received a much needed new roof thanks to another production company. And when Sex and the City and other shows fell in love with the West Village, the surrounding community benefitted as well. "The neighborhood got new lamp posts and a lot of other improvements," says MOME Deputy Commissioner Dean McCann. "Productions now anticipate these donations and write them into their budgets."
To spread the economic benefits, we've encouraged TV shows to shoot in all the boroughs, and location scouts looking for new backdrops have found gems. In the 2016-17 season, 17 pilots were shot in the boroughs, up 14 percent from the previous year. Madam Secretary has turned a closed military base on Staten Island into a religious cult's Bolivian hideaway. Brooklyn plays Washington, D.C. on The Americans. Abandoned buildings at Staten Island's Bayley Seton Hospital double for Arkham Asylum on Gotham.
Television's demand for sound stages has spurred New York's studios to build new facilities. Silvercup, which has two complexes in Long Island City, opened Silvercup North in a 115,000-square-foot former warehouse in the Bronx's Port Morris neighborhood last year. York Studios, which has operated in Queens since 2012, broke ground on a $100 million studio in the Bronx's Soundview district in June. In August, Brooklyn-based Broadway Stages bought the 69-acre Arthur Kill Correctional Facility on Staten Island. (The studio will keep a few cells for prison dramas.) Last February, I joined Mayor de Blasio in announcing the city's investment of $136 million in a 100,000-square-foot production facility at Bush Terminal in Sunset Park, Brooklyn.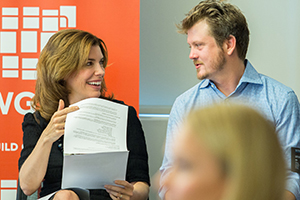 Julie Menin and Beau Willimon
Photo by Antoine Braxton-Tellavision Films
A LEARNING EXPERIENCE
I'm just as proud of our investment in enlarging and diversifying our city's creative workforce. In May, MOME joined the Writers Guild East in welcoming the first fellows of the Made in NY Writers Room—aimed at developing TV writers from diverse backgrounds. Participants in the six-month program will learn everything from structuring a story to landing an agent. Their teachers are some of the industry's top writers, producers, and showrunners, including Richard LaGravenese (The Divide), Brian Koppelman & Beau Willimon (House of Cards), Lee Daniels (Empire), and Julie Klausner (Difficult People).
Considering how robust the TV business is in NYC, these newly minted production workers couldn't be arriving at a better time.