PAWS DOWN, TAILS UP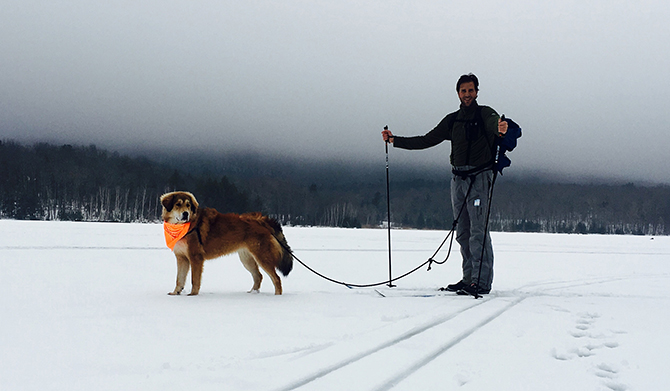 The Paw House Inn
By Lori Simmons Zelenko and Susan Traub
When it comes to travel near and far, pets rule when it comes to choosing where to head for the Holidays. We've come up with some Fido and FiFi-friendly luxe hotel experiences that will wonderfully fulfill owner and pet.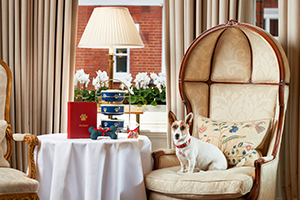 The Egerton House Hotel
Doggie Afternoon Tea
where the poshest pets chill
ENGLAND
Heading across the Pond to the graceful tree-lined streets and polished charm of London? Get a head start by filling out the "pet preference form" before your stay at the enchanting boutique townhouse that is The Egerton House Hotel (egertonhousehotel.com) located in the heart of Knightsbridge, just minutes from Harrods. Upon arrival, your pet will receive a personalized pet welcome message, toys and treats, an embroidered pet towel and a specially catered menu reflecting your fur baby's likes and dislikes. Grooming services are also available as are sitting and walking options, but pet parents must arrange these with 24-hour notice. Like all 17 properties in The Red Carnation Hotel Collection (redcarnationhotel.com), The Egerton is pet-friendly and offers a range of services, such as a pet concierge, pet spa, or doggie afternoon tea, to ensure that you and your four-legged pet have quite an enjoyable stay. It's clear then that your pets are VIPs (Very Important Pets)! Pet parents can relax and enjoy a glass of chilled champagne while their posh playmates can sit on silk cushions and avail themselves of assorted treats appearing on playful tea trays. Indeed no pet would turn their nose up at this delicious and delightful ritual.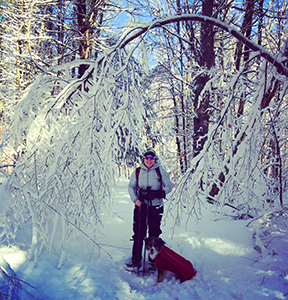 It's a winter wonderland
in Vermont! Kristin and K2
in the backyard at
The Paw House Inn
VERMONT
You could say Vermont's The Paw House Inn (pawhouseinn.com) is going to the dogs. In fact, they prioritize your pampered pet in ways Fido or Fifi only dream about! And dream they do on the custom-built dog beds in the private guest rooms. The Inn dates from 1786, and some of the original elements remain but adding to the timeless nature of the experience are the breathtaking views of pristine Vermont countryside from the floor to ceiling windows. Of course, proper doggie manners are expected, but well-behaved dogs (there are no breed or size restrictions) are welcome throughout the inn, even at breakfast. Just 15 minutes from the slopes, pet parents can pursue a day of downhill skiing and leave their pet to be cared for by the Inn's devoted staff who lovingly provide exceptional "dog services." Or with your dog in tow, go snow-shoeing or hiking at nearby Mountain Meadows; this Nordic center is genuinely pet-friendly. Of course, there's also the backyard at the Inn a real winter wonderland with icicle-frosted trees and snowy paths. After a day of play in the snow with your pup, contemplating going out for the evening? "Instead of leaving your dog(s) alone and unattended in your private guest room, the hotel offers an onsite dog facility Mario's Playhouse as a safe and comfortable alternative," explain owners Mitch Frankenberg and Jen Fredreck who add, "Some hotels accept dogs. Other hotels tolerate dogs. Vermont's Paw House Inn caters entirely to the unique needs of dog lovers." Conscientious in every way the Inn's staff takes great care to make sure you and your pet have a perfect stay, to that end all essential dog caregiving services are included in your room rate. And if an emergency develops, vets are on call 24/7. Interestingly enough there is a $10 nightly charge if you do not bring a dog.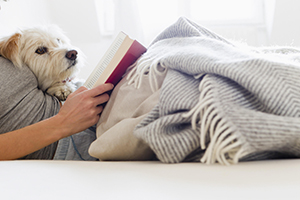 Relaxing on a leisurely afternoon
as the waves break nearby. Beachside bliss at
Huntington Beach Kimpton Shorebreaks
CALIFORNIA
Life in the fast lane equates to time on the Sunset Strip with your pooch in tow to shop the chic boutiques on Melrose (treats and water at every stop) and soak in West Hollywood's blend of youthful energy and urban sophistication. The best place then to hang with Fido or Fifi? The Grafton on Sunset (graftononsunset.com) a re-imagined retreat. Intimate and inviting, 108 guestrooms and suites, including a handful of unique Hollywood-themed suites, offer guests easy access to Oliver's Prime Steakhouse and Bar 20, as well as the largest saltwater swimming pool on Sunset Boulevard. And the pooch? Up to two per room, there is a fee of $100 per dog (25-pound limit); no cats permitted. The on-site Canine Concierge at The Grafton on Sunset will set you up with local activities like an off-leash dog park or hiking trails in the canyons if shopping is not enough of a workout. Or do your own research and check out Bring Fido (bringfido.com) for nearby pet entertainment options.
If beachside bliss is your agenda then check out Kimpton Shorebreak (shorebreakhotel.com) in Huntington Beach, California on the Pacific Coast Highway not even an hour from LA, it's paradise for the pampered pet; by the way, they don't care if your pet is "furry, feathery or scaly." At the Shorebreak, Chef JT Walker offers a healthy dog menu which consists of Beef and Potato, Rockfish and Yam or Chicken and Rice; all made with the same quality of meat, seafood, chicken and produce enjoyed by guests in the hotel's restaurant, Pacific Hideaway where the Chef finesses fresh California flavors. According to the Chef, the culinary team poaches the beef and chicken to lose as little of the nutrients as possible. No fees for pets plus such rewards as hypoallergenic beds to rest tired paws after a romp at Huntington Dog Beach (a favorite for our four-legged friends). All this combined with amenities for humans like wine hour and yoga mats in every room make this a preferred destination for wellness-focused pets and owners certainly including surfers who cherish the superb swells which freight train 100 yards from the hotel's front door with epic regularity.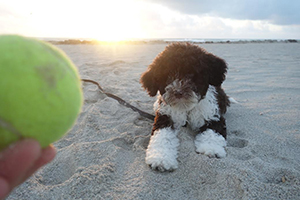 Dog playing on a Miami Beach
made accessible to pets by Fun Paw Care founder Russell Hartstein.
Courtesy of funpawcare.com
FLORIDA
A personal guru will greet you curbside when you arrive at 1 Hotel & Homes South Beach (1hotels.com/South-Beach/Official-Site) a serene destination that sits directly on 600 feet of pristine beachfront taking up an entire block of Collins Avenue. Wondering what a personal guru is? According to 1 Hotel, it's one part wellness, one part magician and taking pride in guests' well-being. With personalization then being the mantra at 1 Hotel (they have other locations across the country as well as Asia and Mexico), the experience involves an understated yet unforgettable approach to an artful, easy lifestyle. The views of the Atlantic Ocean, Biscayne Bay, and Downtown Miami's ever-expanding skyline are unparalleled. If you're the pet parent who doesn't hesitate to offer their fur baby delicious cuisine, there are seven unique dining options who will gladly make you a doggie bag. Making every effort to make sure your pup feels right at home, the dog-friendly 1 Hotel Concierge Team partners with BarkBox to offer it's VIPup guests their very own BarkBox upon check-in. (But you don't need to be a guest of the hotel to pamper your pup. Barkbox offers a monthly subscription delivery service of toys, treats, and crazy dog joy custom-sized for your pet.) And for the pet parent who never dines without bringing home a doggie bag, there are seven farm-fresh restaurants to choose from. All "four-legged, furry travelers" up to 40 lbs. are welcome as guests (check with the hotel regarding breed restrictions), and they are open to pets other than dogs. However, due to Florida state law, pets are not allowed to lounge poolside or on the hotel's beach, but there are dog-friendly beaches in Miami. The Concierge team is on hand to assist with recommendations for pet-sitting or walking services making sure that you and your furry or feathered companion have fun in the sun.
As far as NYC and LA go, The Standard (standardhotels.com) is the height of coolness, so its Miami Beach hotel is indeed on par. And it's pet-friendly too. Up to two pets can enjoy organic treats while owners recover at this "hydrotherapy playground, reimagined modern spa experience with a Turkish-style Hamman, aroma steam room, Roman waterfall hot tub, Finnish sauna, Arctic plunge, treatment baths, mud lounge, and infinity pool. Yes, nature's tranquilizer (aka H20) is everywhere you look at The Standard Spa. Bring your pampered pet for rest while you indulge in a wellness retreat that reinvents the spa category with the most fabulous style. Of course, if your pet needs a spa day of their own, head to The Dog from Ipanema (thedogfromipanema.com) in South Miami where pet parents can stay while their fur babies are groomed. What pampered pup doesn't appreciate a luxurious spa session after splashing in the surf or a joyful jaunt in one of Miami's dog parks? Miami is an exceptionally dog-friendly city, and The Standard is known as one of the top dog-friendly destinations.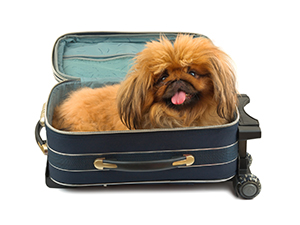 PRIVATE PET TRAVEL
If jumping on a jet plane is required to get to your destination consider the safety of your pet: you don't want Fido, or Fifi stuck in the cargo hold if that's what the commercial airline requires. Flying private may be for you. According to Amy Robinson, a top dog trainer who has improved the manners of private jet-traveling pets, speaking as a resident expert for Sniff & Barkens (sniffandbarkens.com), she observes that "what's trending at NetJets (netjets.com/en-us) is pet owners flying commercial so they can save their private jet miles for travel with Fido. NetJets' pet policy states that an animal up to 150 pounds can occupy a seat if he is belted in with a dog harness made for the purpose, or lounge on the floor at the owner's feet but should be secured for safety during takeoff and landing. Two smaller dogs can share a seat. While airborne, they have the same freedom in the cabin that humans enjoy, within reason: they cannot block the aisles, emergency exits, or wander into the cockpit to beg for a biscuit. For those of us who love our pets like family, the extra cost may just be worth it." Flying private is becoming more financially accessible through flexible hour deals and partnerships, and it does eliminate connecting flights which certainly saves valuable time making travel with your pet smoother and easier especially during over-crowded travel times like Holiday weekends.

WOOFING IT
Wherever you're traveling if the hotel's Canine Concierge can't accommodate your wishes, try Bring Fido (bringfido.com) for a rundown on how to maintain your pet in the manner to which he or she has surely become accustomed. With many opting to raise a pampered pet over a human child, indulging our fur babies is the norm not the exception. So when the Holidays arrive and the open road beckons there's no doubt they'll be sending out a double woof or a precious purr much less a delighted squawk as pet-friendly hotels give them everything their hearts' desire. Bring Fido will help sniff out the best restaurants and pet-friendly attractions in 10,000 cities around the world.
---
Lori Zelenko and Susan Traub have teamed up to reveal exclusive personal insights into the luxe life of pets in New York City and beyond. Each a devoted dog owner as well as an entrepreneur, Lori and Susan are mutually dedicated to improving the well-being of pets. To learn more, email lzelenko@gmail.com. ©2017 Lori Zelenko and Susan Traub, All rights reserved.