CALIFORNIA DREAMIN'
By Jessica Masters
The leaves are brown; the sky is grey, and—you know it!—we'd be safe and warm if we lived in Southern California. That is not to say you should ditch NYC for good. But you will enjoy a vacation at any one of these fantastic hotels and resorts. From the Santa Monica beaches to the Santa Barbara Riviera, Southern California indeed has something for everyone. Even die-hard New Yorkers.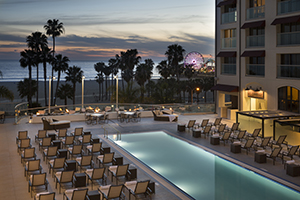 LOEWS SANTA MONICA BEACH HOTEL
Santa Monica
Perched on the edge of the Pacific Ocean, Loews Santa Monica Beach Hotel is one of Los Angeles' most celebrated beachfront hotels. It's easy to see why: The hotel's 347 guest rooms and suites overlook both the ocean and the Santa Monica Pier and offer excellent quality and service. Relax by the ocean view pool and Jacuzzi and cool off with a chilled towel delivered by your own Poolside Concierge. Even better, take a walk along the 3.5 mile Santa Monica beach and take in all the sights and sounds. At night, when the ferris wheel is electrified like a Lite Brite, it's hard to remember you're in Los Angeles. What makes this hotel special, however, are its innovative ways with food and beverage. In addition to its two California-driven restaurants, Ocean & Vine and BarBelle, the hotel recently introduced Flavor by Loews, an original experience that serves up the best of Los Angeles' local flavors. The indigenous products are showcased on menus enabling guests to experience a taste of the destination. Flavors that entice include El Machete Chili Sauce, handcrafted by owner Oscar Ochoa, the son of Mexican immigrants. It's featured in the signature "Locals Only" cocktail at BarBelle, and at Ocean & Vine. And LA-based company Juice Served Here offers cold-pressed and nutritionally-packed premium juices made with produce sourced from local biodynamic farmers. The hotel has introduced refreshing Cold Pressed Cocktails, where such flavor as "The Pixie" and "Charcoal Lemonade" make a hit with the crowd.
For more information on Loews Santa Monica Beach Hotel, visit loewshotels.com/santa-monica.
---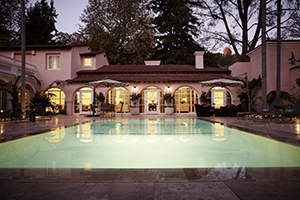 HOTEL BEL-AIR
Los Angeles
Yes, the Hotel Bel-Air is as fabulous as it's cracked up to be. Nestled within 12 lush garden acres, you couldn't be farther away from the madness of Hollywood. The hotel is as fascinating as it is beautiful, having been a hideaway for world travelers for more than 65 years. Now managed by the Dorchester Collection, it continues to evoke the elegance and glamorous charm of Hollywood's Golden Age.
Deluxe guest rooms and suites are located throughout the property. But the piece de resistance are the seven individually designed specialty suites, which include the Grace Kelly, Presidential, Chalon, Herb Garden, Swan Lake, Grand, and Patio suite.
A popular setting for breakfast, lunch, afternoon tea, dinner or Sunday brunch, Wolfgang Puck is the perfect place for a romantic meal, a social celebration or solo dining. And The Bar and Lounge, which extends to the outdoors with garden niches and fountains. Portraits of celebrities in black and white dominate the walls of the bar with iconic imagery captured by photography legend Norman Seeff. Finally, the Spa, a favorite among the A-listers, open daily from 8 AM to 9 PM for decadent massages, facials, and body treatments. You never know which celeb you'll run into. And we'll never tell.
For more information on Hotel Bel-Air, visit dorchestercollection.com/en/los-angeles/beverly-hills.
---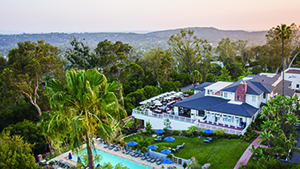 BELMOND EL ENCANTO
Santa Barbara
Situated between the Santa Ynez Mountains and the sparkling Pacific Ocean, Santa Barbara's only Forbes Five-Star Belmond El Encanto is an enchanting hilltop hideaway for those who crave privacy and serenity. The resort features two distinct styles of early Santa Barbara architecture—California Craftsman and Spanish Colonial Revival. Each one of the 92 bungalows has been luxuriously designed to provide guests with every modern convenience in a luxurious setting. The resort opened in 1918 and was a favorite of celebrities like Hedy Lamarr, Clark Gable, and Carole Lombard, who motored up from Los Angeles. Re-opened in 2013 under the Belmond banner, it has launched an exclusive new partnership with the local winery, Sanford Winery & Vineyards, which offers guests an opportunity to explore the area's continuously booming wine region through curated experiences and offerings. There's also a partnership with the Museum of Contemporary Art Santa Barbara (MCASB), which offers visitors and locals the chance to view works by some of the world's brilliant artists. Its Artist and Designer In-Residence Program, a rotating on-property program that brings contemporary artworks, furniture, and designs from an international selection of MCASB commissioned artists to hillside resort. In addition to curating a collection of artwork that can be enjoyed throughout the resort, this program offers guests the opportunity to watch and interact with the artists firsthand. Recent artists included San Antonio-based contemporary artist Cruz Ortiz, in which guests witnessed Ortiz's plein air painting techniques, and Canadian designer Philippe Malouin, who was recently named the designer of the year at Salone del Mobile in Milan.
For more information on Belmond El Encanto, visit belmond.com/hotels/north-america.
---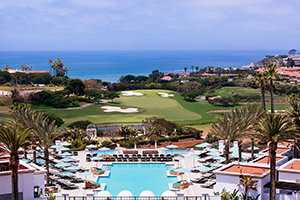 MONARCH BEACH RESORT
Dana Point
Monarch Beach Resort is located in Dana Point, Orange County, just 60 miles south of Los Angeles and a half-hour drive from the John Wayne Airport. The AAA Five-Diamond awarded luxury hotel has panoramic views of the Pacific Ocean and 400 exquisitely appointed guest rooms and suites. It features the Robert Trent Jones-designed Monarch Beach Golf Links; exclusive access to one of the most coveted beaches in Southern California; three luxurious pools; six ocean-view restaurants including Chef Michael Mina's lauded Stonehill Tavern; and the Miraval Life in Balance Spa.
Now let's talk spa: It offers offers more than 70 of the signature treatments developed at the company's flagship Miraval Resort & Spa near Tucson, Arizona. The facility has 24 treatment rooms, spa suites, boutique, Drybar, nail salon and relaxation and tranquility zones. You won't want to leave unless it's tee time.
For more information on Monarch Beach Resort, visit monarchbeachresort.com.