A TEEN'S TAKE ON UNIVERSAL ORLANDO RESORT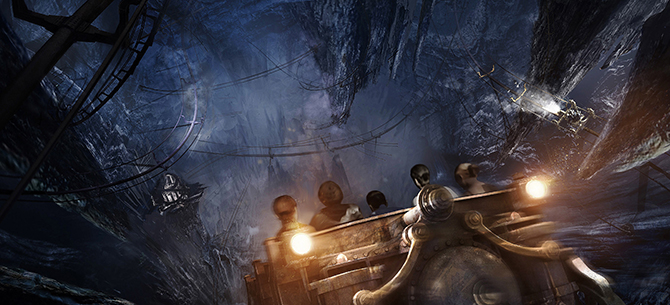 By Stacey Zable
As die-hard Harry Potter fans, my teen daughters longed to immerse themselves in the magical world, or more accurately, The Wizarding World of Harry Potter at Universal Orlando Resort. A recent trip completely transported them into the legendary fictional world, with Universal delivering an authentic experience.
Harry Potter World in each of its two theme parks: The Wizarding World of Harry Potter—Diagon Alley in Universal Studios Florida and The Wizarding World of Harry Potter—Hogsmeade in Universal's Islands of Adventure. The two are connected by the Hogwarts Express. So get ready for an adventure not to be forgotten!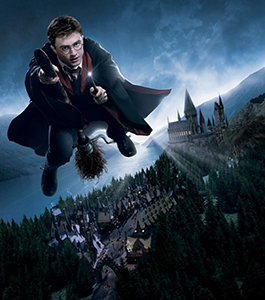 DAY ONE AT UNIVERSAL
My girls donned their Harry Potter shirts—full of energy and excitement—to experience Hogsmeade's shops, dining venues and, of course, the rides and shows that recreate many of Harry, Ron, and Hermione's adventures. In their ever-important world of social media, my girls needed to chronicle every moment of their immersion with Instagram-worthy photos and Snapchat fun images and videos. As guests of Loews Portofino Bay Hotel, we were not only given the opportunity to enter the Harry Potter areas early but were provided with Unlimited Express passes enabling us to stand on ride lines that were no more than a few minutes wait.
The girls started with the Flight of the Hippogriff roller coaster where they got to see Hagrid's Hut and Buckbeack, the hippogriff. After their awe of seeing Hogwarts up close, they entered the castle multiple times to ride Harry Potter and the Forbidden Journey. Here they flew through the castle along with their favorite characters, escaping a Whomping Willow, dragons, and more. While at Hogsmeade, there was also frozen Butter Beer, and the viewing of the Triwizard Spirit Rally show.
With 2-park/2-day tickets, we were able to board the Hogwarts Express to travel from Hogsmeade Station in Universal's Islands of Adventure to King's Cross Station in London at Universal Studios Florida. We made a reverse trip the following day—both providing surprises, including seemingly walking through Platform 9¾.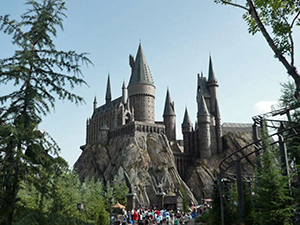 WE'RE WILD ABOUT HARRY
Diagon Alley at Universal Studios Florida lies just beyond a brick wall creating a dramatic entrance to the themed area. The looks on their faces, as well as other guests, was of complete joy as they entered the special world of their favorite characters. They stood back and surveyed all that the fictional Diagon Alley had to offer starting, of course, with the massive fire breathing dragon towering on its perch above Gringotts bank.
Both girls would have been satisfied just standing at the entrance all day, but the 3-D fun of encounters with Voldemort at the Harry Potter and the Escape from Gringotts ride beckoned. More excitement was found from the magical mirror in Madam Malkin's Robes for All Occasions shop and exploring the fun treasures at Weasley's Wizard Wheezes shop. Another store available at both parks is Ollivanders, where interactive wands—popular with younger guests—are among the wands available for purchase; they allow you to perform magic in select spots throughout the two Harry Potter Worlds.
BEYOND POTTER
Teen fun outside the immersive worlds of Harry Potter within the parks can be experienced at Islands of Adventure's Skull Island: Reign of Kong; the water rides of Dudley Do-Right's Ripsaw Falls; and Jurassic Park River Adventure. Not to be missed is the new Race Through New York Starring Jimmy Fallon and roller coaster thrills at Revenge of the Mummy (a crowd favorite). The 30-acre Universal CityWalk located within walking distance of the two parks offers an abundance of dining, entertainment and shopping for the family to enjoy.
WHERE TO STAY
Loews Portofino Bay Hotel at Universal Orlando is one of five properties (with a sixth slated to open in summer 2018). The 750-room resort designed to be reminiscent of the village of Portofino, Italy, features a lake-dominated piazza surrounded by guest rooms and dining venues. It's also the point to catch the 10-minute complimentary boat ride that takes guests to the two parks and Universal CityWalk.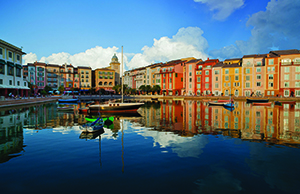 Loews Portofino boasts three swimming pools, the Mandara Spa and fitness center, a nightly Italian musical celebration, and eight food and beverage venues. Guests who upgrade to Club Level receive complimentary access to the Club Lounge, where snacks and drinks, as well as complimentary breakfast and evening hors d'oeuvres are served daily. In addition to proximity, the benefit of staying on-property includes early access to the parks.
For more information on Loews Portofino Bay Hotel, visit loewshotels.com/portofino-bay-hotel
---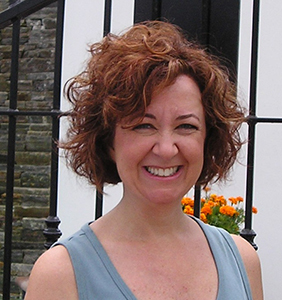 Stacey Zable is an award-winning veteran editorial professional with experience writing for both print and online publications. She has held senior staff positions at top travel trade publications and has freelanced for some of the industry's top consumer travel magazines. Visit her website at staceyzable.com.