BROOKLYN IN THE AVANT-GARDE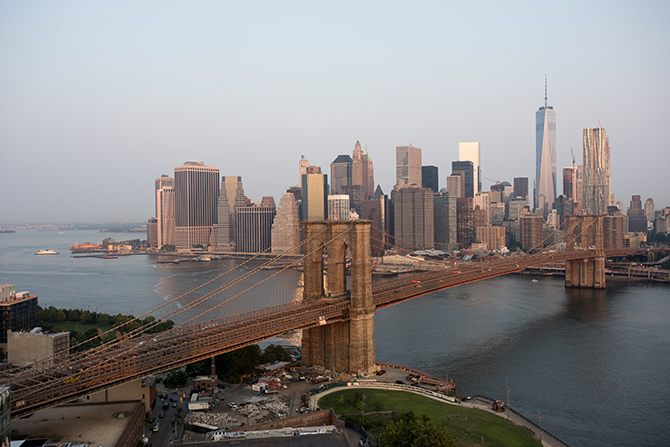 Photo by Julienne Schaer
By Gerard Longo, Principal at Mettle Property Group
I have been fortunate enough to be in the real estate industry in what is arguably the capital of the real estate world. There is nothing more iconic than Manhattan with its unique architectural landscape. In a place where growing horizontally wasn't an option, Manhattan became a pioneer in vertical living. In my thirty years of experience, I would have never guessed that Manhattan could have found a way to expand horizontally. So much so that in recent years we have watched the real estate revolution push its way across the river into Manhattan's outer borough sibling.
At the forefront of this trend is my hometown of Brooklyn, which by many accounts has become an international destination not only to live and work in but for tourism, as well. At one point in time, a vast majority of those who resided in the outer boroughs made the daily commute into Manhattan for work. Nowadays we see that commerce is expanding and offering many opportunities to also work in Brooklyn.
Brooklyn is rich in history and cultural assets. It continues to be a real melting pot of diversity stemming from the immigrants who came to the New World in the 1800s to present day families relocating to experience Brooklyn's unique energy. In 2016, Brooklyn saw a 5 percent increase in their population from the previous year, which equates to approximately 124,500 people. The borough also saw the highest growth in private sector jobs with an increase of 12.8 percent—more than double the national average, a 3.8 percent drop in unemployment, and wages rose by 4.7 percent (Source: New York City Economic Development Corp.).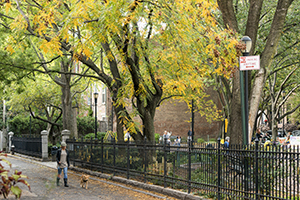 Photo by Julienne Schaer
BROOKLYN BOOM
With Brooklyn continuing to surge, it's no surprise that the borough has become a launching pad for startup companies. Co-working spaces have increased, and nearly every neighborhood has an affordable option for motivated individuals looking to start a business on their own. In particular, the tech space is having its own Brooklyn moment. According to a 2015 report published by the Brooklyn Tech Triangle, more than 1,350 tech companies have established roots in the space between the Brooklyn Navy Yard, DUMBO and Downtown Brooklyn, employing over 17,300 people in the process. Along with startups, Fortune 500 companies are also looking to move into the borough. Recently, Amazon announced it would be opening a second headquarters in the Northeast and Brooklyn is, of course, a prospect. The $5 billion project would create an additional 50,000 jobs in Brooklyn.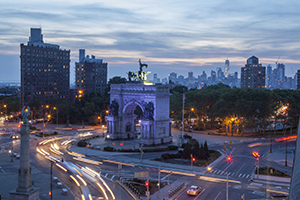 Grand Army Plaza
Photo by Tagger Yancey
The borough is not only home to a diversity of people, but it's also a place where city dwellers and tourists come to get peace from the busy city and offers an abundance of recreational areas. One of the most sought-out places is Prospect Park, the flagship park of Brooklyn, where people can enjoy anything from baseball to birdwatching, and skating to nature programs, amongst much more. You also have Brooklyn Bridge Park where One Hotel Brooklyn Bridge recently opened.
Many people are already familiar with "Brownstone Brooklyn"—the more historical areas that are centuries old. However, we see a large trend in what we refer to it as "Suburban Brooklyn." This is the southern part of Brooklyn which encompasses areas from Bay Ridge, along with the waterfront to Sheepshead Bay, Manhattan Beach, Bergen Beach, and Mill Basin, then inland to Madison, Marine Park, and Midwood. These neighborhoods offer more traditional housing with private driveways, slightly larger lots of lands, beautiful tree-lined blocks and yes, little or no alternate side of the street parking. These neighborhoods are maybe an additional 10-to-15 minute commute from Manhattan and offer its menu of residential offerings.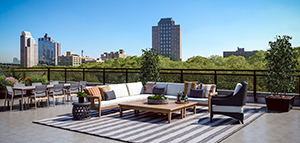 70 Henry Rooftop
OLD & NEW TOGETHER
If I had to say, one of the most surprising things is that the world has finally recognized Brooklyn as being a tourist destination. Indeed, places like Coney Island—home to the Cyclone and Wonder Wheel—are now seen as more historical than entertainment. And, of course, the architectural wonders are endless. Built in the 1800s, the Brooklyn Museum holds one of the oldest and finest public collections of American art in the world. It is located adjacent to the equally impressive Brooklyn Botanic Gardens and directly across from Prospect Park. More recent to the neighborhood, The Barclay Center is an example of the new generation of modern and contemporary architecture coming into Brooklyn.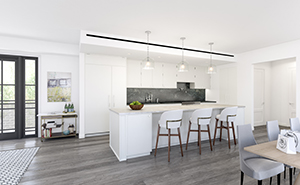 70 Henry Kitchen
Brooklyn also now offers an abundance of food and hospitality. Tourists visiting or neighborhood friends looking for a place to have drinks can look no further than Cecconi's in DUMBO which offers magnificent views and the Wythe Hotel, which is an old factory constructed in 1901 on the Williamsburg waterfront. Brooklyn is home to some of the city's top Michelin-starred restaurants. Three-starred Brooklyn Fare, an old-school neighborhood grocer, is located in the heart of downtown Brooklyn and offers fresh, delicious groceries and prepared foods at affordable prices.
Preservation of historical Brooklyn has always been an important facet as a real estate developer. Our company, Mettle Property Group, is a leader in the preservation of historic architecture, restoring and utilizing original building materials, as well as developing ground-up construction in context with their neighborhood. Our latest project is 70 Henry Street which is the former Brooklyn Heights Cinema. The building was erected in 1895 and previously served as a butcher shop, pharmacy, then as a restaurant before becoming a movie theatre in 1970. We are currently working with the Landmarks Preservation Commission, and the original façade remains intact as represented by the exterior of the first two floors.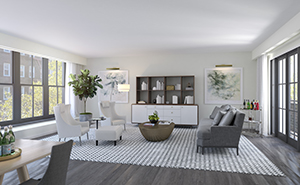 70 Henry Livingroom
Since the downturn of 2008-09, Brooklyn rebounded almost immediately. We not only saw a recapture of value, but it continued a steady increase. We saw the condo market in Brooklyn Heights start pushing nearly $2,000 per square foot while in neighborhoods such as Marine Park, the average one family home is starting around $600,000. As well as there being a high-demand, we've seen a decrease in inventory across the borough. Rents have also been at a premium. However, there is a significant amount of new development inventory set to hit the market in the next few years.
For more information on Gerard Longo and Mettle Property Group, visit mettlepropertygroup.com.
---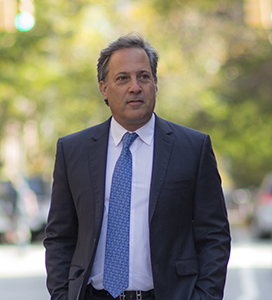 Gerard Longo is responsible for directing and overseeing the daily operations of Mettle. As a well-recognized leader in the real estate industry, he has been quoted in many leading media organizations including MSNBC, The Wall Street Journal, The New York Times, and The Real Deal.