21 EAST 12TH STREET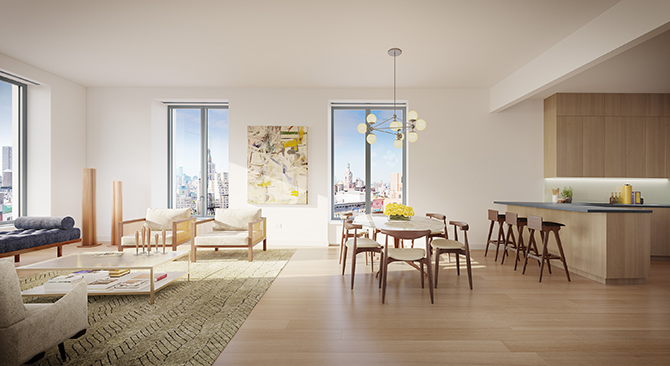 By Daniel J. Bollinger
In the heart of Greenwich Village on a former bowling alley site is a new ground-up development, 21 East 12th Street. There are 52 residences in total consisting of one to four bedrooms by the William Macklowe Company, co-sponsor Goldman Sachs, and designed by SCLE and Selldorf Architects.
The location couldn't be better and features 13,000 square feet of retail space at the base of the development. Both the East and West Village are within walking distance, Union Square is two blocks north, and Washington Square Park is a few blocks south. You're in the midst of a plethora of stores, restaurants, and culture and transportation options abound. The setback for the residential portion of the building is huge and offers vast outdoor spaces for the residential ground floor apartments. The interiors of the units themselves are very nice as well.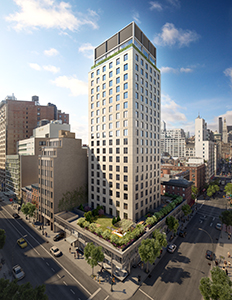 CLEAN LINES
The residences are spacious with high ceilings, classic layouts, and sleek design, also perfect wall space for art collectors. There are only four residences per floor max; most floors have 2 to 3 units offering privacy. The underlying design: Very simple interiors that equate to elegant design style. For example, the kitchens have no extruding pulls; they are invisible or flush with the cabinets. Some other subtle design details are the under counter lighting and the frosted glass backsplashes. With Gaggenau and Sub-Zero appliances, they are well-designed kitchens.
The bathrooms follow this clean lines-theme and have excellent design details. Marble wainscoting, floor to ceiling tiled wet room with a niche, and the Robern medicine cabinets all combine to make a great master bath. Even the secondary baths have floor to ceiling tiles and niched wet room. The powder room impresses with a full marble sink. All the bathrooms can be described as a "Marble Wonderland" showing that the sponsors did not spare on quality.
There are pocket doors throughout the residences. Large casement windows and the prime location of the 22 storied hi-rise on 12th Street make for a plethora of incoming light in all apartments. The building amenities include a resident's lounge and a fitness room. Parking which is always a highly sought-after amenity is also available.
All in all, Selldorf Architects, SCLE, and William Macklowe Company have developed some great new residences that can be described as "Elegant Minimalism."
For more information on 21 East 12th Street, visit 21east12.com.