PUMPKIN SPICE (AND EVERYTHING NICE)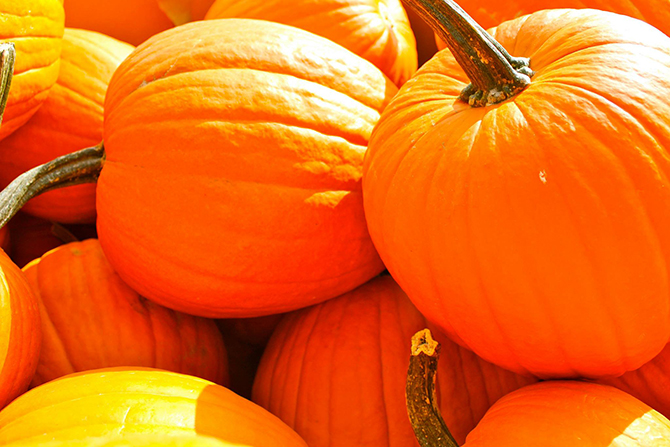 By Shari Bilt Boockvar
I'm a sucker for the pumpkin spice trend. My son and I are always looking for those seasonal products that we simply must try before the limited editions are gone. Some people may even assume (or want to believe) that if it's "pumpkin," it must be made with real pumpkin and therefore a healthy choice. Of course, we know the truth—they are mostly flavorings. If you are like me and want healthier versions of these products, read on. Keep in mind that not all of these choices have the perfect nutrition profile, but they are better options than most in the market today.
---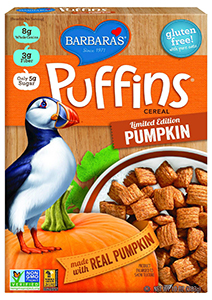 BARBARA'S PUFFINS LIMITED EDITION PUMPKIN CEREAL
If you've tried and enjoyed Barbara's other varieties such as the cinnamon and original flavors, then you must taste this pumpkin version. The pumpkin flavor has 3 grams of dietary fiber and 5 grams of sugar per serving. Toss in a handful of blueberries along with your milk of choice, and you will find it a satisfying and filling option that will keep you from snacking until lunch. You can also make a grab and go snack by filling a Ziploc bag with some Puffins and a tablespoon or two of mixed nuts, seeds, dried fruit, and chocolate chips.
---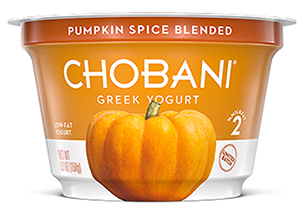 CHOBANI LIMITED BATCH PUMPKIN SPICED BLENDED GREEK YOGURT
Do you love Greek yogurt? Even if you don't, this may be an excellent way for you to give it a try. Chobani's version is a flavorful way to get your pumpkin fix. At 120 calories per cup and boasting 12 grams of protein, it's a great way to start your day. Try adding fresh fruit and a tablespoon of pumpkin seeds or other nuts. If you enjoy smoothies, substitute this for your milk or yogurt in your recipe.
---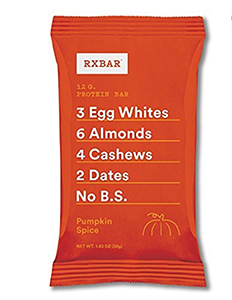 RXBAR LIMITED EDITION PUMPKIN SPICE PROTEIN BAR
This is one of my favorite go-to bars for a mini-meal or snack. Their simple ingredients mostly come from egg whites, almonds, cashews, cinnamon, and dates. This pumpkin spice flavor is fantastic, and I recommend stocking up before they are sold out!
---
EDY'S LIMITED EDITION PUMPKIN SPICE LATTE LIGHT ICE CREAM
When I'm craving ice cream, I've been reaching for Edy's light ice cream for years. This is the first year I've had the pumpkin spice latte flavor, and it's great! Each 2/3 cup serving is 120 calories and 2.5 grams of fat, so I don't feel like I'm overdoing it. To make it healthier, top with a handful of berries and sliced almonds. Use it as a substitute for milk in your coffee to create your own pumpkin spice latte!
---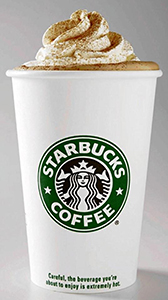 STARBUCKS PUMPKIN SPICE LATTE (THE HEALTHIER WAY)
So here's the deal, a grande pumpkin spice latte clocks in at 380 calories, 14 grams of fat and 50 grams of sugar. Although my way may not be as sweet and decadent, it can satisfy your pumpkin craving without all of the guilt. Order a tall cup of regular or decaf coffee with 1 to 2 pumps (25 calories each) of pumpkin spice flavoring and a sprinkle of the pumpkin spice topping. Add about ¼ cup milk (I like whole milk for the creaminess) which amounts to 40 calories and 2 grams of fat. Skip the whipped cream. The total calories will be approximately 90 calories.
---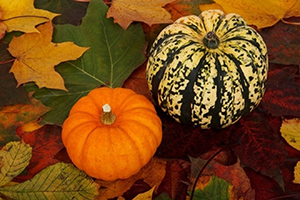 GOURD FAMILY FRUIT
You read that correctly, pumpkin is a fruit, not a vegetable. It's a member of the gourd family, which also includes squash. This is an excellent time of year to add them to your meals. Choose delicious options such as acorn or butternut squash. Just peel, cube, and roast with olive oil and any desired seasonings. For a great pasta alternative, give spaghetti squash a try and top with tomato sauce and Parmesan cheese.
---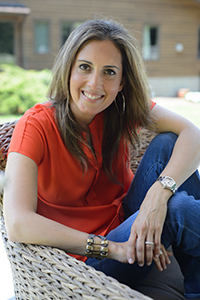 Shari Bilt Boockvar, MS, RDN is a nutritionist in New York and the Tristate area. She specializes in nutrition counseling and consulting for weight control and fitness. Shari can be found blogging about her favorite products and recipes at
Facebook.com/NutritionShari,
Twitter.com/NutrtionShari,
Instagram: NutritionShari,
and nutrifactsforyou.com.