FEAST ON THIS
By Peter Elston
Whether visiting for the holidays or simply enjoying the Thanksgiving Day with family and friends, New York City offers plenty of options to whet your appetite—from prime-aged steaks and Italian hospitality to Provencal charm. So, give thanks and gather one and all and head to one of these fine restaurants.
---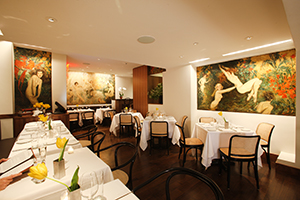 THE LEOPARD AT DES ARTISTES
The Leopard at des Artistes is owned by husband-and-wife-team Gianfranco Sorrentino and Paula Bolla-Sorrentino, and partner Chef Vito Gnazzo. This partnership has also grown to include two other excellent restaurants, Il Gattopardo and Mozzarella & Vino. The Leopard at des Artistes is conveniently located near Lincoln Center in the landmarked Hotel Des Artistes. Once inside you are surrounded by the astonishing 1920s murals by Howard Chandler Christy. The Leopard at des Artistes finds its roots in the area once known as "The Kingdom of the Two Sicilies" (the mid-1800s) and in the culinary traditions of the regions of Campania, Basilicata, Calabria, Apulia, Sardinia and, of course, Sicily. The menu is a perfect balance of dishes based on rural elements, such as pasta, vegetables, cheese, and seafood ingredients from the Italian Costiera (theleopardnyc.com).
---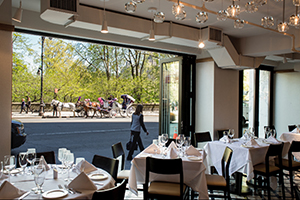 BOBBY VAN'S STEAKHOUSE
The newest addition to the Bobby Van's family of restaurants is located on Central Park South overlooking the bucolic park and just steps from the iconic Plaza Hotel. Executive Chef Ted Rozzi has crafted a menu of delectable dishes such as Crispy Calamari, Lemon Pepper Shrimp and Maxie's Meatballs for Starter and Veal Milanese, Chilean Seabass or New York Sirloin Steak for an entrée. It is the ideal dining destination for an intimate dinner as well as for larger groups or special occasions (bobbyvans.com).
---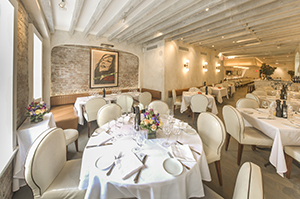 MAMO RESTAURANT
Enjoy the best this season has to offer with celebrity favorite MAMO Restaurant's incredible menu curated by new Executive Chef Salvatore Marcello. MAMO's new menu features an array of delectable dishes prepared with only the freshest ingredients. MAMO offers diners traditional southern Italian/French cuisine in an intimate yet elegant setting. The bi-level restaurant includes a casual lounge on the ground floor and a formal dining room upstairs. Both spaces capture the Riviera's "sense of home" with original family photos and oversized vintage posters. The decor also incorporates classic New York-inspired touches such as exposed brick walls. The intimate downstairs lounge is available for private bookings and is the perfect space for a holiday gathering or celebration (mamonyc.com).