THE HOME CHEF
By Patricia Canole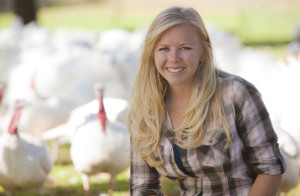 Heidi Diestel
Whether you're about to host your first Thanksgiving dinner or maybe have earned your stripes as a seasoned pro, one thing is for certain: there's always something new to learn for the home chef. We went straight to the experts at Diestel Family Ranch—a fourth-generation, family-owned turkey producer in the U.S. Nestled in the Sierra Foothills, the traditions of Great Uncle Ernest, who founded the farm six decades ago, are continued to this day. This family has demonstrated new ways to sustain old-fashioned values, striving at the same time to maintain a small carbon footprint while producing a high-quality product. Unlike most turkey farms, Diestel allows their birds to roam free, giving them plenty of time to grow, feeding birds the highest-quality, all-natural food sources (they even make their feed), and being meticulous about the finished product's quality. In fact, Diestel Family farmers walk the turkeys every day and pay close attention to their health, removing the need for antibiotics.
Heidi Diestel loves her role in the family business which has evolved into educating the consumer—and especially children—about essential restorative properties of good nutrition. New York Lifestyles recently caught up with Heidi who advised whether it be an Heirloom, Pasture Raised, or Certified Organic holiday bird, to keep these tips in mind.
• Before roasting, check to ensure your turkey is soft and oven ready. If the turkey feels firm and cold, it will not roast evenly. Ideally, room temperature birds cook well.
• Preheat oven to 325 degrees. After removing the neck and giblets from the cavity, rinse with cold water and pat dry with a paper towel. If you choose to stuff your bird, this would be the time to do so.
• Rub the exterior of turkey with a blend of your favorite herbs and spices (see Family-Style Recipes). Place the turkey in an open roasting pan, breast side up.
• You can baste your bird, but keep in mind that consistently basting turkeys throughout the entire cooking cycle will result in skin that's more moist than crisp. Whether you baste—or not—it's always important to have some liquid in the bottom of the roasting pan (broth, stock, water or wine) throughout the roasting process.
• There is no need to turn the bird while roasting as it will brown to a golden color. A foil tent can be placed loosely over the turkey during the last hour of roasting to prevent over browning. When the turkey reaches the desired internal temperature, remove from the oven.
• Let the turkey rest at least 15 minutes before carving/serving. This allows time for the juices to seal within the meat and makes for a delicious finished product.
Short on time? Why not make it simple and order an Organic Oven Roasted Whole Turkey. Just reheat in a roasting pan for two hours, and the result is a tender, super juicy turkey for your guests to enjoy.
For more information on the Diestel Family Farm and purchase of holiday birds and other poultry products, visit diestelturkey.com.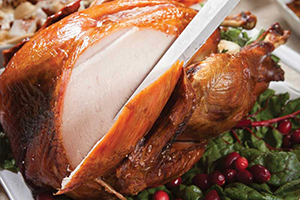 FAMILY-STYLE RECIPES
SIMPLE SPICE RUB
4 tablespoons oil (melted butter, margarine, olive oil, etc.)
4 teaspoons salt or to taste
2 teaspoons paprika
Rub the exterior of your turkey with this paste before placing into the roasting pan.
OLD-FASHIONED TURKEY GRAVY
Skim and strain freshly roasted turkey drippings into a saucepan over medium heat. If you're short on drippings, add 1 to 2 cups water or broth back into your roasting pan and use a wooden spoon to scrape up the brown bits. Strain and incorporate into your drippings. Whisking constantly, gradually add drippings to a roux (butter cooked with flour). Reduce heat to low and simmer for the gravy to thicken and flavors to meld. Season to taste with salt and freshly cracked black pepper.
Optional: When the turkey is half done, heat (do not boil) one cup of white wine and pour over turkey. This is the secret to a fabulous, deep flavored gravy.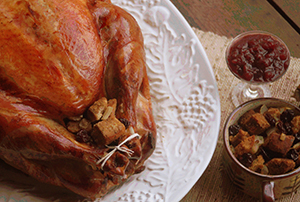 SAVORY HERB STUFFING
2 medium sweet onions
5 stalks celery
7 sprigs parsley
1 7 ½ oz. bag stuffing cubes, unseasoned (approx. 8 cups)
2 tablespoons olive oil
½ packet herb seasoning (approximately 1 teaspoon, included with the stuffing cubes), or season to taste with sage, savory, thyme, and pepper
1 teaspoon dry marjoram leaves
3/4 teaspoon dry oregano leaves
1/2 teaspoon dry thyme leaves
1 1/2 teaspoon salt
1/2 teaspoon pepper
Finely chop onions, celery, and parsley. In a large bowl, mix with bread cubes. Sprinkle with olive oil. Toss to combine. Add seasonings. Mix thoroughly.
Pat neck and body cavities of turkey until thoroughly dry. Stuff loosely, never pack. Leftover stuffing can be baked in a covered, greased dish at 325º F for 30 minutes.