IN THE KITCHEN WITH TRACEY CEURVELS
By Patricia Canole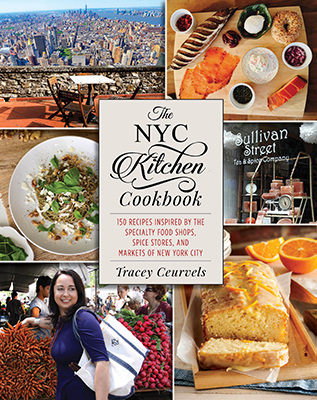 It's easy to understand why Tracey Ceurvels loves exploring new places. This food and travel journalist has traveled the world and written about her escapes for The New York Times, The Boston Globe, and Relish. Her enthusiasm for food and travel continues and is perfectly presented on her culinary website, The NYC Kitchen. "We can buy ingredients from all over the world," says Tracey who has probably frequented every specialty shop in the city. Instead of shopping at the big box supermarket, she loves discovering smaller stores in every borough which specializes in spices, pasta, cheese, tea, greengrocers—you name it!
In her new cookbook, The NYC Kitchen Cookbook (Skyhorse Publishing), Tracey continues her quest to spice up the New York City kitchen with 150 recipes inspired by the numerous specialty food shops and markets. Living in Brooklyn, Tracey has some favorites including Sahadi's for spices, Staubitz Market for meats, Caputo Bakery and Bien Cuit for bread. Of course, she'll frequently venture into Astoria to her favorite Greek grocer, Titan Foods for phyllo and feta, and travel to Teitel Brothers on Arthur Avenue in the Bronx for sausage and cheese. Not to be overlooked is Manhattan with some favorites Eataly and Di Palo's Fine Foods for fresh pasta and meats.
Tracey's philosophy is simple. "I enjoy meeting people who love what they do, especially when it comes to food. I've met beer brewers, winemakers, chocolatiers, butchers, and cheesemongers. Their passion for what they do is contagious and, honestly, I'd rather buy artisanal produce made with love and care than a mass-produced one at the supermarket.
In between specialty shop visits, we had the chance to learn a little more about this new cookbook author and what inspires her.
How did you begin NYC Kitchen?
I started the NYC Kitchen for a few reasons. Before I had my daughter in 2008, I was a freelance writer, reviewing restaurants, going out a lot at night to events, and traveling the world. I've always had a sense of wanderlust and when Sabrina was born, that stopped for a while, yet my love of food didn't. Soon I realized I could feed my adventurous spirit differently and that's when I started my website. I began venturing around NYC to all the excellent food shops, going to places like Chinatown for greens, noodles, ginger, and to Brighton Beach to check out the Russian markets. Cooking for me became a fun adventure.
What is your favorite dish to cook and why?
Making quick dinners during the week is a necessity, but sometimes I love making meals that require more time and effort: Dishes like bouillabaisse, beef stews, roasts, whole chickens, and tagines. These types of dishes are relegated to the weekends, which is why I named a chapter in my book, "Relax on the Weekend: Feasts." Even though we live in a fast-paced world, I love the art of taking time out of a weekend day to make a meal. I put on some music, light candles, open up a bottle of wine, and enjoy the process of chopping vegetables, combining spices, and smelling the scents from whatever is simmering in the oven. During the week dinnertime looks a lot different, but on the weekends it's nice to turn to dishes that require more thought.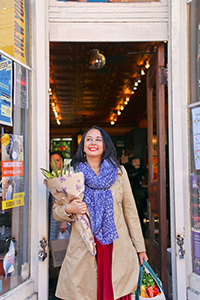 For cooks who are just starting out, what is square one?
I believe that having an interest in trying new things is helpful—this is something that continually inspires me in the kitchen. On my website, I offer "The Edible Adventure List" which includes some of my favorite ingredients. I believe that it starts with the ingredients—fresh herbs, spices, sauces, and more—and keeping a few essential items stocked at all times.
Also, organization is important especially if you're naturally a go-with-the-flow person like I am. On Sundays, I think of a few meals I'd like to make during the week, and I write down what I need for each dish. Before doing this, I'd wander around a few stores, unsure what to make, then I'd come home having forgotten something. For this reason, I created a menu planner, which is something that goes against my nature but has helped me immensely. That being said, I often challenge myself to make a meal out of what I have stocked, and that kind of experimentation can be a lot of fun.
For more information on Tracey Ceurvels and The NYC Kitchen, visit newyorkcity.kitchen.
---
THANKSGIVING DAY TIPS
Thanksgiving dinner—the turkey, mashed potatoes, stuffing, and other side dishes—is the focal point of this food-centric holiday. But the period before sitting down for dinner can be just as appetizing. Whether you're the host or a guest, you'll want to nibble on something while everyone convenes and sips on cider or cocktails. Here, Tracey's easy ideas on what to serve.
Nuts and Olives make a great snack before dinner, and they're especially good with a glass of wine or a flute of Champagne. Stock up on a variety of olives and nuts from Zabar's, Sahadi's, or Titan Foods.
Italian Meats are always welcome—even on an all-American holiday. While prosciutto, bresaola, and soppressata (along with olives from above) might not be regarded as Thanksgiving dinner fare, watch how it's gobbled up before the turkey's even sliced. Head to Arthur Avenue in the Bronx.
Cheese is always a welcome addition to any holiday gathering. Generally, cheesemongers will advise you to pick a variety of cheese made from different kinds of milk, so opt for a cow, sheep, and goat—and/or a blend—to satiate different palates. The French Cheese Board, Murray's and Saxelby Cheesemongers, sell stellar choices.