JERSEY SPIRITS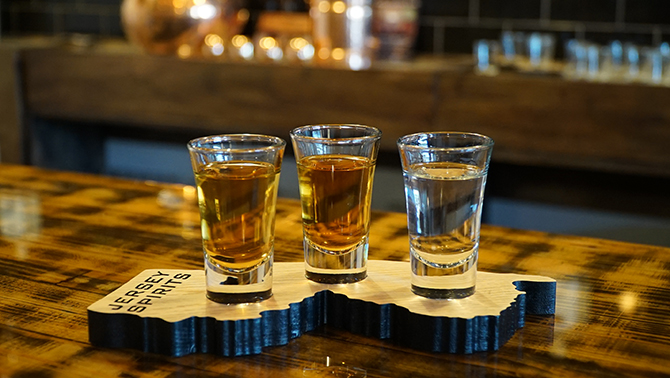 By Jeff & Stephanie Sylva
Are you a fan of farm-to-table cuisine and looking to support restaurants and chefs who stress locally-sourced ingredients? Why not take that commitment to the next level—supporting your local distiller. Jersey Spirits Distillery Company, located in Fairfield, NJ, is a craft distillery that uses as many locally-sourced raw materials as possible to create an impressive and varied line-up of hand-crafted spirits.
This passion for experiencing "anything local" was instrumental in the creation of Jersey Spirits. It was in 2013 when John Granata and Susan Lord were in Park City, Utah and visiting High West Distillery where they were inspired to create their own distillery in New Jersey. After several months of researching, studying, and visiting many distilleries and manufacturers, they found the perfect spot in Fairfield and began the process of making high-quality, hand-crafted spirits. Their choice of location was a bit ironic, as Fairfield currently boasts three craft distilleries and two craft breweries.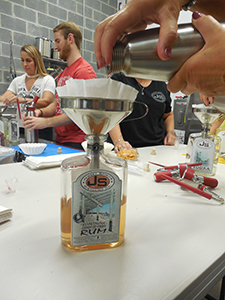 JERSEY MADE
The company's line-up of products is quite impressive for a small, craft distillery. Their signature Main Street Vodka was their first introduction. Not long after, Barnegat White Whiskey (an un-aged whiskey—sort of a Jersey moonshine), Boardwalk Rum, Jersey Apple Hooch ("like apple pie in a bottle"), and DSP.7 Gin made their appearances. And with the introduction of their Crossroads Bourbon Whiskey, the first to be legally made and sold completely in New Jersey since before prohibition, bourbon lovers don't have to look to Kentucky for their favorite libation. Granata and Lord joke that with their craft distilling license and are not afraid to use it. The results continue to amaze with Jersey Pumpkin Hooch, and Jersey Hooch Holiday Nip (using locally-sourced cranberries, apples, and maple syrup—"like holidays in a bottle!").
An unusual product line is their HopManiac Spirits, available in Citra, Mosaic, and Experimental versions. Using a vapor infusion process during re-distillation, Jersey Spirits adds a variety of hops to its neutral grain spirits. Beer lovers may find these creations enticing!
A LEARNING EXPERIENCE
What better way to learn the craft than to see how it's all done with a lesson from the masters themselves. The Infusion Class at Jersey Spirits' Distilled Spirits Plant in Fairfield, NJ. is a unique learning experience. The two-hour long class covers techniques for both slow and fast infusions, so you can utilize your new-found knowledge at home to make creative spirits. The course includes a bottle of Main Street Vodka or Boardwalk Light Amber Rum which you will infuse during the session using quick infusion techniques. A distillery tour, tastings, and one of Jersey Spirits' tasty, creative cocktails are also included.
The owners encourage their class participants to get creative with their infusion choices. All of the infusions, whether ones produced for sale or those created in class, use only natural ingredients with no artificial additives of any kind. Be sure to visit Jersey Spirits' tasting room with its chicly-designed cocktail bar offering a large selection of creative cocktails. Here you will have fun choosing from Jersey Spirits' extensive list of creative cocktails, some which are available in a flight of three mini drinks. Some of the more exotic concoctions include the Punisher (Hot Pepper Vodka, pineapple, orange, and coconut) and the Cucumber Cosmo Martini (Cucumber-infused Vodka, Orange-infused Vodka, and cranberry).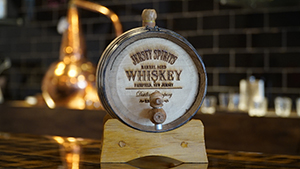 It is evident that Granata and Lord want to provide their customers an experience beyond just purchasing their craft spirits. In addition to the infusion classes, Jersey Spirits conducts two different mixology classes, perfect for the holiday season. Mixology 101 is an introductory course for those who might not be that familiar with spirits and preparing cocktails. Granata explains how to stock a bar for a party including the core liquors needed for the most common cocktails—and how to do so economically. Advanced Mixology is for those looking to go beyond the basics and experimenting with various flavors and creating interesting and unique cocktails and garnishes. The creative process will continue at Jersey Spirits, as classes such as Candy Making with Spirits and Baking with Spirits are planned for the future.
For more information on Jersey Spirits Distilling Company visit jerseyspirits.com.
---
Jeff and Stephanie Sylva are retired English and Social Studies high school teachers who have been freelance travel writers for over 28 years. They've been publishing in many national publications and who love to write about the great outdoors and, of course, travel.