ON STAGE: BROADWAY GOES HOLLYWOOD
By Lori Simmons Zelenko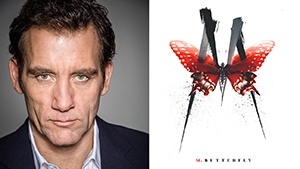 CLIVE OWEN IN M. BUTTERFLY
The Cort Theater
The price of illusion is steep, so French diplomat René Gallimard (played by Academy Award nominee and Golden Globe Winner Clive Owen) learns in David Henry Hwang's Tony Award-winning play M. Butterfly. Disgraced, a victim of his own sexual obsession with a beautiful, submissive, modest "woman," Song Liling, a Beijing opera star (played by newcomer, Jin Ha), Gallimard winds up in prison, damaged beyond belief by this desperate romance.
Julie Taymor directs with tremendous imagination as always (her vision brought us The Lion King and more recently, Spider-Man: Turn Off the Dark) letting this twisted heartbreaker unfold in layers of deception each revealed with a tangible sensuality. Based on a true story yet taking from the romance at the heart of Puccini's Madame Butterfly, the play is, Clive Owen says "astonishing…a wild passionate story" that happens to be as they say, straight from the headlines. Arrogance meets delusion in this drama which like a Chinese puzzle box is never-ending in its mystery, fascinating and compelling to experience as love and betrayal lock and unlock in a mesmerizing sequence.
Julie Taymor poses the question is M. Butterfly "fantasy or is it a reality?" with her visualization of the play as essentially a sophisticated game of hide and seek, a beautiful liaison of love, espionage, and betrayal. Conceived cinematically, we suspend disbelief like Gallimard breathlessly waiting for the next intoxicating revelation of desire as we follow passion down an exquisitely dangerous path. Race, gender co-star in M. Butterfly letting us see how easy it is to fall when flirtation and flattery tease us along.
For more information on M. Butterfly, visit mbutterflybroadway.com.
---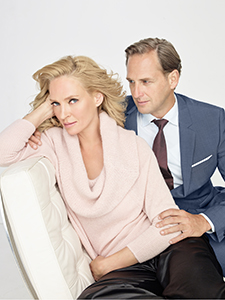 UMA THURMAN IN THE PARISIAN WOMAN
The Hudson Theatre
Opens: November 30th
Powerful friends, it's been said are the only kind worth having. That's the way it is in Washington, D.C. post-2016 election. Dark humor and drama come together in a story that addresses the current political landscape through the eyes of The Parisian Woman starring Uma Thurman (Kill Bill, Pulp Fiction, Imposters) as Chloe, a socialite who navigates politics, her past, her marriage, and a future that's far from assured.
This electrifying new play makes it clear that the truth isn't obvious and the stakes couldn't be higher at this pivotal moment in Chloe's life and the state of our country. Parisian Woman is by House of Cards creator Beau Willimon, and directed by Tony Award winner Pam MacKinnon (Who's Afraid of Virginia Woolf? Clybourne Park). Willimon's inspiration for The Parisian Woman came from French dramatist Henri Becque's controversial play, La Parisienne which debuted in Paris in 1885.
Also in the cast are Josh Lucas (Sweet Home Alabama, American Psycho), Tony Award winner Blair Brown (Orange Is The New Black, Fringe, Copenhagen), Marton Csokas (Loving, The Lord of the Rings) and Tony Award nominee Phillipa Soo (Hamilton, Amélie).
For more information on The Parisian Woman or to purchase tickets, visit thehudsonbroadway.com.
---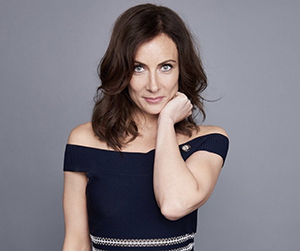 STEVE MARTIN'S METEOR SHOWER
The Booth Theatre
Opens: November 29th
"It's a hot night in Ojai, California, and Corky (Amy Schumer) and her husband Norm (Jeremy Shamos) are having another couple over for dinner. Laura (Tony Winner Laura Benanti) and Gerald (Keegan Michael-Key), though, aren't looking for a casual evening of polite small talk with new friends. Eventually, the two couples find themselves in a marital free-fall matched in velocity and peril only by the smoldering space rocks tearing through the sky." That sets up Meteor Shower Steve Martin's new play, directed by Jerry Zaks (Hello, Dolly!). It's an unpredictable and sometimes wonderfully absurd, offbeat look at the comic anxiety lurking just beneath the surface of modern marriage.
For award-winning actress and Broadway darling, Laura Benanti, Meteor Shower is "Jungian;" revealing the characters' quest to find a balance between the conscious and the unconscious as sparks fly and relationships flare. Though, she observes, Hello, Dolly! which she enjoyed recently (from the same director, Jerry Zaks) may be a powerhouse, Meteor Shower she says is a more intimate show, revelatory in its authenticity tempered with Steve Martin's marvelous comic edge. Her character, she says, reminds her of her younger self as the play is set in 1993 a far more innocent time than today.
For more information and tickets for Meteor Shower (which runs for 12 weeks), visit meteoronbroadway.com.
---
THE RED SHOES
Matthew Bourne (known for his exceptionally clever and remarkably brilliant modern productions of classic story ballets, Swan Lake and Sleeping Beauty) makes magic once again with his spell-binding dance adaptation of the Academy-Award winning film, The Red Shoes. The price of fame is steep as we see through the eyes of the ingenue dancer whose struggle with love and her obsession takes her out of the realm of reality as she dances her life away in a pair of possessed red shoes. The film (originally released in 1948) is in itself an obsession for many in Hollywood including Martin Scorsese who restored what's considered the greatest dance film of all time in 2009.
Though there may be many a hopeful young dancer who dreams of becoming a legendary ballerina as we see in Matthew Bourne's ballet, the path can be treacherous. Surreal and sensuous, this sumptuous production of The Red Shoes draws parallels with the Hans Christian Anderson fairy tale of the same name as passion and possession preclude romance with devastating consequences. The Red Shoes had sold-out runs in London and across the UK, making this smash hit one of the most anticipated tickets in New York City this fall.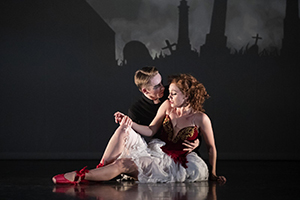 The flame-haired leading role of Victoria Page (played by Moira Shearer in the 1948 film) will alternate between original dancer Ashley Shaw from the New Adventures London production and New York City Ballet principal Sara Mearns. American Ballet Theatre principal dancer Marcelo Gomes and New Adventures dancer Dominic North share the role of composer Julian Craster, and Sam Archer is Boris Lermontov, the iconic Svengali-like impresario. The score by Bernhard Herrmann is a lush compilation of the greatest films of the Golden Age of Hollywood.
For more information on The Red Shoes (which runs through November 5th), visit nycitycenter.org/pdps/TheRedShoes.
---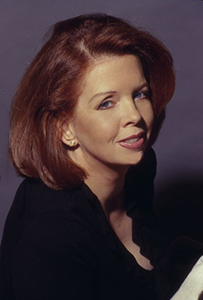 Lori Simmons Zelenko grew up in NYC skipping school to go to an afternoon of theater so it's no wonder that she's dedicated to telling the stories of Broadway to the New York Lifestyles audience. With an eye towards pop culture, she seeks to bring a point of view that's fresh and fun. She is also a brand storyteller creating compelling marketing communications campaigns for start-ups and established brands. Her website is lsz-communications.com.