ON THE BOOKSHELF
WHOSE WORDS THESE ARE
Compilation and Commentary by J. Justin and John J. Dilenschneider Significance Press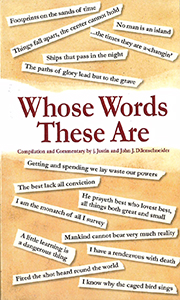 A collection of memorable lines of English writing, this book is a tour de force. Chronicling English verse and one prose selection with frequently-quoted and memorable lines including "The shot heard round the world," "The fault is not in our stars," "Theirs not to reason why," or "The best-laid plans of mice and men."
Although newspaper columnists still reference Yeats' "The centre cannot hold," still others including Bruce Springsteen and sportscasters often revisit Dylan Thomas' "Do not go gentle into that good night"—memorable lines often misquoted or misunderstood. Sometimes we unsuccessfully scour our memories all the way back to high school English class for their source and meaning.
John and j. Justin Dilenschneider a retired judge and English professor, respectively, assembled these texts to help people navigate such frequently quoted lines. Whose Words These Are provides copious examples, commentary and author information that not only gives background to so many of the memorable lines that pepper our conversations but also further informs the reader of many poetical and rhetorical devices used by some of the greatest English wordsmiths of our time.
With some sixty authors and 145 memorable lines from the English language represented, Whose Words These Are illuminates, and gives context to, the words we use. Whether on your nightstand or the book you choose to read for your book club, you'll be in the know when it comes to understanding the historical and literary references alluded to in book and movie titles, newspaper headlines, politicians' pronouncements, and sportscasters' declarations.
Moreover, digesting the readily accessible content in Whose Words These Are may just place you front-and-center in conversations at your next dinner party!
-Jim Zebora
---
WHAT IS IT ALL BUT LUMINOUS
Notes From An Underground Man
Notes From An Underground Man
By Art Garfunkel
Penguin Random House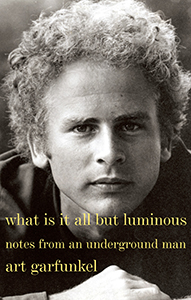 The curly-headed half of Simon & Garfunkel recounts in What Is It All But Luminous the moving, lyrical making of a musician and the forging of a friendship that would change his life forever.
Now 74, Art Garfunkel takes us back to Kew Gardens, Queens, meeting Paul Simon in school and recording their first hit together, "Hey Schoolgirl," at age 16 under the name Tom and Jerry. The book delves into Garfunkel's success with Simon and their remarkable music career together, as well as his solo career, work as an actor, getting his masters in mathematics, nearly losing his voice—and gaining it back.
Garfunkel is frank and direct and reveals his thoughts and feelings about a turbulent life. His accomplishments are many: With Paul Simon, he won six Grammy Awards, the Grammy Lifetime Achievement Award and was inducted into the Rock & Roll Hall of Fame. As a solo singer, he scored three Top 20 hits.
In 1970, Simon & Garfunkel broke up after dominating the pop charts for five years. Then in 1981, he performed with Simon before more than 500,000 fans in New York's Central Park and belted out his signature vocal Bridge over Troubled Water. In 2010, he temporarily lost his voice due to a vocal cord problem and struggled to regain it.
In the end, Garfunkel's legacy as half of the greatest modern-day duo in music is undeniable. And if you have any of those classic recordings, you'll want to give them a fresh spin as well!
–Patricia Canole